Tosca
Composed by Giacomo Puccini, libretto by Luigi Illica and Giuseppe Giacosa, based on La Tosca by Victorien Sardou
Met Opera on Demand
Metropolitan Opera House, New York
From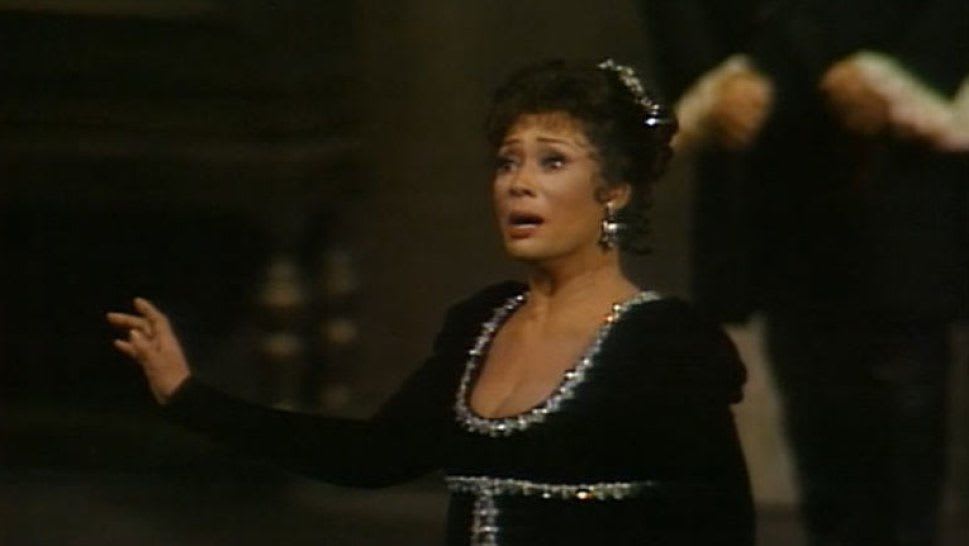 The last time I went to a theatre was on Monday 16 March. I arrived early at the Lyric, Hammersmith to collect my tickets and have a bite to eat before seeing the play, only to be told the theatre had closed ten minutes ago.
My friends have often asked me how I have managed to survive all these months without going to the theatre. A major lifeline has been The Metropolitan Opera House New York, which has been putting on a different opera for free every day of the week. It has been an amazing and enriching experience.
The first time I saw Luciano Pavarotti playing Cavaradossi, the revolutionary and painter, in Giacomo Puccini's Tosca, ironically, was on a big screen in 1992 in the Covent Garden piazza. 28 years on, plus ça change, and I now find myself watching him on a much smaller screen in my living room.
The performance is the 1979 Met production directed by Tito Gobbi and conducted by James Conlon. Shirley Verrett is Tosca, the jealous diva Cavaradossi loves, and Cornell MacNeil is Scarpia, the ruthless head of Police, who wants him dead
Tito Gobbi, the most famous Scarpia of the 20th century, had appeared with Maria Callas in the première of Franco Zeffirelli's celebrated production in 1964. Callas performance has passed into legend, the greatest Tosca since Sarah Bernhardt who created the role in Victorien Sardou's play in 1887.
Victorien Sardou, the most prolific of the French nineteenth century dramatists, catered for popular taste, providing the public with political and sexual intrigue, jealousy, betrayal, treachery, police interrogation, torture (off-stage), seduction, murder, a mock military execution (which turns out to be real) and a suicide in which the heroine leaps from the battlements.
The melodrama has not lost its grip and Puccini's opera, which premièred in 1900, remains one of the most popular operas of all times.
It is said that Pavarotti doesn't act. I remember seeing him in La Bohème, weeping copious tears in his curtain call, far more moved by the audience's reception than he had been by Mimi's death. But operagoers do not come to see Pavarotti act; they come to hear him sing. And sing he does. He and Shirley Verrett's voices soar in ecstasy.
Cornell MacNeil is excellent as the lustful, murderous Scarpia, relishing Tosca's contempt when she rejects his advances. "How you loathe me!" he sings. "That's how I want you!" Tosca's response is one of Puccini's great arias.
There are a number of ways of tapping into this opera and others at will. The Met Opera on Demand service offers annual ($149.99) and monthly ($14.99) subscriptions as well as a one-off payment ($3.99) for those who have limited time or only want to watch the occasional opera.
Reviewer: Robert Tanitch