Tosca
Puccini
English Touring Opera
Sheffield Lyceum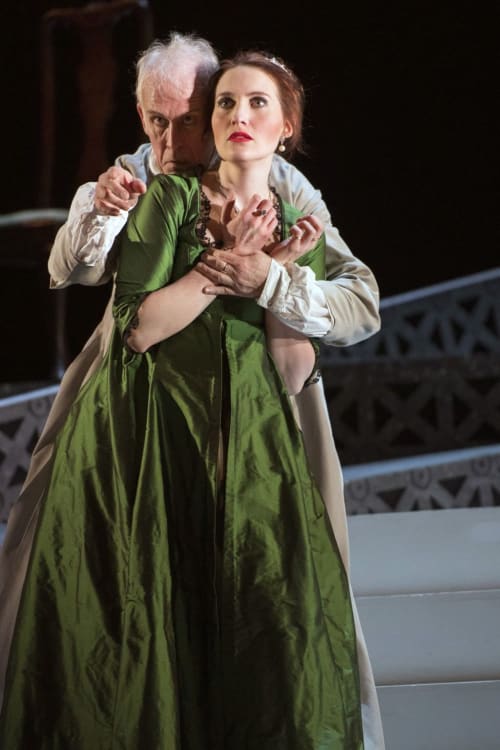 From the three strident chords (Scarpia's motif) which open the opera, it is Puccini's lyrical, dramatic and richly orchestrated music which the wins the day.
First performed in Rome in 1900, it feels like a modern composition with sequences of incidental music to accompany the action as well as the well-known and splendid arias by Cavaradossi and Tosca and Scarpia's monologues. What is particularly thrilling is Puccini's ability to superimpose one kind of music on another. In the concluding sequence of act I, Scarpia's dark thoughts of revenge are imposed on a solemn church procession accompanied by full orchestra with brass and a choir singing the Te Deum.
The action takes place in the year that Napoleon invaded Italy. Angelotti, an escaped prisoner, and Cavaradossi, a painter, are sympathetic to the republican cause and hope that Napoleon will release them from the oppressive and corrupt regime of Neapolitan King Ferdinand, represented in the action by the vicious Chief of Police, Baron Scarpia, and his equally cruel followers.
While the political background gives rise to some rousing militaristic music, it also provides a contrast to Cavaradossi's troubled relationship with the passionate and jealous Tosca, a singer whom Scarpia is determined to possess, preferably against her will.
The unfolding action includes lyrical duets, passionate outbursts, expressions of lust and sadistic cruelty and lyrical, reflective arias about life and love. It is all thrillingly varied and highly dramatic.
Paula Sides is an outstanding Tosca, lithe and beautiful, fiery and passionate, but also deeply moving in the reflective arias. Her vocal range is impressive and most effective in a beautifully sung "Vissi d'Arte". She occupies the character with conviction.
As Cavaradossi, Samuel Sakker also demonstrates a considerable technical range and does more than justice to act I's "Qual occhio al mondo" and delivers a memorable "E lucevan le stelle" in the final act.
Craig Smith is a dignified rather than vicious Scarpia with a quality of stillness that still suggests lurking menace. He is particularly strong in the act II prison scene where his venality is most clearly revealed.
The baritone Jan Capinski provides comic characterisation as the Sacristan and a melodious vocal tone, while tenor Aled Hall is convincingly threatening and evil as the police agent Spoletta.
The orchestra under conductor Michael Rosewell provides a rich tone and there are excellent individual performances from instrumentalists, particularly wind and brass players.
Florence de Mare's set provides levels, ramps and a range of small delineated areas. These are surrounded by low walls which have to be clambered over. This is not an actor-friendly set and most of the cast look tentative and insecure when climbing from one area to another. Costumes are attractive, particularly Tosca's formal green gown in act II, and the central tall tower provides a suitable take-off point for Tosca's final leap.
The production continues on tour until 10 June 2017.
Reviewer: Velda Harris