Tosca
Music by Giacomo Puccini, Libretto by Giuseppe Giacoso and Luigi Illica (after the play by Victorien Sardou)
Opera North
The Lowry
–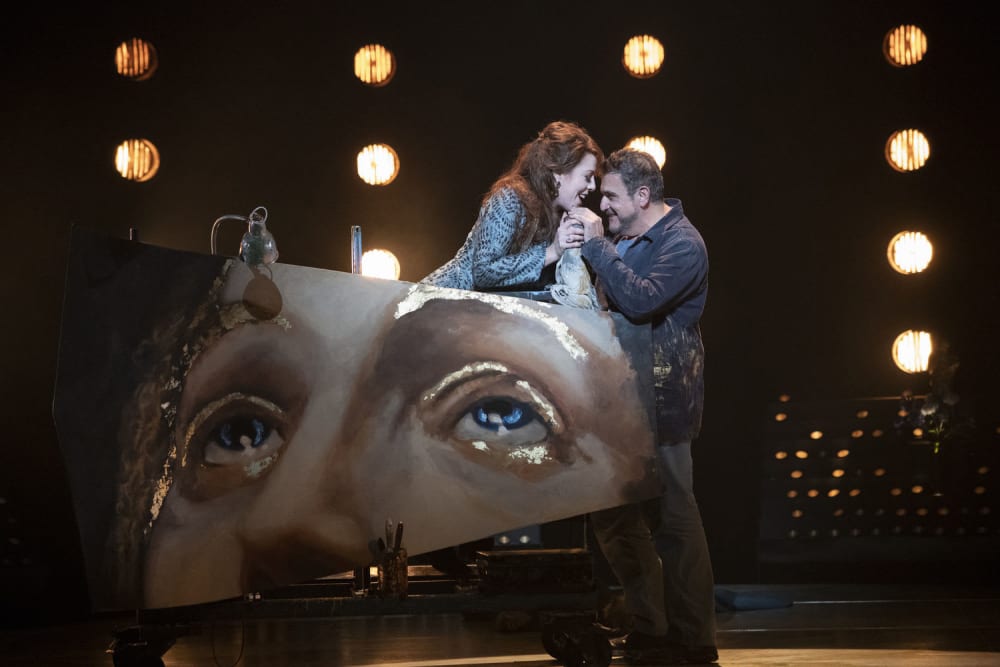 Opera North's new production of Puccini's Tosca is, in some repects, one of the best I've seen. The set (by Tom Scutt) is a visual delight and beautifully lit (by Lee Curran) shifting stunningly from subdued candle light of a cathedral to glaring interrogation beams on the arrival of the wicked Scarpia, chief of police.
Mario Cavaradossi (Rafael Rojas) is painting the final panel of an enormous portrait of the Madonna, designed to decorate the cathedral's cupola. His lover, the tempestuous singer Tosca (Giselle Allen), flies into a jealous rage when she recognises this blue-eyed 'virgin' as the Marchesa Attavanti. The diva herself is dark haired and dark-eyed.
Allen's Tosca, is playfully 'high maintenance' at this point, posing astride the final panel of the holy portrait and redirecting one of the artist's lamps as a spotlight on herself. Mollified and trusting, once again, in Cavaradossi's devotion, she departs with just a word of warning regarding the painting: "make the eyes dark."
Now Cesare Angelotti (John Savournin)—escaped political prisoner—reveals himself to Cavaradossi. The artist promises to risk his own life in protecting this rebel with a cause. They head to Cavaradossi's secret villa, moments before Scarpia, the hated chief of police, arrives with his henchmen.
Though costume designer Fotini Dimou and wigs and make-up supervisor Kim Freeland fought off any temptation to give Robert Hayward's Scarpia a blondish toupee and an orange tint of the skin, the spectre of Trumpism looms large over this production. This is especially effective in the chilling finale to act one, in which Scarpia, surrounded by wife and young children, kneels to receive the blessing of the church, only moments after proclaiming: "Tosca—you make me forget God."
It's a memorable tableau, delivering a punch that the rest of the evening can never quite match.
In act two, Scarpia's agents torture Cavaradossi as the distraught Tosca watches on (via a laptop). As she delivers her despairing lament ("Vissi d'arte"), the evil police chief (lurking sleazily behind the four-poster bed which dominates his lair) surreptitiously records it on his mobile phone. The updating of events is largely successful and, given the vociferous support the 45th President regularly receives from the religious Right, feels defensible.
There is an undeniable beauty to the staging of act three, Scutt's set and Curran's lighting combining to memorable effect. One may reasonably question whether the representation of a condemned cell and castle ramparts really ought to be so beautiful (i.e. to what extent the drama is served by these choices) but the aesthetic is seductively delicious, nevertheless.
There is some clever acting under Edward Dick's direction, but some of the movement feels deliberate rather than committed. Giselle Allen and Rafael Rojas are fine singers, but perhaps the chemistry isn't quite there. Though the ovation at curtain call is warm, neither of Cavaradossi's great arias gets a round (don't ask me why not) and 'warm', it should be noted, falls well short of enthusiastic.
Part of me feels that this production should sear itself upon the memory and I am more than slightly at a loss to explain why it doesn't. Perhaps, for audience and performers, it is just 'one of those nights'. Perhaps the shuddering power of the act one finale sets too high a standard for what follows. But then, to coin a critic's cliché, that in itself is worth the admission price.
Reviewer: Martin Thomasson