Tosca
Giacomo Puccini, libretto by Giuseppe Giacoso and Luigi Illica
Opera North
Theatre Royal, Newcastle
–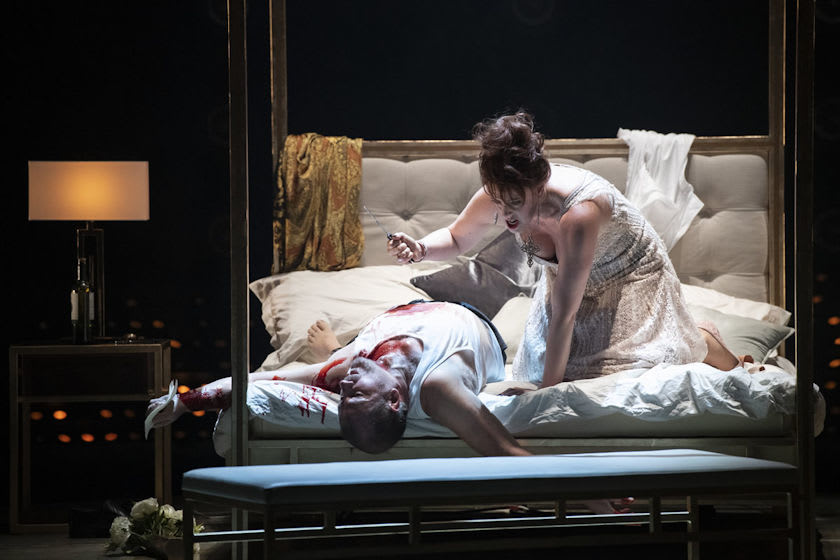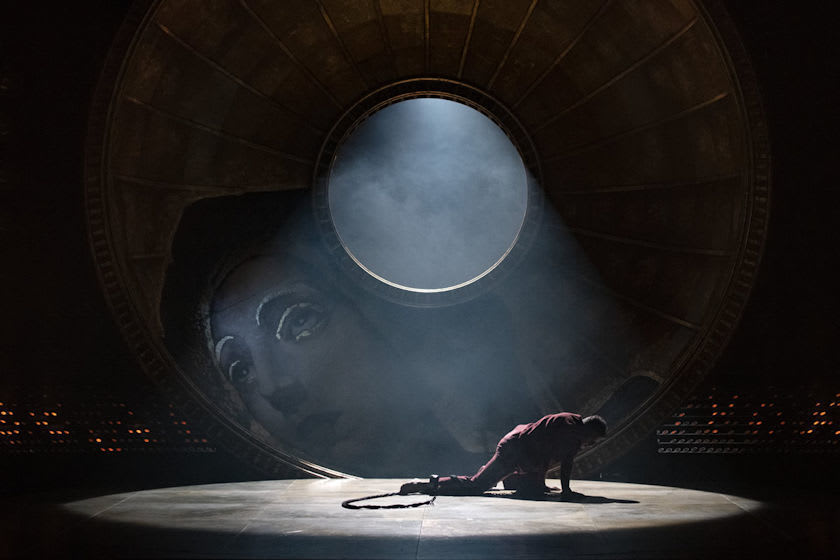 By its very nature, grand opera tends towards the melodramatic and they don't come any more melodramatic than Tosca—and, in Opera North's production, gloriously so!
Our heroine, the diva Floria Tosca, is passionate, easily moved to jealousy—and to vengeance. Our hero, the painter Mario Cavaradossi, is staunch and strong and utterly devoted to his art and to his love, Tosca. The villainous Chief of Police, the Baron Scarpia, relishes, even wallows in the evil he does and the harm he causes. Determined to seduce Tosca and then discard her, he intends to out-Iago Iago; as Iago uses a handkerchief to manipulate Othello, so he will use a fan to control Tosca. In Shakespearean terms, he is a toxic mixture of Iago and Measure for Measure's Angelo.
Add into the mix political and social unrest, exemplified by the escaped political prisoner Cesare Angelotti, and the constant presence of the church, emphasised by the huge dome which hangs overhead and the banks of votive candles which surround the stage on three sides, and we have all the conditions needed for a tragedy of enormous proportions to come about.
Giselle Allen (Tosca) is not just one of Britain's leading sopranos but a fine actress too, as her performances in last year's Cavalleria Rusticana and Osud showed, and here her emotional range, both physically and musically, is seen at its best. Inevitably Vissi d'arte is a highlight, beginning here as she lies prone and despairing on the floor. Such technique!
In my review of last year's concert version of Turandot in which he played Calaf, I described Rafael Rojas as a "brooding presence" and here, as Cavaradossi, he has that same strength and powerful presence—even when he is not on stage. There is strength and power is in his voice too, but it is a voice which can also be tender and full of longing. His E lucevan le stelle is deeply moving, particularly played out in front of a simple but stunning piece of set manipulation by Tom Scutt.
Robert Hayward positively luxuriates in the evil he embodies as Scarpia. He is a dominating figure, even apart from those moments when he stood on his four-poster bed with his head higher than those four posts. He really is the embodiment of evil and when he gets his comeuppance, as all the rules of fairness and of melodrama require that he does, our reaction is pure satisfaction—a fate well deserved.
The supporting cast, as ever, is impeccable. Unfortunately, however, Tosca does not give the ladies of the ever reliable Opera North Chorus much chance to shine—a single scene of church music—but some of the men do get the opportunity to make pretty scary secret policemen in black.
Tom Scutt's brooding set, superbly lit in shades of darkness (I know! but it just sounds right) (I very nearly wrote "brilliantly" rather than "superbly lit" but decided that was a paradox too far) by Lee Curran, and Fotini Dimou's costumes set the action firmly in the modern day. We have Scarpia watching the torture of Cavaradossi via webcam on his laptop, a use for this everyday piece of modern technology which is really very chilling.
The orchestra of Opera North, under the baton (for this and just two other performances, otherwise Antony Hermus conducts) of Jonathan Santagada, provides wonderful support for the singers and, when the ten-strong brass section comes thundering in, the audience experiences more than a frisson!
Creating the concept on which the production is based is director Edward Dick whose wide experience of drama, which includes such venues as Shakespeare's Globe and Liverpool Playhouse, and of opera (ROH, Cheltenham, Garsington and Aldeburgh) is apparent in the way in which he weaves together the various strands of the production to produce a thrilling and extremely satisfying Tosca.
Reviewer: Peter Lathan