Toska
Elizabeth Huskisson
Sort Sol
The Hope Theatre
–

Listing details and ticket info...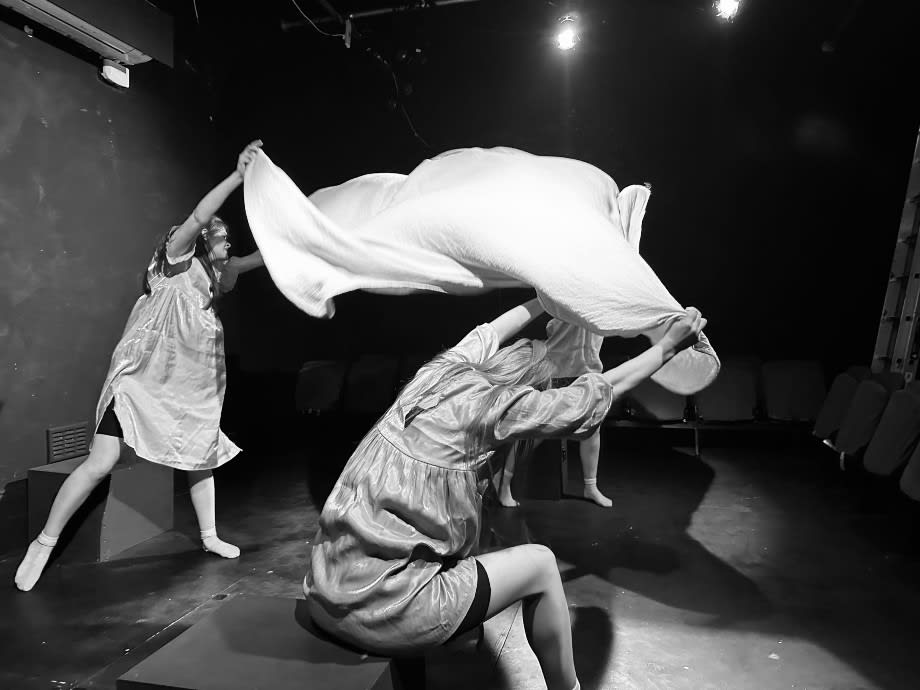 In the darkened performance space, empty except for three black boxes, three young women stand facing the audience. In a short forty-five minute dance, performed to powerful electronic music composed by Louie Johnston-Ward, they conjure up three phases in the Russian case of the Khachaturyan sisters charged with the murder of their father who had abused them for years. In chorus, the three sisters Maria (Alfreya Bell), Angelina (Phoebe Mercer) and Krestina (Elizabeth Huskisson) tell us they are "mourning for our lives, crying for our rights."
The three never touch each other but they almost always in parallel carry out a similar pattern of movement, sometimes with a balletic extension of feet and arms, often accompanied by signs of disturbance, a twitching, a scratching of the body, a defensive framing of the body as if in fight, a whipping of a table cloth with their long hair.
In chorus, they tell us, "each morning we lay the table; the way he likes it laid. We each have our place and we don't move. Each morning we leave with bruises on our necks."
Phase two is the murder. Initially, in this section, they seem more confident. They speak of the love they feel for their mother. But soon their bodies contort in pain. And soon also their father is dead from stab wounds.
Phase three takes us to the court. Again there are the balletic movements along with the twitching and the scratching of parts of their body. Film footage of public protest against their treatment by the authorities is projected onto a back screen.
Maria tells us, "grief lies in my bed. I am the daughter of a perpetrator. Bones broken by the one that made them."
Having taken off the earlier flimsy dresses, they hold them in front of them as if they are their other selves to be scrutinised. A picture of Putin flashes onto the back screen reminding us of context. In chorus, they tell us they "are held captive once again. And always by the men. While they tear the rest of the world apart."
The title Toska is a Russian word meaning melancholy, but this short, often moving piece by three fine dancers conveys more rage than sadness and the words we see projected on the screen to end the show give us understandable reasons for that rage.
They tell us that, "in 2017, Russia decriminalised first instance domestic battery. A fifth of all Russian women have been physically abused by a partner. On average, 22 women were killed every day in Russia in 2018."
Reviewer: Keith Mckenna