Total Karita
François Poulenc and others
Finnish National Opera
Finnish National Opera, Helsinki, Finland
–

Listing details and ticket info...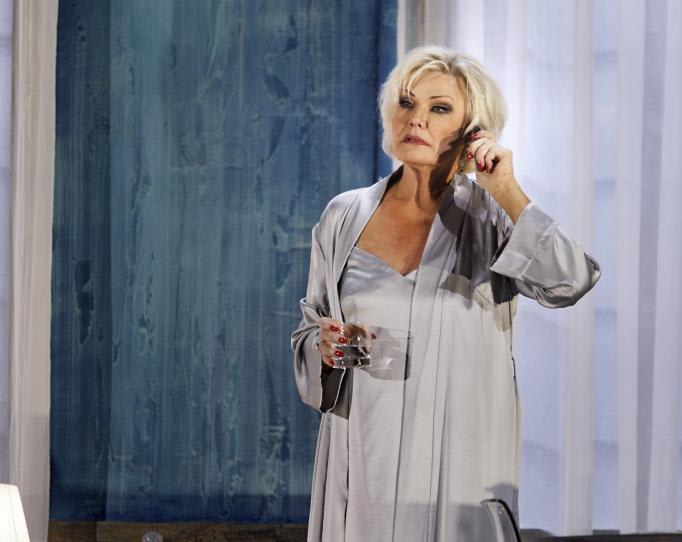 Finnish National Opera provides a showcase for Karita Mattila, Finland's most famous opera diva, to show her versatility. The first half is opera. The second half is cabaret. Jussi Nikkilä directs. Dalia Stasevska conducts.
The opera is François Poulenc's La Voix Humaine, his 1959 adaptation of Jean Cocteau's 1930 monodrama, a fraught portrait of a woman in distress. The music brilliantly reflects her speech patterns, pauses and hesitations as she talks to her lover on the phone. They have been in a relationship for five years and he has ditched her and is marrying somebody else. She is suicidal and her anguish is exacerbated by the phone constantly cutting her off.
The role has attracted such actors and singers as Anna Magnani, Simone Signoret, Ingrid Bergman, Sophia Loren, Jessye Norman, Renata Scotto and, most recently, Tilda Swinton.
The telephone plays a major part. The opera needs a proper phone and its umbilical cord. A mobile does not have the same impact. The production would be better, too, if it were set in 1930. Nikkilä has the bad idea of adding a black and white film of scenes from their relationship and projecting the film on a screen above the colourful stage set at the same time as Mattila is performing. It's totally unnecessary and distracting.
The cabaret which follows after the interval is massively disappointing. There are ten songs, including such favourites as John Kander's "Mein Herr", Friedrich Holländer's "Falling in Love Again", Jorma Panula's "I Am What I Am", Andrew Lloyd Webber's "With One Look" and Burt Bacharach's "What the World Needs Now is Love". The singing and the staging fail to excite. The choreography is tacky.
Total Karita can be watched free on the OperaVision channel.
Reviewer: Robert Tanitch