Totem
Writer and director Robert Lepage
Cirque du Soleil
Royal Albert Hall
(2011)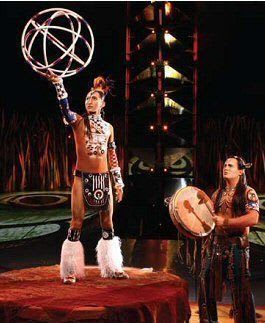 Totem, the latest of this prestigious Canadian circus company's shows to reach London (it premiered in Montreal last April), takes as its theme the idea of man's evolution and the diversity of the natural world. Director Lepage says it was "inspired by the foundation narratives of the first peoples" and that it "explores the birth and evolution of the world, the relentless curiosity of human beings and their constant desire to excel." For him "the word 'totem' suggests that human beings carry in their bodies the full potential of all living species, even the Thunderbird's desire to fly to the top of the totem."
It is the famous Canadian director's second show for the company but it is difficult to identify any particular elements as encapsulating his brand of theatre magic. Perhaps his signature is that, even more than usual, everything about the performance has been so carefully worked out to make it beautiful and emotional as well as a display of technical virtuosity on the part of the performers.
The concept is all a bit high falutin' and comes off more in the way that is has inspired the look of the show than in any narrative or content, although, metaphorically and often physically, many of the acts suggest an aspiration to higher things. (Indeed, the company's founder Guy Laliberté set the example making a multi-million pound trip into space a couple of years ago.)
There is a sensuous surround-sound score that suggests a range of world music sources from African and Amerindian rhythms to bull-ring pasodoble mixed with natural sounds and singing in what may be an invented language but that suggests the undeniably ethnic. There are sumptuous and colourful costumes that draw largely on the first people cultures of the Americas and, for one act, the dancers of Nepal, Bali or Thailand, and a scenic staging that uses lighting and projection to create pervasive atmospheres that merge from one location to another.
Indeed, there is as much pleasure to be had from the presentation as from the skills of the performers, which are considerable but perhaps not so knock-out as they might appear in an ordinary circus ring, for they have to cap with amazement the show's already powerful effects. Take, for instance, a dauntingly dangerous roller-skating act in which Denise Garcia-Sorta is swung around by her wrists or ankles or with feet locked behind partner Massimiliano Medini's neck as they spin on a drum like disk only 1.8 metres wide. It is framed as a Native American idyll with them arriving by canoe in front of roaring river rapids, beautifully costumed in bridal white.
A trapeze act has yellow clad Louis-David Simoneau and Rosalie Ducharme, like a pair of canaries on a perch, performing a love duet of ever changing shapes, their daring catches and manoeuvres sequenced into the most beautiful and emotive patterns.
On entering, the audience is greeted by a dome-shaped turtle's shell. I seem to remember creation myths in which a turtle carries the world upon its back but here apparently this represented the earth itself. A glittering mirrored figure like an animated crystal ball descends from the matching dome of the Albert Hall above our heads and the shell becomes a skeletal carapace through which primal creatures spring, swing and leap. Behind them is a sloping disc which will become a pool full of bright coloured carp, a rippling river, bubbling lava, a desert strand, a wave-washed beach or the star-spangled heavens rising to a wall of bamboo or marsh reed behind which the excellent musicians are largely hidden, though occasionally brought forward to be part of the action.
There is a delightful sequence when the arena is invaded by the most realistic chimpanzees I've ever seen who launch themselves upon a mobile-talking businessmen and strip him of his so-called civilisation to present us with that cartoon line of evolution from ape to hominid to homo sapiens today and then launch themselves at a further group of city suits to turn them into a pole-climbing, balancing perch act by a team of Russians.
There is a pair of ladies from Belarus who pick up pieces of cloth, spin them like plates and juggle them between their feet until every extremity has a twirling disc; dancers whose costumes echo the ceremonial features of Amerindian nations who rotate hoops that magically multiply, spinning around their limbs and bodies and forming complex patterns.
There is stick manipulation, a Chinese quintet who not only ride ultra high mono-cycles but pedal them with just one foot while using the other to throw glittering bowls to land upon their own or their colleagues' heads. There is a variation of a juggling act with balls cascading around a sort of laboratory flask that looks like a food mixer, a toreador who manipulates shining devil sticks and a team of Russian men whose glittering costumes recalled both Aztec or Mayan culture with a hint of both Moghul warriors and spacemen who perform amazing feats on bendy Russian Bars leaping and making multiple somersaults often to a different bar.
Where Totem is weak is in its clowning. There is a pleasant enough interlude with Mikhail Usov rowing out to do some fishing, playing a tune on metal on his knees and shoulders, making a swan out of a white plastic carrier bag and juggling with its eggs but the antics of his partner clown were just unfunny.
The show needs clowning to match the artistic imagination of its other action and more input from choreographer Etienne Boucher so that it does not stick out like a sore thumb. It is probably intended to provide a contrast to the atmosphere created by the design skills of Kym Barrett, costumiers Bob and Bill and Pedro Pire's projections. They have skillfully mounted a water ski-ing sequence for the clowns that almost works but you admire the technical accomplishment not the comedy.
"Totem" runs until 17th February 2011 as part of an international tour
Reviewer: Howard Loxton