Touched
Stephen Lowe
Nottingham Playhouse Theatre Company
Nottingham Playhouse
–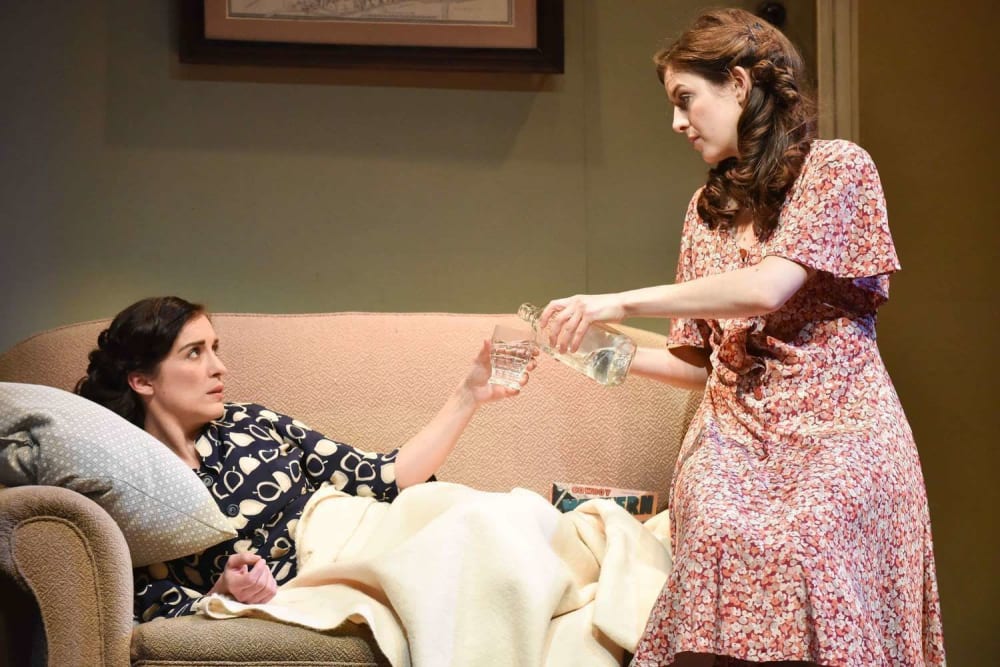 It's the hottest show in the East Midlands and possibly one of the biggest regional shows in the country. Two of Nottingham's finest actors are appearing in the 40th anniversary production of "the best play written about Nottingham" by the city's "most eminent" playwright.
Hundreds of people queued for tickets for a pay-what-you-can performance of Touched which sold out in 25 minutes.
They were eager to see Vicky McClure, acclaimed as best leading actress at the 2011 BAFTA Television Awards for This Is England 86, who is making her professional stage debut. Meanwhile, Aisling Loftus, a rising star after appearing as Agnes Towler in the ITV series Mr Selfridge and Sonya Rostova in the BBC TV epic War and Peace, is adding to her impressive theatre CV.
Three other actors who trained at the legendary Nottingham Television Workshop are in the cast of Touched. It's said to be the first time that a professional production of Stephen Lowe's wartime drama has made use of authentic Nottingham voices.
Touched is set in 1945 during the 100 days between VE Day and VJ Day. Although there is optimism that the war might finally be over and a landslide Labour victory in the election promises a new world, there is still the horror of Hiroshima to come. Families in the Sneinton district of Nottingham carry on with their lives in this unsettling atmosphere.
McClure and Loftus play Sandra and Joan, two sisters who could hardly be more opposite. Sandra is introverted and full of troubles, mainly due to the death of her son who was killed in a car accident in the blackout. Joan has a lighter attitude and is prepared to enjoy life.
The play starts slowly and Loftus immediately shows her confidence and composure; she has an alluring presence and revels in her part.
The script does not allow McClure to shine straightaway. When she performs a scene with Loftus in which she is drunk in a bath, she comes alive, immersing herself in the character and proving she can adapt her undoubted skills to the stage.
In the second half, McClure earns more praise for a touching soliloquy in which she reveals Sandra's inner turmoil. Her fears and loneliness lead to her inventing situations which drive a wedge between her and her mother. It's a stunning portrayal.
Loftus steps into the background as the play progresses but still manages to grab the audience's attention in a thrilling performance.
There is strong support from Chloe Harris as Betty, the third sister with a sense of propriety and misplaced hopefulness; and Elizabeth Rider, the cantankerous mother who puts honour before family.
Director Matt Aston wanted to present a tribute to Lowe whom he has admired for a long time. He has succeeded in no small way, bringing out all the comedy, sadness and hope in Lowe's script.
I challenge anyone not to be touched by this play. The real sadness is the fact that such an excellent production has only a two-week run at Nottingham Playhouse and will probably not get the wider audience it so richly deserves.
Reviewer: Steve Orme