One Touch of Venus
Music by Kurt Weill, lyrics by Ogden Nash, book by S.J. Perelman and Ogden Nash
Opera North
Theatre Royal, Newcastle, and touring
(2005)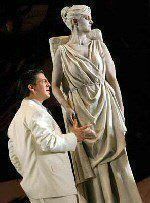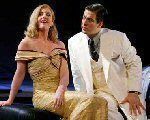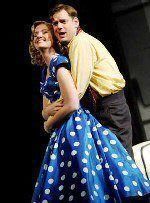 The first Broadway production of One Touch of Venus opened in October 1943 and ran for 500 performances. It was the be the only Broadway production. It has been performed in St Louis (1953), Malmö (1994), Freiburg (1998) and in a semi-staged performance in New York (1996). It was also made into a film (with Ava Gardner), albeit with plot changes (it was Hollywood, after all!), in 1948. This Opera North production, which opened on 4th December 2004 at the Leeds Grand, is its UK professional stage premiere (having been broadcast in a concert version by the BBC).
When originally produced, it was surrounded by a number of what were to become major musicals: Pal Joey had opened three years before and Oklahoma! had been running for six months. It was followed by On the Town (1944), Carousel (1945), Annie Get Your Gun (1946), Brigadoon (1947) and Kiss Me, Kate (1948). All have had numerous productions since - some more than others, obviously - so why not One Touch?
Part of the reason, possibly, is that it does not have a number of "big" numbers, the sort you come out whistling, although Speak Low has a way of insinuating itself into your mind. Oddly I was reminded of Sondheim: as in, for example, Company, the music focuses more on supporting the words than on melody. But that may be a personal quirk on my part!
Partly, I suspect, the reason is that it does not have a conventional happy ending but has a strong vein of satire running through it. It is, however, very witty. Ogden Nash's lyrics and Perelman's book are superb: "hero" Rodney's song How Much I Love You is full of negatives to accentuate his love's positive. Very clever - and very funny. And at one point Perelman has Venus saying, in describing her feelings for Rodney, that he "like a plumber, when you need a plumber"!
The story is based around the idea of a statue of Venus, obtained by art dealer Whitelaw Savory, coming to life and falling for barber Rodney Hatch who is engaged to the sharp-tongued Gloria Kramer. They move into a hotel together after Venus has got rid of the very aggressive Gloria and there Rodney dreams of their marrying and living in Ozone Heights, where all the bungalows are identical.
One Touch of Venus is emphatically not a conventional Broadway musical, and that perhaps was its downfall. What other Broadway show of its time would feature a song about Dr Crippen and send up the "joys" of suburban living?
This Opera North production carries the wit of Nash and Perelman over into the design and choreography. In the Ozone Heights (suburbia) ballet sequence, the houses are represented by boxes of Brillo Pads, the Artists' Ball has all the trappings of a voodoo ceremony, and the two cells and interview room in the gaol sequence are part of a comic book page. Rodney's barber shop is a huge Gillette advert and, when the curtain goes up on Savory's bedroom, we think we are looking at a big Picasso-like painting, which turns out to be his bedspread, pillows and headboard!
My own favourite, though, has to be the setting of the bus station cafe (where Rodney is to meet Gloria), which is a reproduction of Edward Hopper's Nighthawks, even to the (painted) figure of the man and woman which take centre-stage in the painting. Excellent work by designer Anthony McDonald.
As for the performances, Karen Coker's Venus is an absolute joy: she looks good, acts well and sings superbly. Not far behind is Christianne Tisdale as Savory's secretary Molly Grant who clearly enjoyed every second she was on stage - and so did we! Loren Geeting was an effectively wimpish Rodney whilst Ron Li-Paz made Savory suitably obnoxious.
I was a little unhappy at times with the singing of the chorus: there was a lack of clarity of diction in the opening number New Art is True Art and in Doctor Crippen which is most unusual for this company. As usual, however, their acting and their movement in some very tightly choreographed scenes in the Ozone Heights ballet sequence were superb.
All in all Opera North do a very good job for Weill and his collaborators. It may be the first UK production but it surely can't be the last!
The Northern Opera season at the Theatre Royal runs until 23rd April, after which they go on to the Grand Opera House, Belfast (26th - 30th April), with the same programme.
Opera North dedicate this season at the Theatre Royal, Newcastle, to the memory of Peter Sarah, the theatre's chief executive, who died on 8th April.
Reviewer: Peter Lathan