Beryl
Maxine Peake
West Yorkshire Playhouse
The Witham, Barnard Castle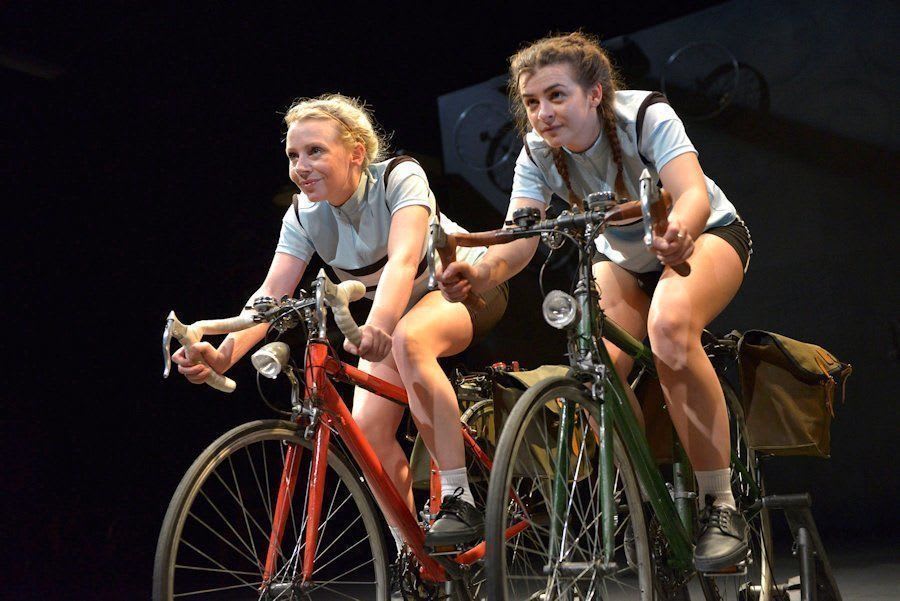 Just once in a while a piece of theatre goes the extra mile, and this one does it on four racing bikes, with bells on—and I mean that from every angle.
Why I've never heard of Beryl Burton I can't really fathom. Well, actually I can figure it out, but it wasn't anything to do with this gutsy woman; more to do with the apathetic British sports authorities not recognising or supporting cycling as a serious sport in the 1950s and '60s when Beryl was breaking records, some of which still stand today.
This is physical theatre at its best, written by the famously fearless actress Maxine Peake, and a fine piece of wordsmithing it is too. Peake has captured the humour and the tough Yorkshire spirit in Beryl's story, which spans her 25 year career as a competitive cyclist, housewife and mother. Oh, and rhubarb farmer.
This production shows off the power of theatre and how it can bring people together in a celebration of a life less ordinary, even through Beryl's success story is made from the same building blocks given to each of us. Beryl becomes a metaphor for determination, modesty, loyalty and love, yet with her true Yorkshire grit she keeps both feet firmly on the ground no matter what heights might be climbed.
Actress Samantha Power brings Beryl powerfully to life and, although her racing cycle has a fixed wheel on the front, she says it's a good way to keep fit as she reckons she cycles 10k at every performance. The backdrop of Yorkshire countryside flashes past on the screen behind her as she chases the pack up the thigh-defying hills.
Beryl was the first woman to beat a man and incredibly some of her time trial records are still chased by both men and women. An audience member who came from Richmond told me in the interval that, even now with all the lightweight carbon fibre bikes we have today, many a man and woman is chuffed to be able to get within a minute of Beryl's time.
Matthew Ganley, Lee Tomes and Rebecca Ryan make up the foursome as Bery's long-suffering husband, daughter Denise and the many characters who played important roles in her life. I loved Ganley's air hostess as Beryl and Charlie set off to fly to Leipzig and his wonderfully camped-up Queen Elizabeth presenting Beryl with her MBE. Beryl would go on to get an OBE, but still she and her family struggled to pay air fares and support her over the hundreds of competitive miles.
All four actors inject their hearts and souls into the trials and tears of this inventive production, thoughtfully directed by Rebecca Gatward. I loved every minute and stood with the rest of the audience with a tear in my eye and I clapped 'till my hands hurt.
I can see this production riding into the West End as part of Britain's pride for next year's Rio Olympics. I hope it does, then Beryl would make it to the Olympics, albeit posthumously, and she would get the recognition she so richly deserves.
Reviewer: Helen Brown