Towards Zero
Agatha Christie & Gerald Verner
The Mill at Sonning
The Mill at Sonning Theatre
–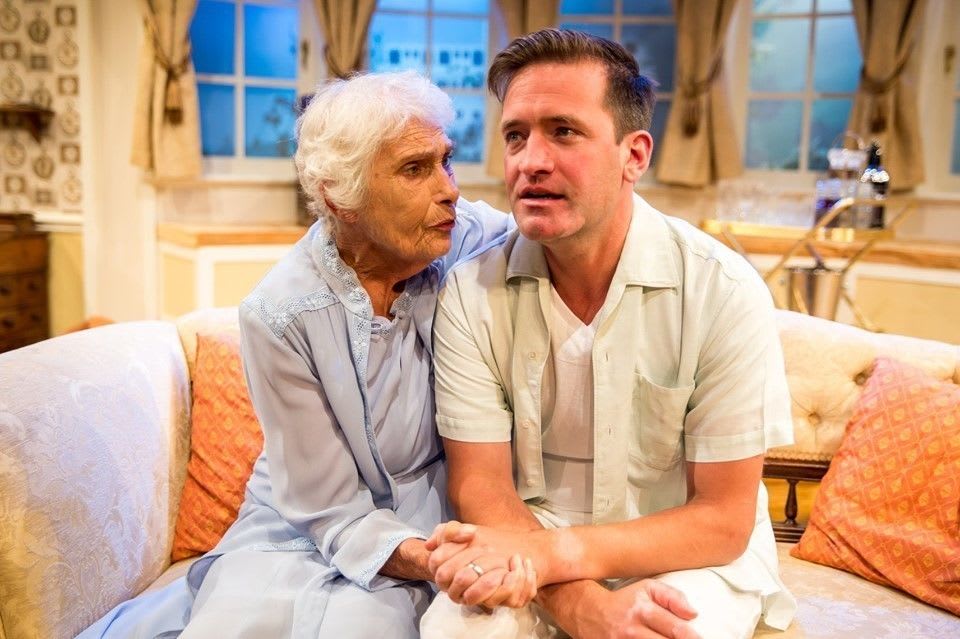 Though The Mousetrap continues its record setting run in the West End and Witness for the Prosecution is on at County Hall, it is a very long time since I have seen one of the Agatha Christie murder mysteries that used to be such a regular part of our theatre repertoire.
Detective story drama doesn't seem as popular as it used to be but this classy revival by The Mill drew a packed house that loved it. Director Brian Blessed met the "Queen of Crime" Christie when he was a young actor in rep in Nottingham, was told how she wanted her plays directed and that this one was declared her best by no less than Robert Graves to whom it was dedicated. It makes a few changes from the original 1944 novel.
It is set in the drawing room at Gull's Point, the Cornish clifftop home of wealthy widow Lady Tressilian for which designer Dinah England provides a sumptuous set that employs multiple clock face images to reflect detective Inspector Battle's pronouncement that "a murder is the culmination of a lot of different circumstances all converging at a given time at a given point. It's Zero Hour."
What appears to be a first clue for the amateur detective comes before the first word is spoken when a stylish lady furtively removes a photo from its frame and tears it in two. It turns out that she is Kay Strange (Beth Nash), the wife of Lady Tressilian's former ward Nevile Strange (Rob Heanley), the photo of Audrey (Kate Tydman), the woman he divorced to marry her. All three of them are currently house guests, along with family solicitor Matthew Treves (Noel White) and Thomas Royde (Patrick Myles), who arrives back from years away in Malaysia and who is carrying a set of golf clubs (clue?).
There is clearly no love lost between the wives past and present and Kay has a friend staying at a nearby hotel who becomes a dinner guest. Just where this Duncan Wilkins (Ted Latimer) fit in? Are they a number? It also appears that Royde may have hopes of marrying Audrey but that would cross Nevile's plans.
The first half of the play feeds all this information and, since we know it's a murder mystery, raises the question who of them might want whom out of the way. But there is also Lady Tressilian's secretary Mary Aldin (Rosalind Blessed) who is efficient but possibly fed up, for she says she is more dogsbody that secretary. She will get a small inheritance from her employer but Strange and his wife are going to get much more in Lady Tressilian's will.
It is very convenient that, when one of them is found dead, a friend of solicitor Treves, Miss Christie's famous detective Superintendent Battle (George Telfer), is staying in the neighbourhood visiting his nephew Inspector Leach (Chris Pybus) of the local constabulary.
Christie and Verner skilfully parade what could be clues that shift suspicions between people with a final sharp twist before the case is solved so no spoilers, but the exposition is clearly presented, the performances all you could wish for and the presentation immaculate.
It is all meticulously 1930s with the men donning white tuxedos for dinner; it seems in a convincing time warp when people like that behaved just like this, though I'd question whether even then detectives would allow solicitor Treves to sit in on their witness interviews. But as the symbols on the set, this is theatre not real life, entertainment in a genre that may be a bit out of fashion but works beautifully when done this well.
Tickets at The Mill give you not just the show but also an excellent meal in their restaurant to enjoy beforehand. That makes a visit there special.
Reviewer: Howard Loxton