Traces
Wim Vandekeybus
Ultima Vez
Concert Gebouw, Bruges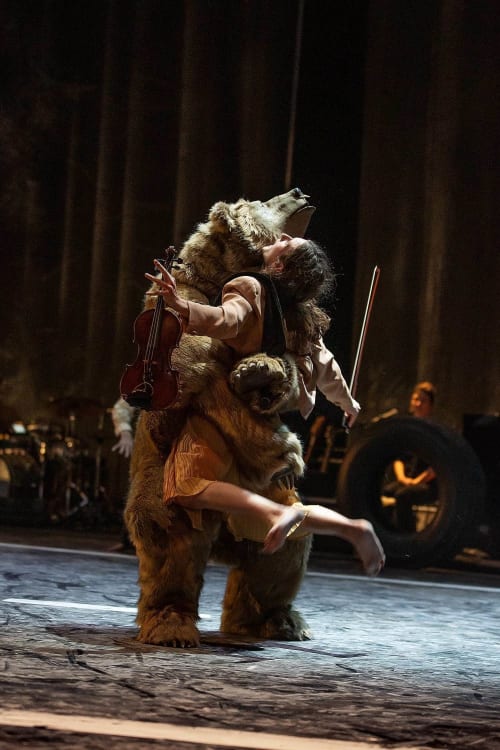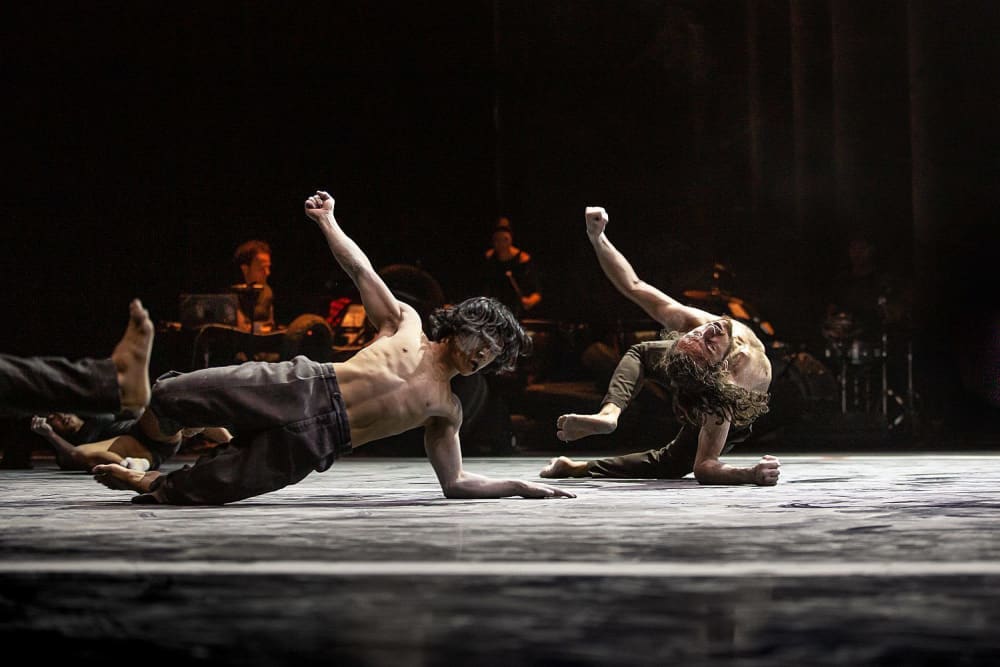 Wim Vandekeybus has long been known as a man who pushes dance to new physical extremes, and this piece is no exception.
A team of nimble, grafity defying dancers fling themselves around the stage to powerful effect. Created for the International Arts Festival Europalia in Romania, Traces explores the ideas of heritage, with a focus on the host country's history.
Romania's wilderness inspired Vandekeybus. This is a country with a meagre human population, home to half of all brown bears, wolves and lynx in Europe, and it is these majestic beasts and their relationship to human society which is investigated.
Bears are the most obvious focus, portrayed literally by three men clad effectively in fur suits, alongside realistic sound effects. These animals are at times terrifying and at others comic. Yet aside from the more obvious cuddly creatures onstage, you realise that there is a feeling of animal hierarchy throughout the piece. The dancers work as a gang, at times including and at others shunning their counterparts. The idea flows; we move from Wolfpack to human gang, Borna Babbic at the lead, chest jutting and bling touting.
The performers re-enact these primal scenes with a mixture of physical theatre and contemporary dance. The language Vandekeybus creates is visceral, demanding and sometimes chaotic. Dancers are sent careering around the stage, hurling one another and leaping between partners, yet Vandekeybus's approach leaves the space filled but not overstimulated.
This is an intense performance filled with powerful images and beautiful soundscapes which resonate long after the lights dim, but the work as a whole leaves me with a lot of unanswered questions.
Text is used, a mishmash of language, serving a songlike cadence—you understand the intention if not always the meaning. Yet this inclusion of text makes an otherwise very conceptual piece feel like it should be understandable and I feel as if I am constantly teetering on the brink of comprehension yet thwarted in the rapidly changing stream of ideas.
Vandekeybus describes his piece as an exploration of 'the inner story'. When investigating Romania's traces, he looks for the story that unfolds before or beyond language, which can only be told in the pulses of dance and music.
This, for me, is the crux of the problem with this otherwise outstanding and thought-provoking piece. It is ever-changing and nebulous, flitting between ideas as physical exploration, but then the inclusion of comprehensible spoken word pulls me into a more literal realm and I feel frustrated at my inability to follow the almost graspable narrative. Of course, the fact that I am left frustrated yet dwelling on the images is also a sign of Traces' success. I want to watch it again to further unravel the many layers.
More than anything else, it is the sheer physical energy and life-force with which the whole company performs that really astounds. Their ease and abandonment whilst executing challenging lifts, jumps and balances could easily mislead you into thinking this choreography is in the realms of normal humans.
The icing on the cake, though, is not their confidence and easy control of their physical form, but their ability to keep this ease thrilling. The dancers imbue each sequence with such power and agility that you cannot help but remain on the edge of your seat. An exhilarating and searching new piece from Ultima Vez.
Touring throughout December and January
Reviewer: Louise Lewis