The Tragedy of Soliman and Perseda
Attributed to Thomas Kyd
Trifle Productions
Rose Theatre, Bankside, London
(2009)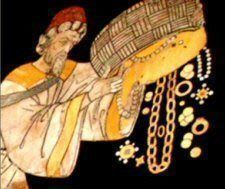 There are not many plays that can hold an audience spellbound by the power of its story, especially in the cramped confines of the Rose Theatre Exhibition space on London's Bankside. Housed beneath a 1990s office block, and looking like subterranean wooden platform over a waterlogged, fairy-lit parking lot, the remains of the Rose Theatre nevertheless evoke such passion in early modern aficionados that a full house for any theatrical event there is guaranteed.
Trifle Productions have risen to the challenge of staging a complex drama in this unprepossessing acting space. A triple rank of seats faces the archaeological site. Between audience and precipitous drop into watery history, a few metres of floor accommodates a world that encompasses the Island of Rhodes and the Turkish mainland.
Soliman and Perseda is a rarely-performed play, attributed to Thomas Kyd because it appears as Hieronimo's revenging metadrama in Act 4 of The Spanish Tragedy. As blood–soaked tragedy, it is certainly worthy of so great a writer, though ultimately Kyd's authorship can never be proved.
Perseda (Cassandra Hodges) is a beautiful Rhodes islander who is besotted with her young knight, Erastus (Ben Galpin). Erastus proves himself a victor in a tournament staged by the island's Governor, having exchanged jewelled favours with his beloved.
Unfortunately, Erastus loses Perseda's gift, a precious carcanet or necklace, and the resulting confusion leads to the death of the knight Ferdinando, and Erastus's enforced exile to escape punishment. Landing among the invading troops of Soliman the Magnificent, Erastus proves his valour and honour and is befriended by the hot-tempered emperor.
Soliman elects to invade Rhodes, in the process capturing Perseda, with whom he, too, falls hopelessly in love. Perseda and Erastus are reunited and Soliman is forced to view the two young infidels not as friend and consort, but as embarrassing enemies. Plotting the death of Erastus, Soliman sets his own eventual downfall in motion.
Although initially allowing the young lovers to live safely in Rhodes, Soliman cannot overcome his jealousy, for which Erastus is murdered. Perseda swears revenge and Soliman, unaware that he is fighting the disguised Perseda, mortally wounds the young woman, claiming a loving kiss before she dies.
Perseda's lips are, of course, poisoned. As Soliman writhes in agony on the ground, we see the destruction of a magnificently flawed warrior, brought to his painful end by a love that accentuates the divide between nations and races, but most especially between religious creeds.
The young company who perform this woeful, bloody tragedy make a valiant effort to inject real horror and passion into the play. A chorus of Love, Fortune and Death vie to cause as much trouble for us earthlings as possible, their other-worldliness evoked through a posturing physicality that perfectly suits the heightened poetry of their dialogue.
Four performances stand out, however: those of Erastus, Erastus's servant Piston, Perseda and Soliman. Galpin and Hodges complement each other perfectly as the lovers who are doomed to die in an age of war and struggle. Their passion is only matched by the naivety of their romantic entanglement.
Michael Linsey is the smooth-talking trickster Piston, ever willing to rob and lie his way out of trouble, and forging an intimate and engaging relationship with his audience.
Most splendid of all is Israel Oyelumade as the worthy adversary, Soliman. This is a Soliman whose temper explodes at a moment's notice, who thinks nothing of greeting warmly with one hand whilst plunging a dagger in with the other. An emperor so powerful that every command confirms his God-given right to dutiful obedience. Oyelumade is superb in the role.
Given the constraints of the venue, director Sophie Hickman has done an astonishing job of turning an obscure tragedy into an astonishingly powerful and entertaining event. Of course the subtleties of performance are lost in the limited playing-space of the Rose, but the narrative of violent passion and religious conflict is crystal clear and easy to follow.
More importantly, we engage with the play's protagonists in a surprisingly intimate way. Early modern anoraks might see Soliman and Perseda to tick it off their play-spotting list, but for audience members out for an evening's intense drama, nothing could be more rewarding.
Reviewer: Kevin Quarmby