Tramping Like Mad
Julie McKiernan
Theatre by the Lake, Keswick
(2004)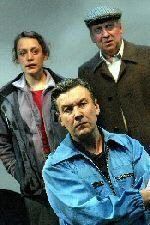 The first thing to get clear is that the word "tramping" in the title has nothing to do with walking, although that is the automatic assumption when the play is the joint winner of the New Cumbrian Play Competition and is performed in the Lake District. This "tramping" is a "side-to-side rolling motion: when you can't get your balance" and is one if the last phrases spoken by Donald Campbell before he was killed when Bluebird broke up as he attempted the world water speed record on Coniston in 1967.
Tramping Like Mad is a play about obsession, the obsession Frank Dierden, former journalist, has had with Donald Campbell, and the effect upon three generations of his family: wife Barbara, daughter Lynn and granddaughter Rachel. It's told through flashback, intermingled with contemporary scenes. Unusually the flashbacks are not just in the mind of one character but of both Frank and Lynn. And a constant presence throughout the play is Donald Campbell himself, in trademark blue jumpsuit, speaking words which are clearly taken from his public pronouncements. It is an accepted thing in the Dierden family that Franks spends a lot of time "talking to Donald".
The structure - short scenes moving from today to flashback and back - far from being as confusing as one might think, enables us to switch focus from Frank to Lynn to Rachel and back again, looking at their relationships from all sides, so that we watch with sympathy for all of the characters (Donald included!) as the consequences of Frank's obsession unfold, for what the others - and, by extension, we, the audience - thought they knew turns out not to be the full truth.
It's not without its moments of humour, although it is the sort that brings a (possibly wry) smile to the face rather than a full-bodied laugh and although it does not have a conventional happy ending, which would have required a bit of stretch to achieve, it does finish on a positive note.
It's a very well written play, author McKiernan's third but the first to have a full professional production, and the performances are uniformly excellent. The Theatre by the Lake has gathered together an excellent ensemble for this season and they are clearly at home in the intimacy of the Studio with its tiny stage. And it is a true ensemble piece - and performance.
Unfortunately there are not many performances left - 23rd, 28th & 29th October and 2nd & 3rd November - but, if you are in the area, see it.
Reviewer: Peter Lathan