Transitions
Charles Linehan, Oded Ronen and Cristian Duarte (choreographers)
Transitions Dance Company
Axis Arts Theatre, Crewe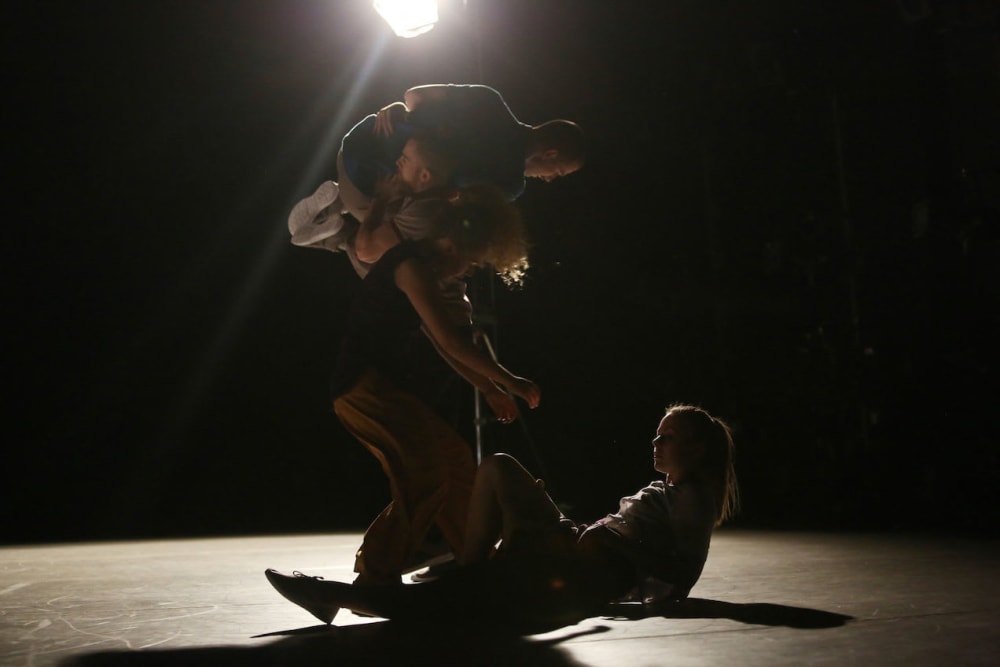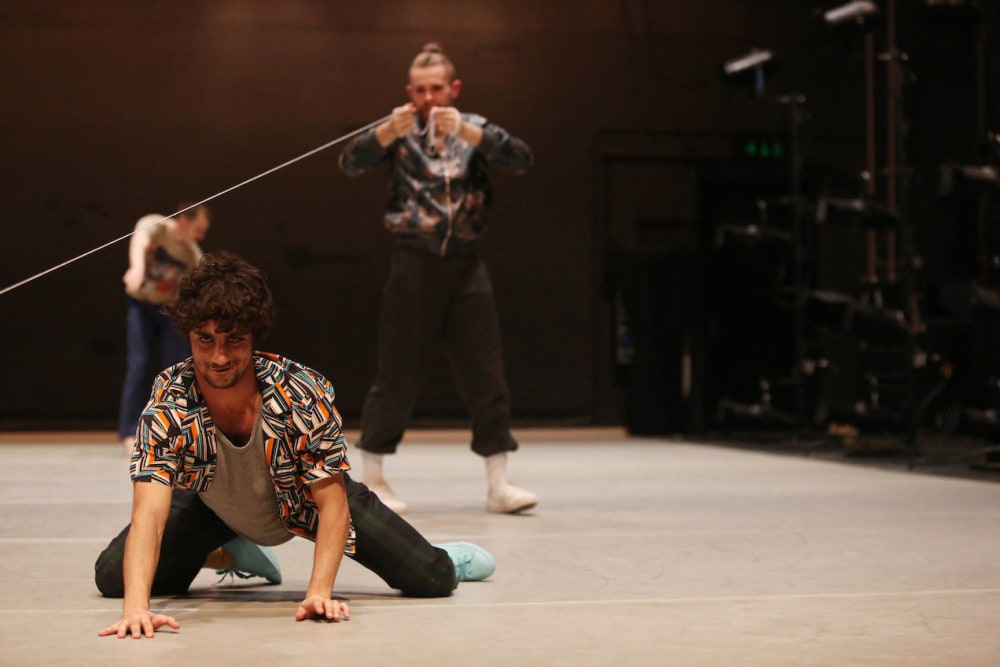 Transitions Dance Company, under the artistic direction of David Waring, based at the Trinity Laban Conservatoire is a postgraduate dance company, performing for one night at Manchester Metropolitan University's Crewe campus.
Tonight's audience in a studio theatre at the Axis Arts Centre seems to be largely made up of students. Nice to see the students supporting the event, but this company deserves a larger stage and a broader audience.
The show opens with "Nothing but Time", choreographed by Charles Linehan (it should be noted, the company is also credited with developing each piece in this evening's programme).
Dressed (more or less) in everyday clothes, sometimes aggressively catapulting one another across the floor, sometimes constrained to small, subtle, hypnotically slow motions, the dancers' bodies seem in this piece deliberately to exploit each other, rather than working as partners. There is a sense of unease and friction throughout.
Michael Mannion's lighting, opening with a glaring, stand-mounted white floodlight, which gives way to subtle and subdued illumination, enhances Linehan's work (based on research into drone technology). A moody and tantalising opening piece.
The performance closes with "&", choreographed by Cristian Duarte. A lone dancer moves silently around the stage, twisting, turning, walking, rolling. When he pauses, he is surrounded by the other eleven members of the troupe, in a bizarre tableau vivant—fixed grins and silent, unnatural laughs.
From there, "&" reminds me of a scene from the Marat/Sade, only less menacing and without the aggressive sexuality of Peter Weiss's play. The dancers contort and leap around the floor, all the while pulling a series of faces—smiling, leering, remonstrating, etc. This slightly edgy playfulness then spills over into the audience—hats, coats, bags and shoes are all fair game. This interaction unsettles some (one young couple looking distinctly ill-at-ease) but most take it in good part, as gentle, mischievous fun.
The central piece, and the standout piece of the night, is Oded Ronen's "Kintsugi". Kintsugi is the Japanese art of repairing broken crockery with a mix of resin and gold dust (or silver or platinum); the effect being to make the repaired object more of a treasure than before it broke. Irregular golden flashes across silver-grey tunics give Suzie Holmes's costumes a cleverly subtle connection to the theme. Matthew Mannion's lighting is at its best of the night; constant shifts in colour and orientation, enhancing and invigorating the visual experience.
All twelve Transitions dancers pack the stage for this often fierce and frantic creation; their passion and courage leading them to dare leaps and turns that a less surefooted troupe would baulk at, in what is a rather cramped space for so many performers.
While the movement is often graceful and athletic, the sense of flaw, of something not quite right, pervades this excellent piece. Sometimes, a dancer will pause, gently tapping his forehead or her chest—a motif gesture is the raising of the left arm, whilst tapping repeatedly at the rib cage just below the armpit. If these parts of the body begin to feel like areas of concern, this worry is soon given substance as one dancer begins to "leak" golden confetti, like a teddy bear losing her stuffing. Others suffer similar malfunctions—one "coughing" up gold dust, as if smitten by some terrible disease.
Each dancer has a moment to break away from the group into an energetic solo; like a body packed with energy it is struggling, desperately, to control—I pictured Pris's demise in Blade Runner; grace, strength and skill, suddenly giving way to painful, awkward convulsions.
There is a tremendous climactic sequence in which the dancers split into two gangs, leaping and twisting with extraordinary energy and commitment, precision and synchronisation. This brief section is so powerful that my only criticism is that it should lead us to the finale. It feels like we are reaching the end, but we are not.
Nevertheless, the actual finale is powerful and moving (if ever so slightly, overdue). All the while, beneath the main action, dancers have broken away to attend to the gold confetti. In ones and twos, they sweep and scrape it together, attempting to mark out a jagged golden line. The effort seems futile, since the dancing feet or slithering bodies of others, often wipe away their work. However, at long last the golden zigzag of a kintsugi mend is illuminated on the dance floor, carving the stage in half. Is this, we wonder, a moment of triumph over all the woes they have suffered?
By now, eleven dancers are crowded stage right, seemingly queuing to exit. They gently tap not only their own "wounds" but those of their neighbours, concerned for each other's afflictions. As the exit begins, a lone dancer is left behind. He writhes and twists across the golden healing join, scattering the gold dust, as if to show the mending has been in vain. A sombre and moving close to a marvellous piece of contemporary dance.
Transitions is a fine ensemble, but it would be wrong to say there are no stars in the company. In my view, the outstanding performer of the night is:
Bryn Aled, Marcus Alessandrini, Giannis Economides, Viva Foster, Becky Horne, Osian Meilir, Sean Murray, Srak Oakley, David Esteban Rodriguez, Sophie Tellings, Selene Travaglia, Jessica Walker.
If you get the chance to see them, grab it.
Reviewer: Martin Thomasson