Translunar Paradise
George Mann
Theatre Ad Infinitum
Bristol Old Vic Studio
–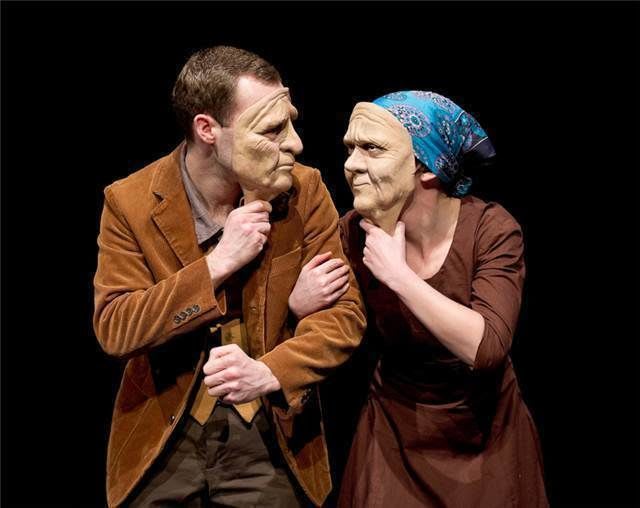 The grieving process is a paradox, says Theatre Ad Infinitum's Artistic Director, George Mann. The pain of loss and the loneliness of those left behind co-exists with the memory of a lifetime of shared joy and laughter.
It was Mann's first-hand experience of bereavement which gave rise to the characters of William and Rose, seen here torn apart by death and yet clinging to each other from beyond the grave because of their mutual fear of letting go.
Yeats's exploration of lost love and youth in his poem, The Tower, formed the final inspiration:
That being dead, we rise,
Dream and so create
Translunar Paradise
Theatre Ad Infinitum's exquisite Lecoq-based physicality paints a picture of this elderly couple's lifetime of highs and lows. Life, death, love and loss and a complex web of memories are played out with an unfettered simplicity in gesture, mime and movement. That brutal sense of loss of the recently bereaved, for example, is laid bare in the most mundane of everyday rituals: tea for two, where now there is only one.
Like a great novel where you 'hear' and 'see' the characters as you become immersed in the text, the energy, precision and dynamism of this wordless performance from George Mann and Deborah Pugh provides the soundtrack of this couple's life together—the courtship, the conflict, the passion.
Victoria Beaton's static masks also lend a curious impenetrability to the elderly couple we first meet; a fitting echo of the de-personalisation with which modern western society all too often regard its elders.
Translunar Paradise is a challenging and deeply moving homage to the power of human love, brilliantly conceived and beautifully crafted. Once again, Theatre Ad Infinitum triumphs with its peerless brand of physical storytelling.
Tours to Lincoln Drill Hall, February 14, Barbican Theatre, Plymouth February 17, and Assemble Rooms, Presteigne, February 18.
Reviewer: Allison Vale