Travels With My Aunt
Graham Greene
Creative Cow in association with Malvern Theatres
Salisbury Playhouse
–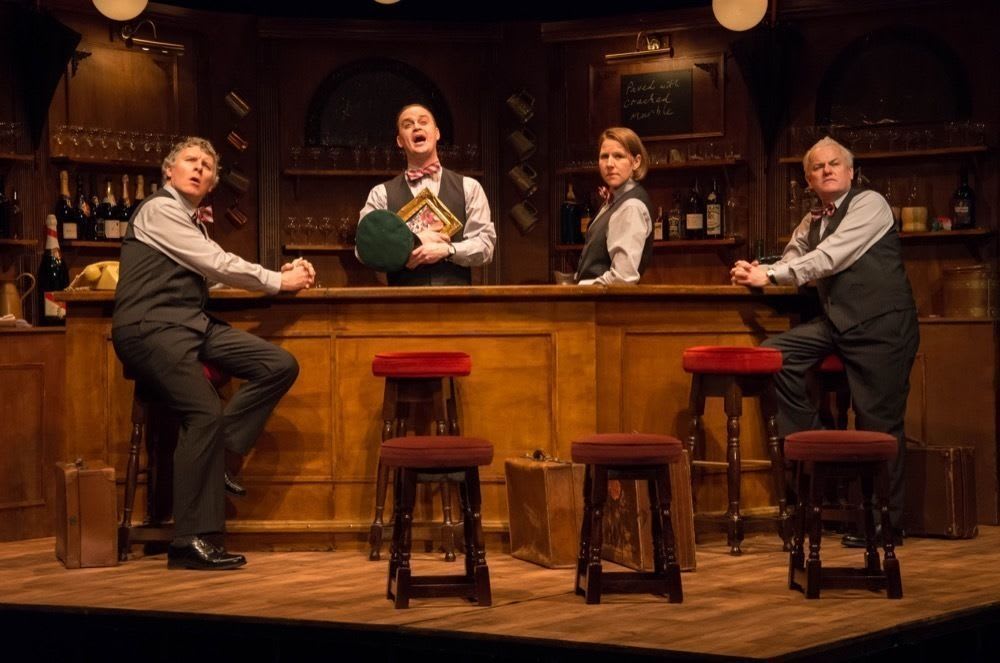 Graham Greene's novel, Travels With My Aunt, first published in 1970 and described by its author as "the only book I have written just for the fun of it", tells the story of Henry Pulling, recently retired bank manager, who has been persuaded by his feisty, seventy-five year-old Aunt Augusta at his mother's funeral to leave his dahlia cultivation and accompany her on an extended journey of adventure, discovery and danger.
Giles Havergal, well-known opera and theatre director, has adapted it for the stage. Amanda Knott is the director.
It's got to be a massive production, hasn't it, involving numerous scene changes, with twenty characters and locations including Brighton, Paris, Istanbul and, finally, Paraguay?
So how are they to manage with only four actors and a single set consisting of a rather well-stocked bar? It's a mystery.
The actors—Richard Earl, Jack Hulland, David Partridge and Katherine Senior—all appear as Aunt Augusta and Henry, helped by wearing identical costumes, while Katherine Senior takes on five other female roles, including the lovely seductive Yolanda who is passionate about English poetry.
As well as five other male roles, David Partridge's portrayal of Aunt Augusta's unlikely but constantly reappearing and devoted pot-smoking lover, Wordsworth from Sierra Leone, is a delight, as are Jack Hulland's Irishman O'Toole and his Frau General Schmidt. Richard Earl's Mr Visconti is comically evil as the swindler who firstly persuades Henry to join him in his nefarious ways before he comes to realise that his old, boring, dahlia-obsessed life actually had some value.
So many good things about this production, the gentle, non-intrusive, musical accompaniment enhancing the action without in any way diminishing the spoken words. And the dialogue, of course, with all the acerbic wit and wisdom we've come to expect from Graham Greene.
Then there are the special moments, like Henry's astonishment when he realises how far Aunt Augusta means to travel, remarking, "it never occurred to me she meant further than the seaside" and his observation on Istanbul: "Executing a prime minister? We only dream of it." Formosa? "Only strangers get off there."
Then there is Visconti's explanation of his apparently amoral attitude: "I have never planned anything illegal in my life! How could I plan anything of the kind when I have never read any of the laws and have no idea what they are?"
There are tender moments as well: the two old people dancing a waltz and Aunt Augusta's increasing realisation that she is drawing nearer to her life's end, then the discovery that she has an unsuspected relationship with the lonely Henry and the joy that that brings.
Is Travels With My Aunt worth reviving after all this time, though? Well, this adaptation by Giles Havergal did win the Best Entertainment Olivier award in 1993 and was still drawing plenty of appreciative comments and laughter from the Playhouse audience last night, so I think yes. Definitely. Only you've got to find a cast talented enough to be able to play up to eight different characters each with confidence and conviction, which this one most certainly does.
Reviewer: Anne Hill