Treasure Island
Robert Louis Stevenson, adapted by Bryony Lavery
National Theatre
National Theatre
–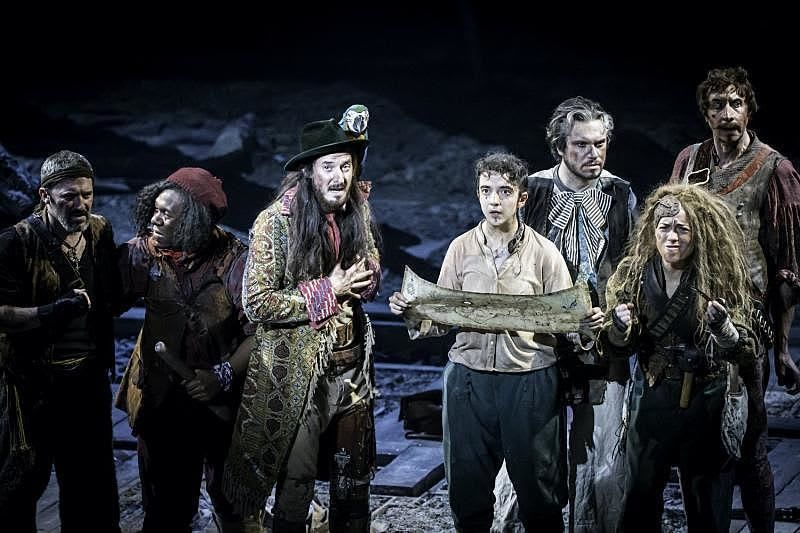 If, like me, one of your favourite stories as a child was Robert Louis Stevenson's Treasure Island, you may find this adaptation by Bryony Lavery a bit hard to stomach, as she plays fast and loose with both gender and plot line in an epic production where the set, designed by Lizzie Clachan, out-acts the actors and the pitch is somewhere between Harry Potter and panto.
In this alternative world, Jim Hawkins is a feisty, 'smart as pants' girl played with much bravado by Patsy Ferran who does well to find the middle ground between child and adult in a performance that rides the waves of this fast-paced production while keeping her head just about above the water line.
Long John Silver (Arthur Darvill) is a more mercurial character than the original—less sea-weary, more man-about-town—who quickly finds himself a very gender-mixed crew and a new wooden leg avoiding the need to hop around the stage.
And that's just as well, as the stage metamorphoses into a number of incredible sets from the Admiral Benbow Inn to the dockside, then the ship, the island and some underground tunnels.
Another problem is that, in spite of the age requirement being 10+, there is also an uneasy straddling between the darker sides of the story and a urge to inject humour with almost panto-like desperation.
At the start, the Inn is visited by an extremely scary Billy Bones and the fight scene between Blind Pugh and his crew is gritty. But then we are at the dock with 'rich but dim' Trelawney and a pantomime crew of characters such as Silent Sue, Red Ruth, Dick the Dandy and a cross-dressing Israel Hands.
When we get to the island, Ben Gunn has become an abandoned cabin boy rather than an elderly castaway, although it must be said Joshua James makes the part his own and is probably one of the best things in this rollicking spectacle of a production.
There are lots of special effects and a very loud soundscape. In fact it's all very noisy with lots of shouting and much overacting—like panto again.
Probably the best scene is when Long John Silver is explaining to Jim how to navigate by the stars. But this is an oasis in a frenetic production that is not really sure whether it is a comedy, a spoof or a serious play.
If it's aimed at kids, I think it's a little too adult. If it's aimed at adults, then you have to take it as a tongue-in-cheek adaptation that takes the essence of Stevenson's book and then plays fast and loose with it.
Don't expect anything much traditional and you'll be fine. And it's worth watching for the set alone.
Reviewer: Suzanne Hawkes