Treasure Island
Written and devised by Le Navet Bete and John Nicholson from the Robert Louis Stevenson novel
Le Navet Bete and Barbican Theatre
Plymouth Athenaeum
–

Listing details and ticket info...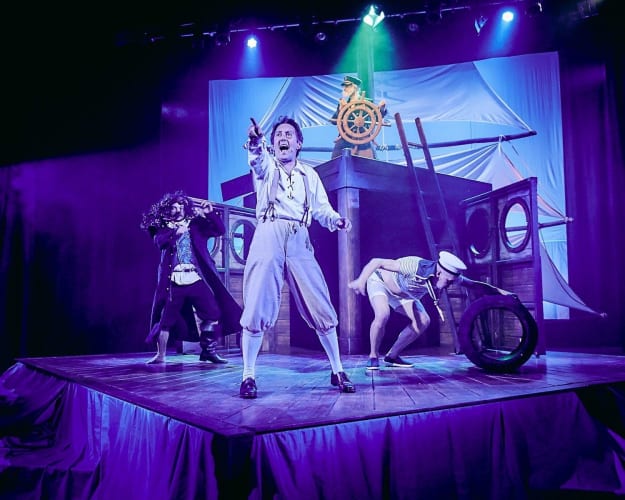 They're back. Hurrah.
My concerns earlier this year that Le Navet Bete (silly turnip in translation) may have been going off the boil are well and truly capsized as the motley crew plays fast and loose (and cards) with Robert Louis Stevenson's classic tale of buccaneers and buried treasure.
The daft Plymouth University graduate foursome, masters of the quick change and comic timing, tell the tale of 1757's teenage Janner Jim (lad), cut-throat double-crossing, high seas, treasure and treachery.
With parents selfishly dying, a ghastly old crone of a guardian aunt and the inherited Admiral Benbow pub something of a black spot, the naïve 'ungrateful haemorrhoid' (Nick Bunt all wide-eyed and innocent) commences a journey of friendship, skulduggery and absurdity.
Playing [his] Cards Right gives him both a Jolly Todger and a tender Little Todger (that is pretty much as smutty as this gets), and, in a chance (hmm) encounter, up bobs cook (Al Dunn) complete with unhygienic habits, wooden sock—sorry, leg—and fact-finding parrot Alexa from the Amazon.
Proper weird Jean-Paul Gaultier hot pants and crop top-clad strutting Pierre Le Bleu (Matt Freeman), the all-violence, string vest and Scottish brogue Black Dog (Dan Bianchi), and suave Santa of the sea Capt Bird's Eye are conveniently afoot for all hands on deck with their telescopes firmly set on the belching Caribbean cesspit of Skeleton Island.
So batten down the hatches for a breakneck and breathless barrels of laugh-out-loud hilarity, walking the plank, swimming with the fishes (superb underwater scene complete with Greta Thunberg), cannibalism, storms, maps with X marking the spot—or at least one of them—as smart-as-paint Jim (lad) comes of age following the clues to Captain Flint's long lost chest and a saccharine hippy drivel outcome—or not.
Freemen is bright-eyed and fishy-tailed as the love interest Mermaid—enough to blow new life into anyone's doldrums—wardrobe-malfunctioning Vanessa and most other female roles with a slow sly smile and knowing look, while Bianchi (and to a lesser degree Dunn) dons swashbuckling boots, gorilla costumes, wigs and more to populate the tale with some 40 characters including cheese-seeking Benn Gunn (complete with a nutty wife and one-syllable grunting hirsute teenage son), hard-drinking secret-keeping Billy Bones, pirates, ne'er-do-wells, fuddy muckers, cardsharp and gameshow host.
Fi Russell's superbly simple but versatile set becomes pub, ship and island with a swift fold, tuck or slide while silhouettes and Looola Nicholson's puppets are used to great effect.
Such good slick fun. Will try to catch it all over again with the whole family.
Reviewer: Karen Bussell