Treasure Island
Book by Kate Ferguson, music & lyrics by Susanna Pearse, based on the novel by Robert Louis Stevenson
Octagon Theatre Bolton
Premier Suite, University of Bolton Stadium
–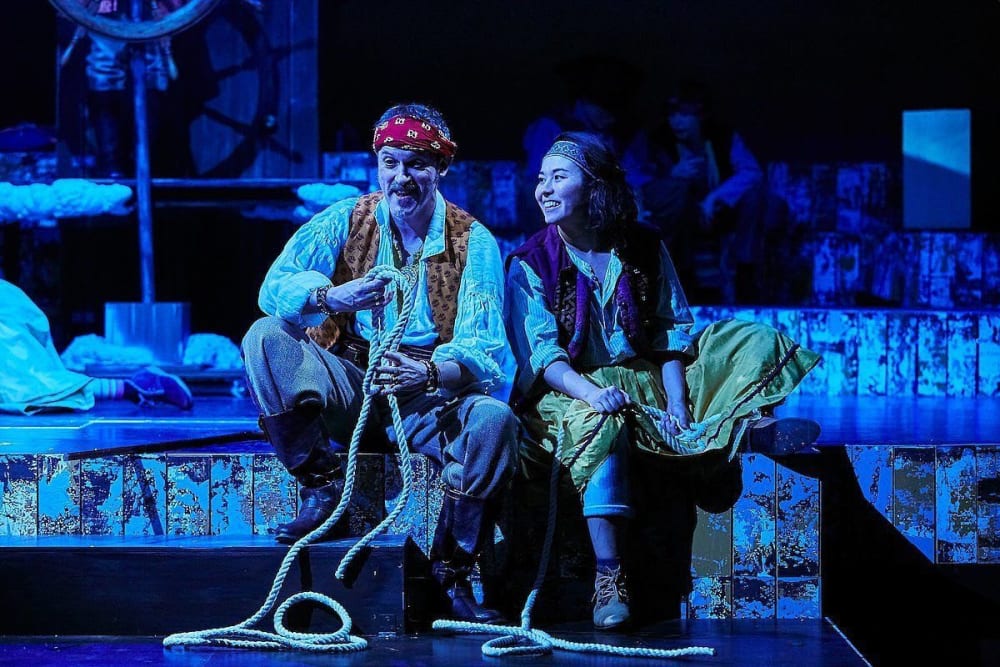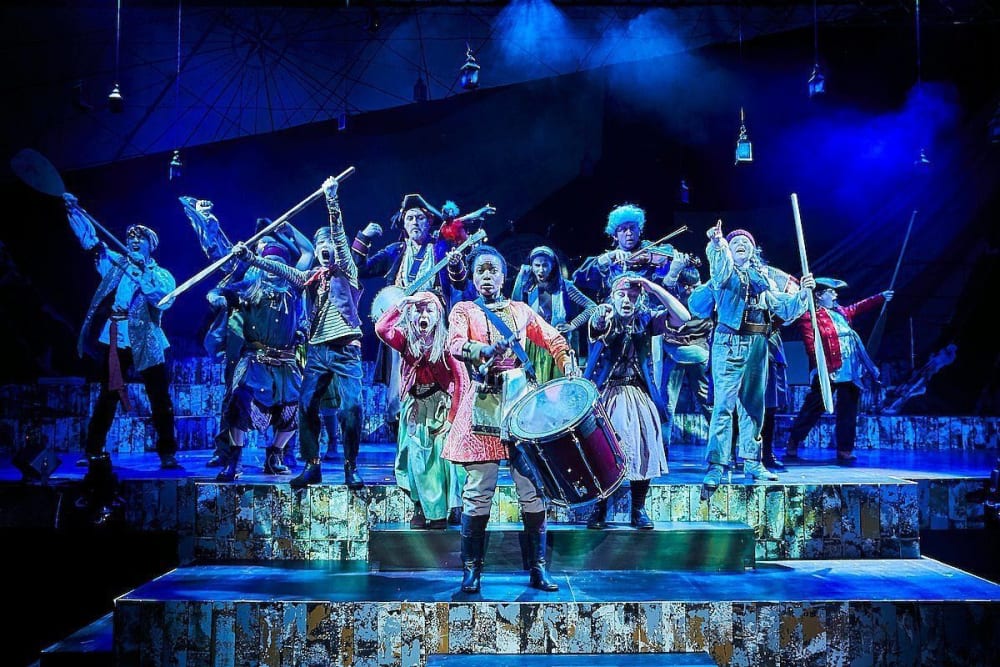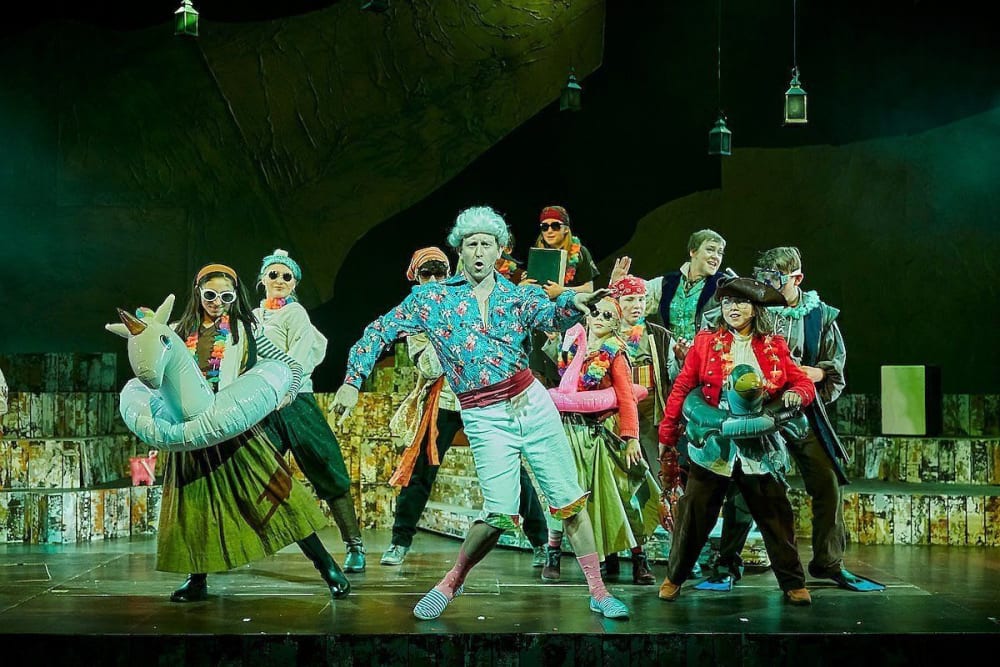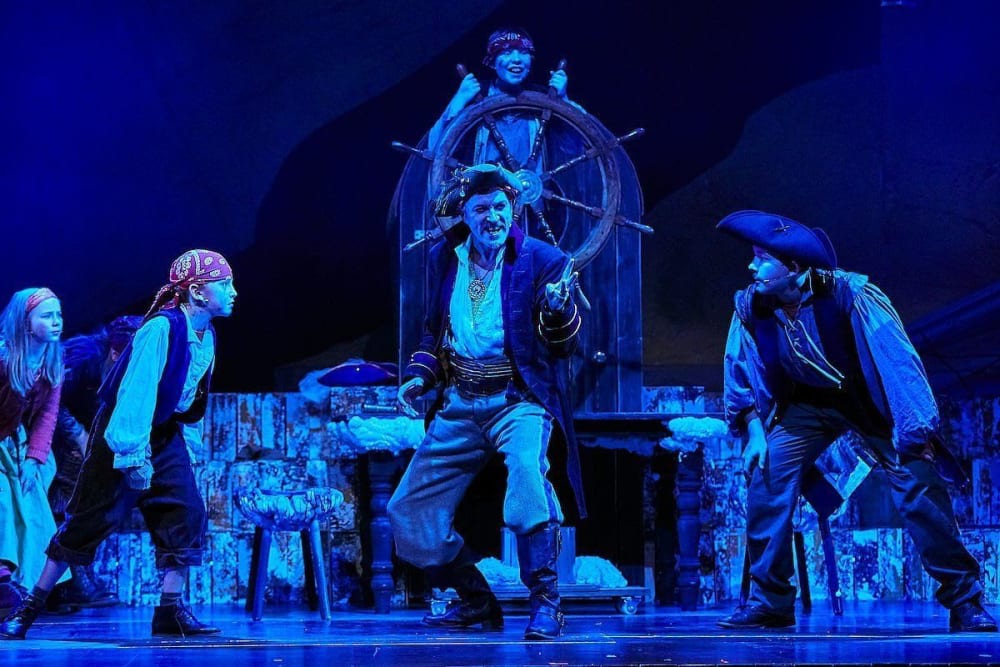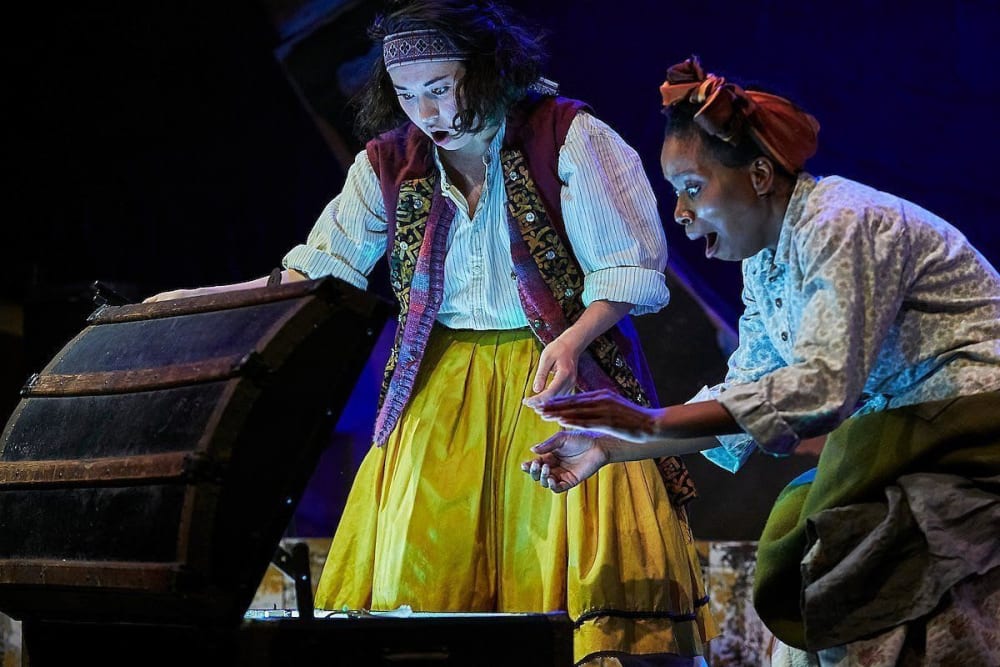 For its last Christmas show before moving back into its refurbished building, the Octagon has put considerable resources and effort into converting a large function room at the football ground into a space that almost looks like it could have been built as an 800-seat theatre with an enormously wide stage and a substantial lighting and sound rig. After sitting in standstill traffic for an hour on the M60 and battling the wind and rain crossing the huge car park, it's an impressive sight with which to be greeted.
That Cinemascope stage has been filled effectively by designer James Perkins with a suitably nautical set, which is bright and colourful for the season, with plenty of room for the small cast of actor-musicians to observe and to add to the soundscape when not in the centre of the action.
Kate Ferguson's book takes the basic arc of the original story but twists it to fit with modern sensibilities and to remove much of the real danger and most of the deaths to keep it parent-friendly. It starts in the Admiral Benbow Inn where Billy Bones (Henry Bauckham) asks young Jim Hawkins (short for Jemima, played by Ami Okumura Jones) not to give him away, but then Blind Pew (Ben Simon)—who here seems like an Irish sorcerer who isn't blind and can summon thunder and lighting with a wave of his staff—delivers to him the Black Spot, indicating a fatal curse upon him, after which he drops dead.
Jim finds Bones's treasure map, and, despite her mum's (Ebony Feare, with a sometimes impenetrable Lancashire accent) protestations, sets off on a voyage with Squire Trelawney—played by Ben Simon as though he is one of Bertie Wooster's more stupid friends—and Doctor Livesey (Heather Phoenix). However, unknown to them, the crew they engage consists mainly of pirates led by the fearsome Long John Silver (Jack Lord with a parrot but with two legs). Jim overhears the pirates plotting and tells the Captain (Feare again), who formulates a plan for when they land on the island. From this point, the plot becomes less clear, but of course everything ends happily and nobody is sent to the gallows.
It's certainly got plenty of entertaining moments and the songs are pretty good, but it's hard to see where this show is being pitched. It begins looking like a serious story with a few silly bits thrown in, but then the silliness takes over and the plot starts to fall apart. There's nothing wrong with some silliness at Christmas, but it doesn't have the confidence to go full-on panto silly while leaving some of the more interesting, serious threads, like Jim's changing relationship with Long John, frustratingly underdeveloped. While there is plenty of comedy, much of it didn't produce more than a few scattered chuckles from the adults or the kids near to me.
There is one moment when the show goes completely wacky, when Ben Gunn (Bauckham), having gone mad after living alone on the island for years, leaves the plot completely to sing about his love of cheese, prompting a surreal nightmare comparable with the scary dream sequence in Dumbo (the proper one, not the remake) in which there are children dressed as mice and adults as cows in tutus, which left me open-mouthed.
The star of the show is Lord's Long John, who is no pantomime villain but someone who shows real affection towards Jim while still being a pirate whose actions we should abhor, plus he has great comic delivery. Okumura Jones also stands out as Jim, a young person with a thirst for adventure who isn't keen on doing as she is told.
With a cast of only six professional actors playing ten parts between them, everything else is filled in by the young company, including playing all of the pirates, and there's a lot for them to do. In fact, there are long sections of this production that seem like a youth group show with one or two adults to lead them along (which Lord does extremely well). I certainly can't fault the energy and enthusiasm of the Red Team on press night—if anything, some of their delivery is a bit over-enthusiastic—but many of them are quite young, and so there are some limitations on what they can do compared to experienced adult actors.
Overall, it's a lively, colourful show for all the family with decent original songs based on a classic text that has made me want to dig out the original novel again, and that can't be a bad thing.
Reviewer: David Chadderton