Treasure Island
Tom Beard
Wicked Productions
Royal Victoria Hall, Tunbridge Wells
–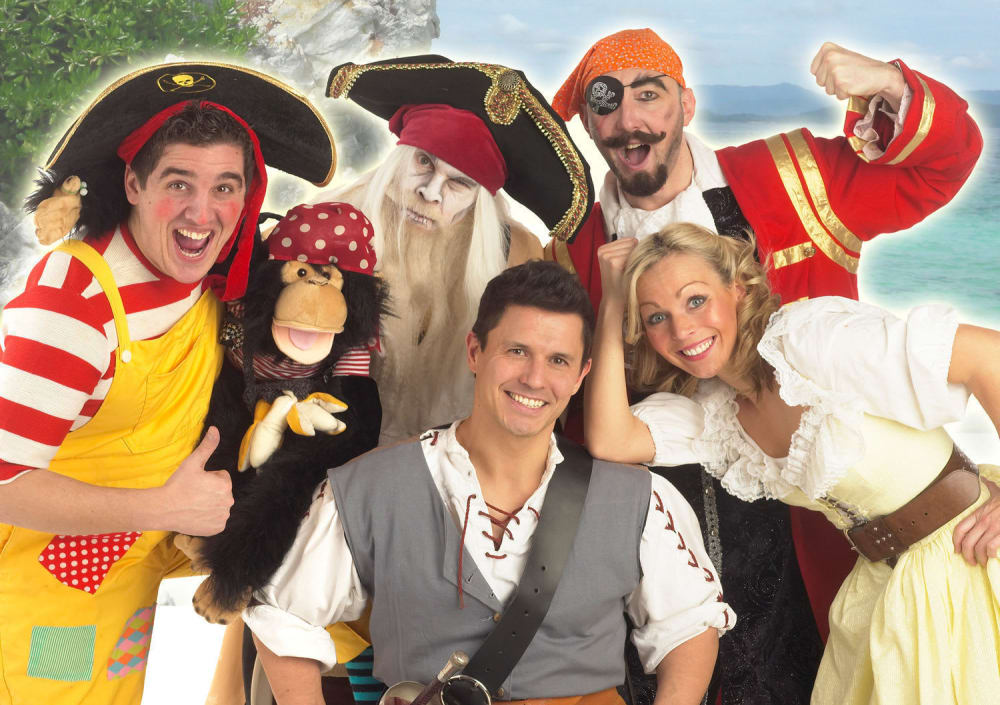 When Robert Louis Stevenson wrote Treasure Island back in 1883, little did he know how many versions his tale of pirates and treasure maps would inspire.
130 years on, pirates are now a staple of Pantoland; their plundering of exotic islands a gift to scenographers and writers alike. Presenting their second pantomime at the Royal Victoria Hall, Tunbridge Wells, Wicked Productions puts a modern panto-esque spin on Stevenson's tale for some shipfaring fun over Easter.
Tom Swift and Tom Beard's island tale starts rather clunkily with a long, extended prologue that sees Ant Payne's Silly Billy Bones providing a ten-minute monologue full of backstory. Once this is over, the action swiftly shifts to the Benbow Inn where Jim Hawkins (Jeremy Edwards) and Jolly Roger (Tom Swift) are introduced to the audience and the adventure can truly begin. In a departure from the usual narrative, a local ship-owner's daughter 'Sea-Dog' Sally (Amanda Swift) becomes the hero and with the help of the trusty Hispaniola, it is she who leads the crew into adventure.
Treasure Island manages to retain much of the novel's original plot; however, one of the script's main issues at present is its framing. Whereas in Christmas pantomime, the Immortals set up the narrative by way of a battle, Treasure Island suffers a quasi-'Who's the Villain?' identity crisis with Silly Billy Bones establishing the narrative, to be threatened by Captain Flint, who is then, 45 minutes into the piece, replaced by Long John Silver as the Villain and never seen again until Act Two. Greater interplay between the three characters and an earlier introduction of Silver would give the piece stronger narrative clarity and assist the audience in deciphering who to cheer and boo.
The cast is made up of a host of energetic performers, who create an atmosphere of excitement and anticipation as the crew get ever closer to their hallowed treasure. Jokes come thick and fast and there is some good punning with the names of islands; however, hiding the sacred map up Jolly Roger's bottom takes the toilet humour a bit too far. There is also rather a lot of 'playing' going on at present and although a (cod-)corpse is often relished by an audience, when occurring in every scene, they soon lose their impact.
The six-strong cast is supported by an excellent ensemble of dancers who execute Carla Nicholson's's choreography brimming with commitment and character bathed in some of the strongest lighting design to have graced a small-scale venue courtesy of Dan Stratford.
Scenographically, the production is incredibly strong and makes excellent use of Tim Gear's projected animation sequences. An underwater sequence which segues into a UV sequence is particularly effective, as is the production's cinematic overture as a ship makes its way across an aging treasure map.
Treasure Island successfully captures the essence of an Easter pantomime; it doesn't have a Dame, but the other stock roles are ticked off as an episodic narrative takes place with plenty of audience participation. Swift and Beard have even managed to create a nice piece of business with a monkey and some bananas building upon both the 'Egg Gag' and 'Little Bit of Heaven' and concluding with a good old dose of 'It's behind you!' If the rule of three were applied, the 'Irate Primate' would increase in comic value and manage to wring even more laughs out of this tried and tested formula.
With top price tickets costing only £11, audiences certainly get a lot for their money in this swashbuckling pantomime adventure. And who wouldn't want to see an irate primate do the Harlem Shake?
Reviewer: Simon Sladen