Treasure Island
Daniel Winder adapted from the book by Robert Louis Stevenson
Iris Theatre
St Paul's Covent Garden
–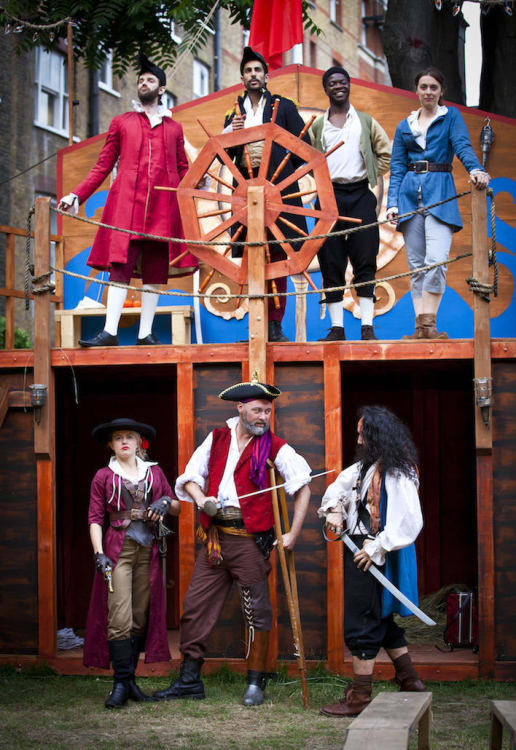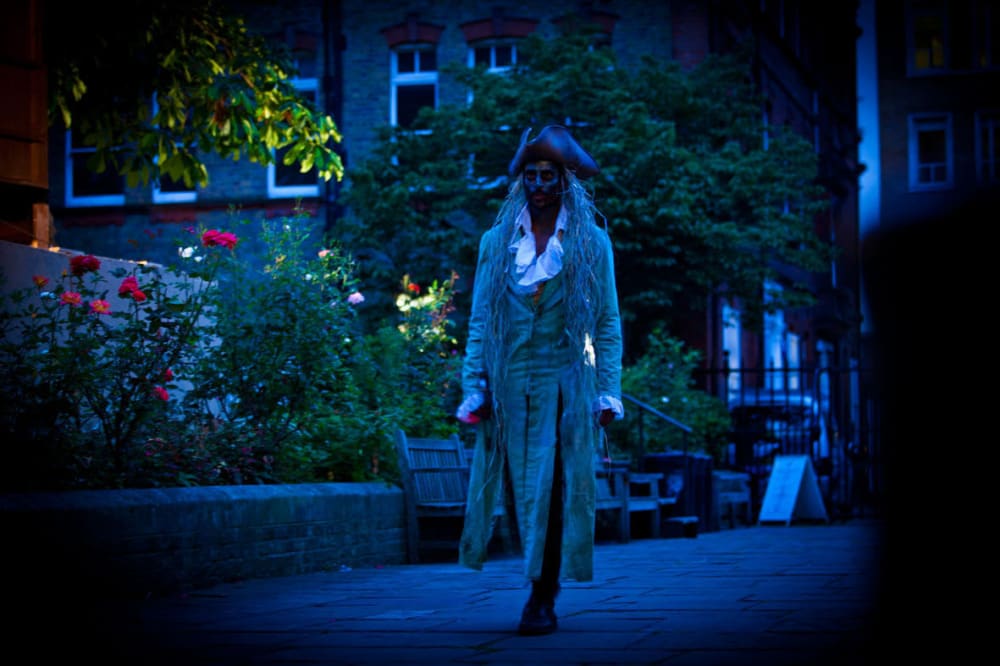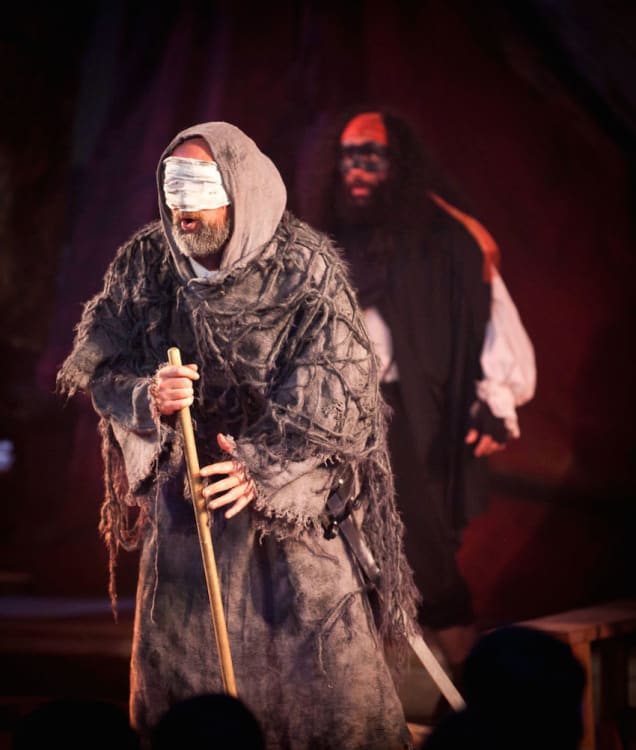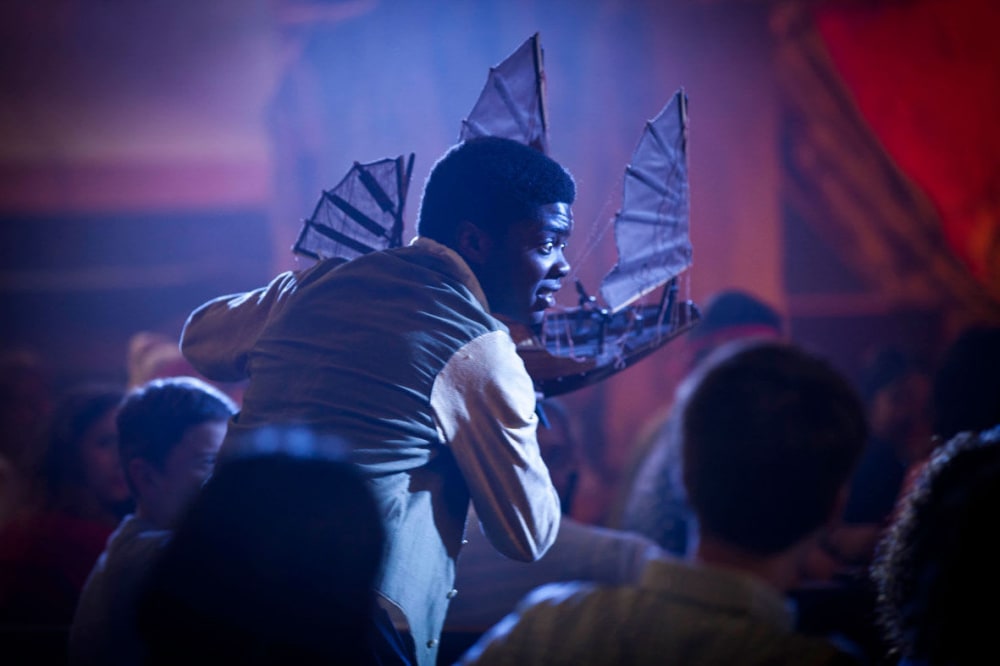 You might not believe that the good ship Hispaniola could sail on the lawns of St Paul's Church, Covent Garden, but this is the Actors' Church and Iris Theatre makes it happen. She is there from forecastle to stern, gunwale to crow's nest, ready to set off from Bristol to seek treasure on a faraway island.
If you join her crew, this committed company of actors, helped by song, some sound effects and a bucket to bail with, you can sail the Atlantic, battle through a storm round Cape Horn and then cross the Pacific to reach the place on the map marked by a red cross.
Daniel Winder's adaptation makes a few changes of gender and action to fit cast and company resources. The ship's doctor is now Mrs Livesey, pirate Israel Hands is now sweet singing Isabella who plays the mandolin and Squire Trelawney, an accordionist, doesn't make it back home to Devon, but it stays true to Stevenson's spirit of boyhood adventure.
You don't get the full story, not just because it can't last all night but also because there are some scenes that you can't watch. That's not because they are too gruesome but because you are watching a different one.
Half of the audience become pirates; they wear a red bandana or can tie it around their arm as identification. When they go off with their leader, those loyal to lawful Captain Smollett see something different. Each group gets the story from a different perspective and, for a few lucky youngsters, things become even more immersive as they are called on to play active roles in the story.
From Blind Pew's ominous arrival at the Hawkins's inn, the death of Billy Bones and discovery of a treasure map, it is a lively and fun-filled adventure. It is young Jim Hawkins's own story, so he acts as occasional narrator.
Harold Addo, making his professional stage debut, is a West Country Jim, big on boyish enthusiasm, a brave hero who hears the pirates plotting from the bottom of a barrel (of oranges, not apples in this version, for scurvy prevention).
Dafydd Gwyn Howells's wooden-legged Long John Silver seems a more friendly than frightening pirate (probably just as well if you find yourself on his side). He has a soft spot for Jim but Anne-Marie Piazza's Mexican Isabella is more ruthless and Dominic Garfield's Black Dog a loose cannon.
In some ways, the expedition leaders are a less likeable lot. Nick Howard-Brown is a comic Squire Trelawney, a fool far too full of himself, and Adrian Quinton's Captain Smollett is peacock proud (as Silver calls him) who can't make time to listen when Jim and Rebecca Todd's practical Mrs Livesey want to warn him of what Silver is up to.
Set designer Valentina Turtur is responsible for the Hispaniola and takes inspiration from Easter Island and Tahiti for some of her other adornments and, when they all find Flint's Treasure, provides some Indiana Jones-style complications.
By splitting the audience, director Daniel Winder speeds up some of the transitions between locations as the action moves between church interior and the garden locations, but some more action among the crowd is needed to maintain momentum and ensure that minds stay within the story.
Despite a grey evening with rain threatening and seats not quite dry, this Treasure Island gave pleasure in plenty. On a balmy summer evening, it would be even better. Whether you are loyal crew or not, it will give you a good time—though I suspect the youngsters might prefer to be pirates.
Reviewer: Howard Loxton