Treasure Island
Very loosely based on the novel by Robert Louis Stevenson
Le Navet Bete
The Lyric, Theatre Royal Plymouth
–

Listing details and ticket info...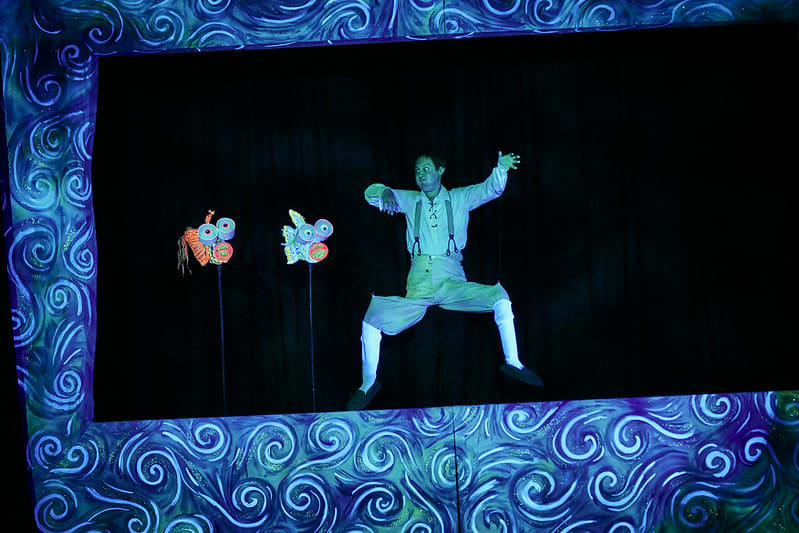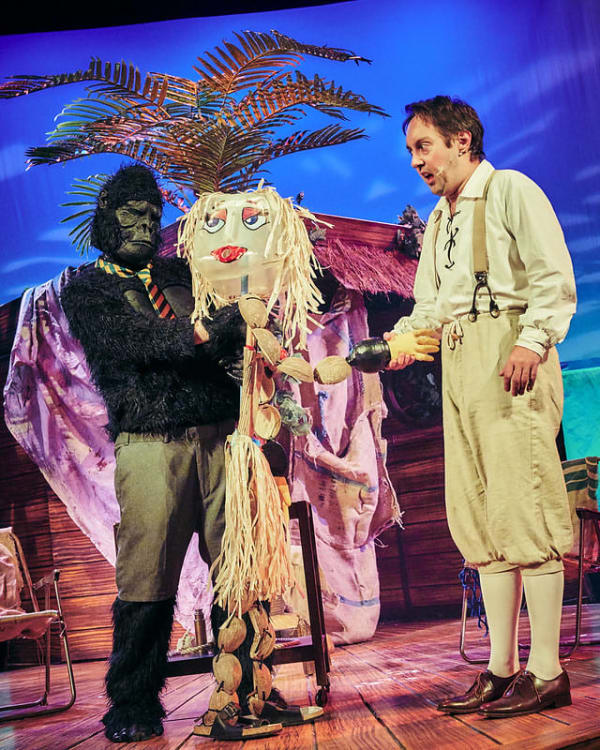 The motley crew (here with original member of the Plymouth University graduate foursome Dan Bianchi swapped for Simon Burbage) is on board for a dastardly tale of derring-do, pirates and skulduggery. It may be Robert Louis Stevenson at heart but the quick change, quick wit and quintessential daftness is the company's own inimitable style.
Smart-as-paint Janner Jim (a wide-eyed Nick Bunt) flees the Barbican black spot pub he inherited from his selfishly dead parents when the body count rises and, playing his Cards Right, wins a Jolly Todger (schooner) and a tender Little Todger to assist his coming of age journey to Skeleton Island and the promise of buried treasure. Fortuitously (or not), Long John Silver (Al Dunn) is afoot (singular), footloose and fancy free to rustle up a crew while Amazon parrot Alexa rustles up plenty of laughs.
Proper-weird Paul Gaultier hot pants and crop-top-clad strutting Pierre Le Bleu (Matt Freeman), suave Santa of the Sea Captain Bird's Eye and unsavoury Black Dog (both Simon Burbage) batten down the hatches for a high seas adventure of laugh-out-loud hilarity, walking the plank, swimming with the fishes (superb underwater scene complete with plastic pollution), maps with X marking the spot—or at least one of them—and general swashbuckling.
Freeman is also bright-eyed and fishy-tailed as the love interest Mermaid with a less than elegant exit plan, wardrobe-malfunctioning Vanessa with trademark slow sly smile and knowing look and cheese-seeking bonkers Benn Gunn (complete with a nutty wife and one-syllable grunting hirsute teenage son), while sequinned bowtie, gorilla costume, wigs and much more allow the foursome to populate the tale with myriad characters including hard-drinking, secret-keeping Billy Bones, Blind Pugh, buccaneers, acerbic aunt, ne'er-do-wells, fuddy muckers, cardsharp gentry and gameshow host.
Fi Russell's superbly simple but versatile set becomes pub, ship and island with a swift fold, tuck or slide to seamlessly move the action from grimy Plymouth across stormy seas to the Caribbean hot spot.
Just as good second time around and the boys deal well with the translation to a larger theatre even if some of the intimacy is lost in the circle.
Thoroughly enjoyed and highly recommended for all the family.
Reviewer: Karen Bussell