Treasure Island
Robert Louis Stevenson, adapted by Toby Hulse
Watermill Theatre, Newbury
(2010)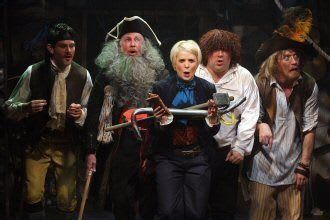 The Watermill Theatre was awash with excited children all dressed up as pirates in anticipation of Toby Hulse's adaption of Robert Louis Stevenson's Treasure Island and what a stirring swashbuckling adventure it is.
Emily Butterfield, playing Jim Hawkins, is simply superb creating a wonderful, zestful rapport with the audience as the spirited story evolves in her imagination and then unfolds on the stage.
Director Robin Belfield's plucky production continues the Watermill's tradition of using actor/ musicians and they play a myriad of characters often coming out of role to explain to the audience who they are. There was glorious tongue-in-cheek humour that had the adults laughing out loud as well as keeping the youngsters amused using 'pirate talk' and then translating it into modern day English - all tremendous fun.
The story is told with energy and relish starting at the Admiral Benbow Inn with Blind Pew delivering the black spot, to life on the good ship Hispaniola as the Captain (Nicholas Goode) and the crew set sail to discover Captain Flint's buried treasure.
Long John Silver (Patrick Driver) and the mutinous crew, including Katherine Toy, take over the ship and Jim, the captain and the ebullient doctor (Howard Cogins) seek refuge in the stockade on the island where they discover the mad Ben Gunn (Morgan Philpott) who was abandoned and left to die by Flint.
But not to fear shipmates, the ship is rescued and the audience save the day by participating in a fearsome fun stage fight. Wonderful stuff! The treasure is found in what was a real coup de théâtre.
Hayley Grindle's busy multi-levelled set was intriguing and Simon Slater provided a vibrant score that complimented the well-known sea shanties. Mark Dymock's inventive lighting perfectly created the atmosphere.
There were sterling performances by the whole talented cast in this action-packed, great seasonal entertainment for all the family. So heave-ho me hearties and don't miss this sparkling adventure.
Runs until Sunday 2nd January
Reviewer: Robin Strapp