Tree
Idris Elba and Kwame Kwei-Armah
Manchester International Festival, Young Vic and Green Door Pictures
Upper Campfield Market, Manchester
–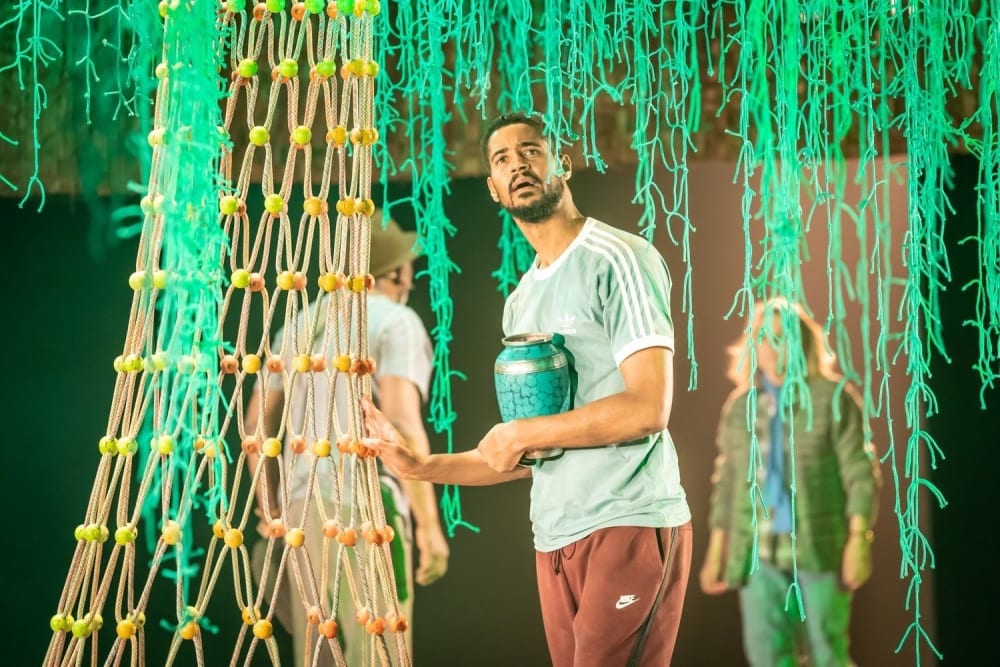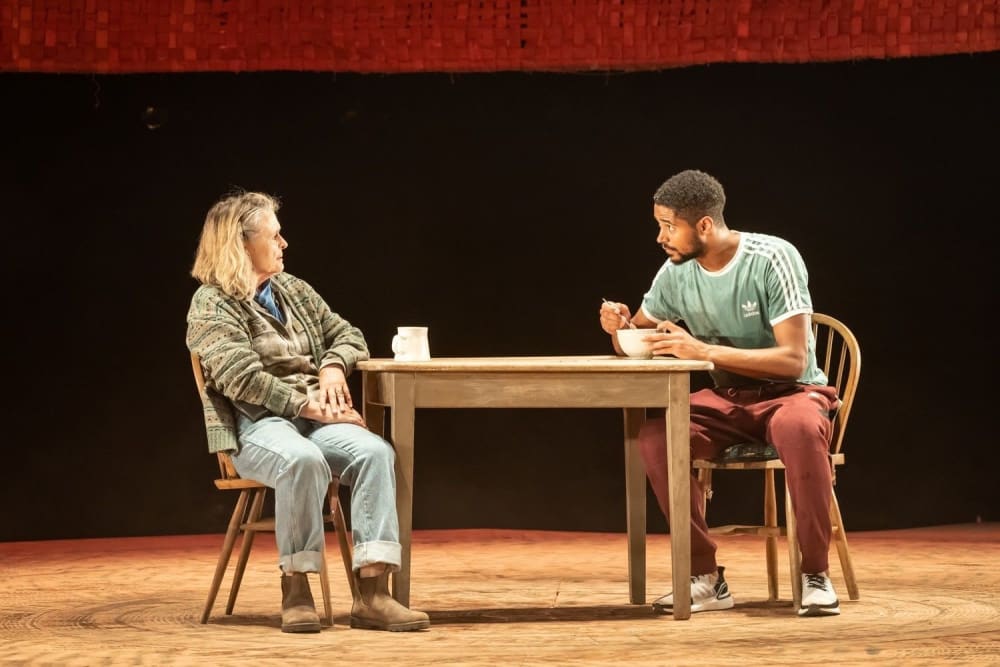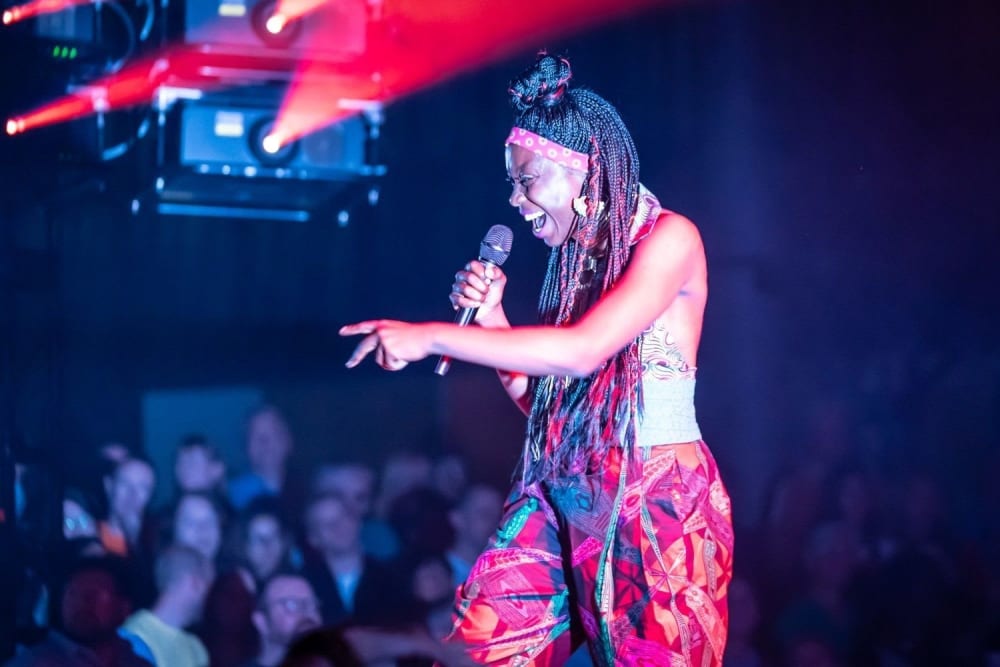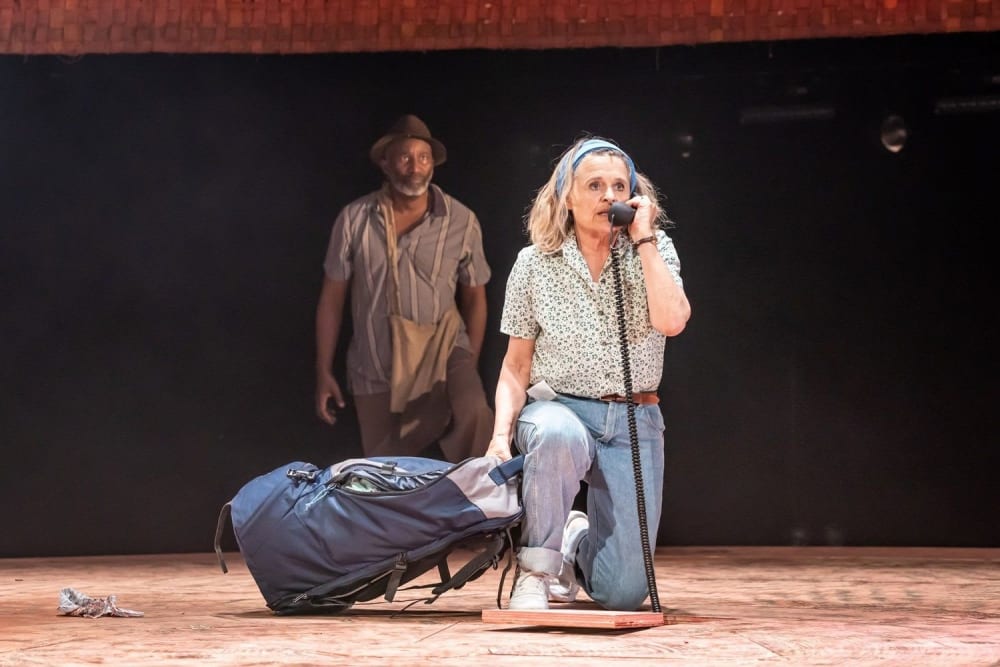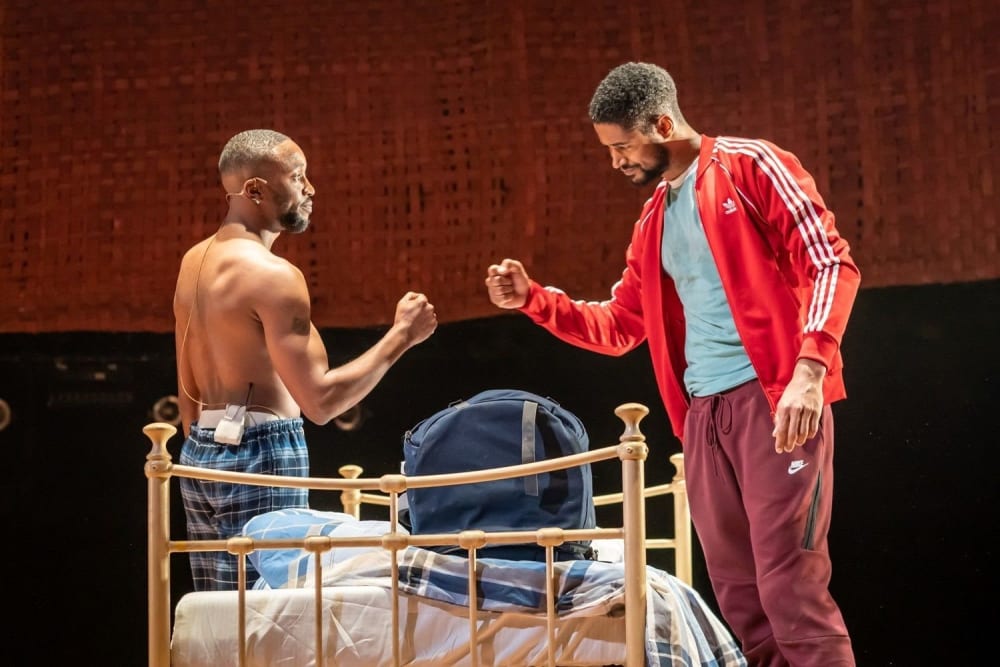 Tree—the title referring to both the lead character's complicated family tree and an actual tree to which he is drawn—is a personal story to co-creator Idris Elba following the death of his father in 2013 that director Kwame Kwei-Armah has tried to turn into 'gig theatre' (he says in the programme, "we wanted audiences to experience the kind of energy you feel at gigs").
To achieve this, the audience enters this old Victorian market building, which now has a thrust stage down the middle of it, to pumping dance music as the DJ and some of the actors and multitudinous volunteer ushers encourage them to dance around and even on the stage. This doesn't link particularly smoothly into the performance, as the audience is shuffled off the stage to allow the action to begin.
In the UK, Kaelo's (Alfred Enoch) mother has recently died and he is about to set off to her birthplace in South Africa with her ashes—after some business with his flatmate and his girlfriend that proves to have little relevance to what follows. There, he meets his tough Afrikaner grandmother (Sinéad Cusack) for the first time who was estranged from his mother before he was born and so they have had almost no previous contact. Several times, he is asked by different people, "why have you come here?" and he never answers, but it seems he wants to find his black father's grave to reunite his mother and father, and perhaps find out what happened to him.
This brings out some uncomfortable South African history and—like Jackie Kay in her memoir Red Dust Road, which will have its stage première in Edinburgh next month—shatters Kaelo's preconceptions about his father and the country. He imagines a country that was saved by the great Nelson Mandela and that his father died fighting for the freedom that everyone in South Africa now enjoys, but the truth is much messier, and the heroes and the villains not quite so easy to distinguish from one another. This is especially highlighted when he tracks down his sister Ofentse (Joan Iyiola), who believes Mandela sold them out after the 1994 elections and the fight against the white settlers isn't yet over—something with which some of the Afrikaner community would agree.
The story gradually becomes clear through flashbacks in which we see Lundi (Kurt Egyiawan) and Cézanne's (Lucy Briggs-Owen) forbidden relationship and the reason she cut off all ties with her mother when she escaped the violence to England, by this time pregnant with Kaelo. The production culminates with a visually impressive coup de théâtre in which a tree—which brings together the themes of the play and Kaelo's reason for being there—fills the stage, with the help of some audience participation.
As a play, there are some powerful scenes, well performed by all, and an interesting thread of a story, but it a bit disjointed and feels somehow incomplete, although the impressive live music (Michael 'Mikey J' Asante) and dance (Gregory Maqoma) go some way to bringing it together. As for Kwei-Armah's stated intentions, making audiences stand to watch a play for an hour and a half, even with the occasional song in it, does not produce the energy of a gig—quite the opposite: I was getting stiff from standing still for so long. As is so often the case, the audience participation elements—waving placards, acting as crowds, waving mobile phone torches and at one point someone reading awkwardly from a piece of paper—are more distracting than immersive. At the end, after the audience were invited on stage for the final scene, the actors had to fight through them in order to take their bows.
Paul Arditti's sound design somehow makes both the loud music and the dialogue crystal clear but gig-loud, which is quite a feat in a leaky Victorian metal and glass market hall. Jon Clark's lighting looks similarly impressive from the front, but from the side many of the key scenes are rendered invisible by blinding shallow side-lighting right in the audiences' eyes (I had to move as I was getting a headache). Jon Bausor's set and costume designs veer between minimalism and spectacular, but are always appropriate.
While some elements feel a bit gimmicky and the play doesn't entirely work dramaturgically, the energy and the spectacle carry through this story which is both intensely personal (to the character and to the person who conceived it) and politically interesting, although we saw some of these arguments debated eloquently when Inua Ellams's Barber Shop Chronicles came to Manchester earlier this year, another show in which we were invited to dance with the cast.
Reviewer: David Chadderton