Trial by Laughter
Ian Hislop and Nick Newman
Trademark Touring and Watermill Theatre
Everyman Theatre, Cheltenham
–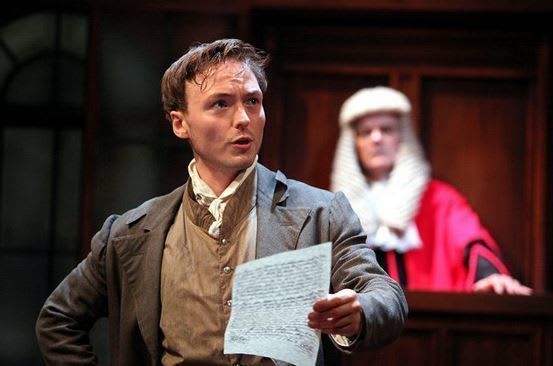 Two hundred years ago, the bookseller William Hone was tried three times in three days for seditious libel and blasphemy after satirising the Prince Regent and his Tory friends in parodies of the Lord's Prayer and other religious texts.
Facing prosecutions led by the Attorney General, and backed by the court and the government, Hone conducted his own defence, quoting eminent theologians from Martin Luther to his judge's own father who had themselves used parodies of religious texts to make political points.
The cases, quite simply, were laughed out of court and in the process Hone struck important blows for press freedom. Then, as now, the price of a free press is publications of which one may disapprove.
It's an important and remarkable story, and one that deserves to be better known. Hone was supported by the caricaturist George Cruikshank, and the best moment in this play by Private Eye editor Ian Hislop (no stranger to libel trials) and cartoonist Nick Newman, is when Hone is able to turn the tables on his accusers by revealing that the government itself had paid for lampoons of its political opponents.
But does the message still have relevance today? Joseph Prowen gives an impassioned performance as Hone, but a leaden and unmitigated script makes him look at times like a man on a soapbox proclaiming the blindingly obvious.
Humour is a serious business, Hone effectively argues, but it's not necessarily a funny one. Scurrilous 19th-century wit is admittedly hard to appreciate now, but suffice it to say that the laughs in response to the defendant's courtroom quotations came almost entirely from the pre-recorded, unseen jury.
Peter Losasso as Cruikshank seemed to embody that artist's fearless bravura, with Dan Tetsell doubling capably as the intolerant judge Lord Ellenborough and the liberal, sceptical William Hazlitt.
The eminence grise (or immense greasy as it might here be translated) behind these events is the despised future George IV, the roly-poly, Georgy-Porgy Prince Regent, a man so loathsome that he needs no caricature. Jeremy Lloyd was nevertheless expected to play exactly such a figure that might have stepped straight from a Cruikshank drawing.
Lloyd did as asked, with grotesque revelry. A better play might have granted him just a little spark of personality beyond buffoonery, and would have been funnier too.
Reviewer: Colin Davison