Trial By Laughter
Ian Hislop and Nick Newman
The Watermill Theatre Company
The Watermill Theatre
–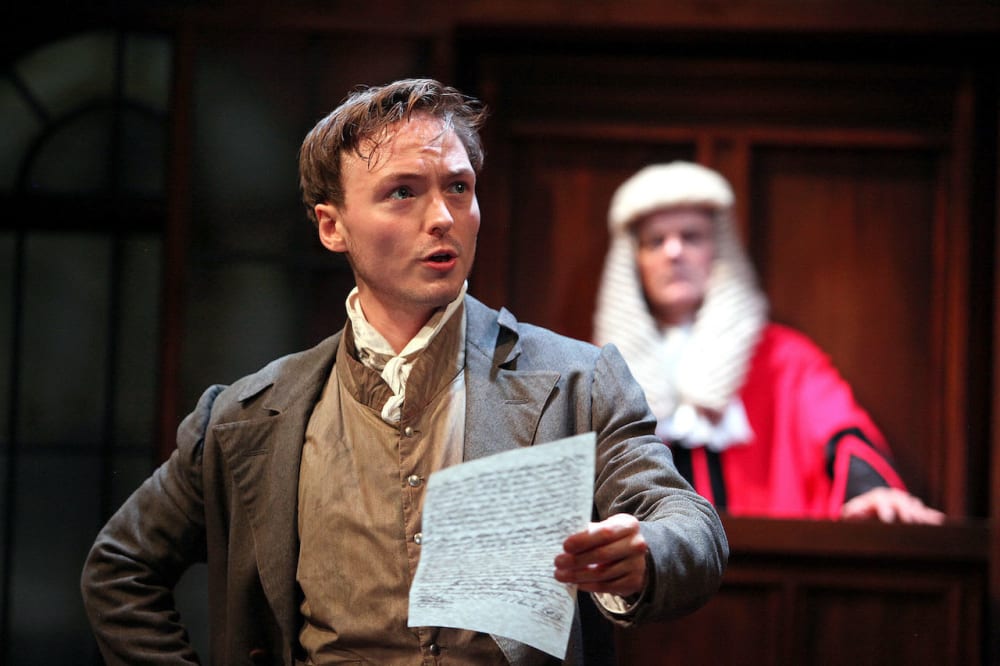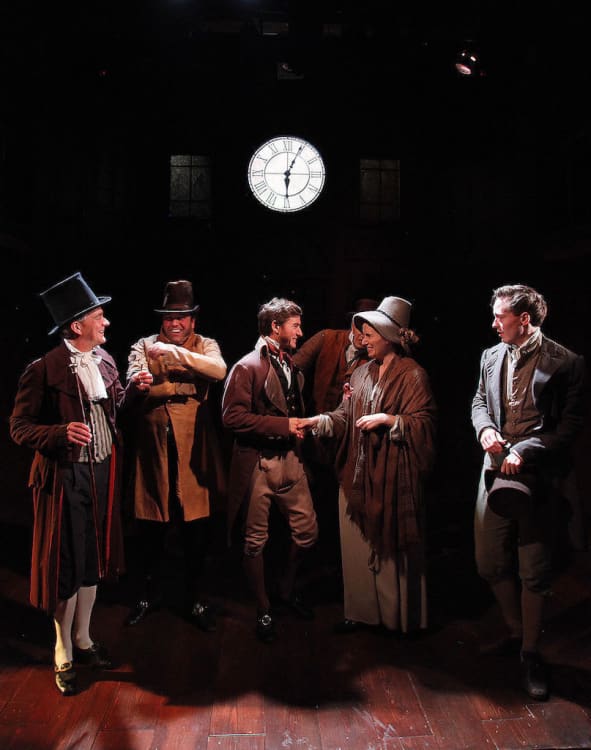 Ian Hislop and Nick Newman's witty and cleverly crafted Trial By Laughter follows the misadventures of the satirist and impoverished bookseller William Hone who in 1817 was put on trial for seditious libel and blasphemy.
He had the courage to goad the Prince Regent and the Tory government with parodies of the Ten Commandments and The Common Book of Prayer, poking fun at their excesses, much to the delight of the public who crowded the court to watch the proceedings.
Hone is assisted by the talented, destitute cartoonist George Cruikshank, whose subversive drawings portrayed the Prince (Jeremy Lloyd) as a pompous, fat philanderer playing childhood games with his two mistresses.
He has the ordeal of facing three trials on three consecutive days, so determined was the establishment to ensure that Hone would be found guilty and transported to Australia never to return again.
Joseph Prowen brings an outstanding crusading zeal to the role of Hone who defends himself despite suffering from mental and physical exhaustion from the rigours of the trial.
Peter Losasso is charming as the caricaturist Cruikshank, who relishes every pun and Hone's fervour. They have decided that the only way that they are going to influence the jury and win the cases is by making them laugh.
Prosecuting counsel Sidmouth (Philippe Edwards) is no match for Hone and the dour judge Justice Abbott (Nicholas Murchie) is infuriated at the first acquittal.
He is subsequently replaced by the ruthless Lord Chief Justice, Lord Ellenborough (Dan Tetsell) who is determined to gain a successful guilty verdict at all costs.
Hone's long-suffering wife, strongly played by Eva Scott, is enlisted to help with her husband's research. She also doubles as Lady Conyngham, one of the Prince's mistresses, together with Lady Hertford (Helena Antoniou) in a deliciously funny bedroom scene that could be straight out of pantoland.
Dora Schweitzer's inventive set of wooden panels reveals lawyer's desks, tavern tables and a large projected clock that travels back and forward in time is most effective. As is Steve Mayo's soundscape with voices from the cheering crowd that echo round the theatre as they heckle the court proceedings.
This is a fast-paced production filled with humour and laughter and is assuredly directed by Caroline Leslie.
It has an important message about freedom of speech and is as relevant today as it was 200 years ago.
Another winner from the pen of Hislop and Newman and the Watermill's vibrant, highly enjoyable production.
Reviewer: Robin Strapp