Trial by Laughter
Ian Hislop and Nick Newman
Trademark Touring and Watermill Theatre
Yvonne Arnaud Theatre, Guildford
–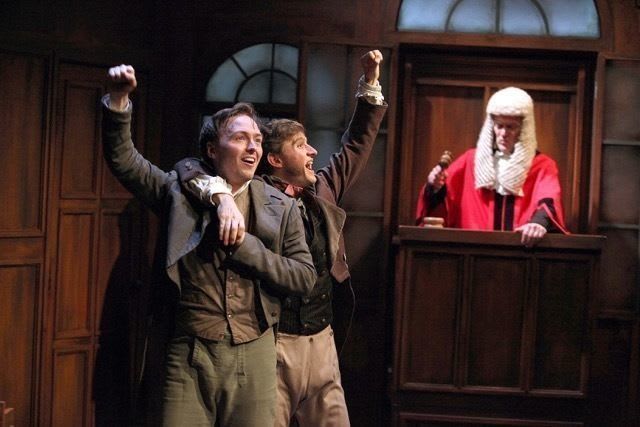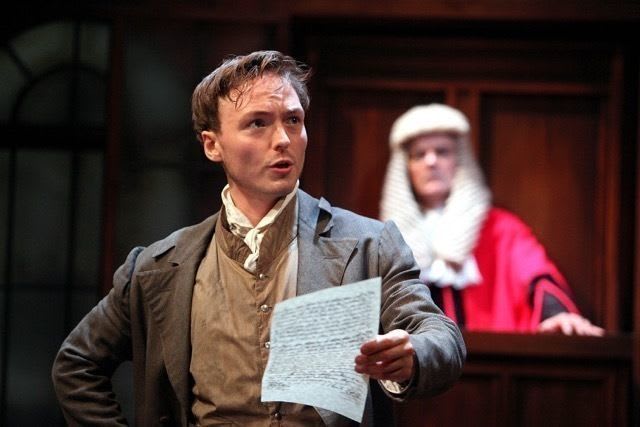 Following the enormously successful Wipers Times, the true story of the men in WWI trenches managing to publish a satirical (and very funny) magazine against all odds, Ian Hislop and Nick Newman have followed this with another true story. This one, from 200 years ago, is an account of a very brave man who took on the might of the Regency Establishment against tremendous odds and, eventually, won.
The man was William Hone fighting for freedom of the press—a project which must be very close to the heart of Hislop who has had a great deal of experience in such matters, but doesn't always win.
Hone, together with his cartoonist George Cruikshank, published pamphlets entitled The Reformists' Register lampooning the Prince Regent and his two mistresses as well as the Government and the machinations and injustices taking place in the law courts, citing for the latter the case of one Eliza Fenning who was hanged for murder and later found to be innocent. From a window high up in the courtroom, we hear her words spoken just before her death, movingly expressed by Helena Antoniou before the window slams shut. Cruickshank's cartoon of a woman being hanged is aptly entitled "Liberty Suspended".
The Prince and his mistresses are played as depicted in the cartoons: fat, self-indulgent and prone to playing childish games and some of the articles, especially the cartoons, were decidedly pornographic, but the public loved them so something had to be done. On three consecutive days, Hone was prosecuted and tried for blasphemy and seditious libel as he paraphrased psalms and prayers to make fun of his subjects.
Dora Schweitzer has designed a superbly inventive set, a heavily wood-panelled courtroom with multi-level doors and windows switching seamlessly to a tavern, shop or gaol and the audience is incorporated into the proceedings as onlookers and jury. Well-placed recorded laughter and the voices of hecklers resound through the auditorium, making the audience part of the action, although today's audience are not quite so involved with the comedy being more intrigued and fascinated by the importance of the events, which leads one to wonder if things are so very different today so far as freedom of the press is concerned.
Joseph Prowen plays Hone, his captivating performance bringing genuine credibility to the courage and steadfastness of a man determined to prove his case, despite what being in gaol is doing to his bowels—"you can't fail with flatulence!"—and what enforced poverty is doing to his wife and 'several' children. He is well supported by Peter Losasso as cartoonist Cruikshank and by Eva Scott as his stoic and long-suffering wife (who also plays Lady Conyngham, one of the king's mistresses, with rather less stoicism).
Jeremy Lloyd plays the Prince Regent purely for laughs and those he gets in abundance, but as the parodies concern the events and individuals of their day, the comedy is not so apparent to a modern audience. However, the content is intriguing, extremely interesting and a story which had to be told. It certainly kept last night's audience enthralled.
Reviewer: Sheila Connor