Trio
Paul Sirett, Peter Rowe, Ben Goddard
New Wolsey Theatre
New Wolsey Theatre, Ipswich
–

Listing details and ticket info...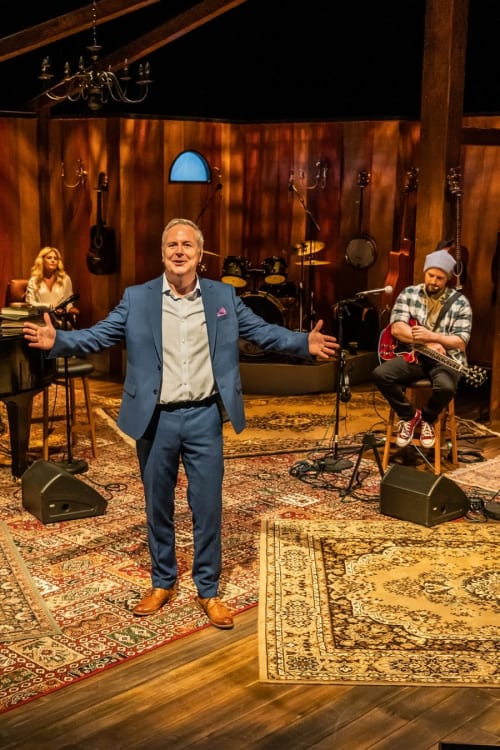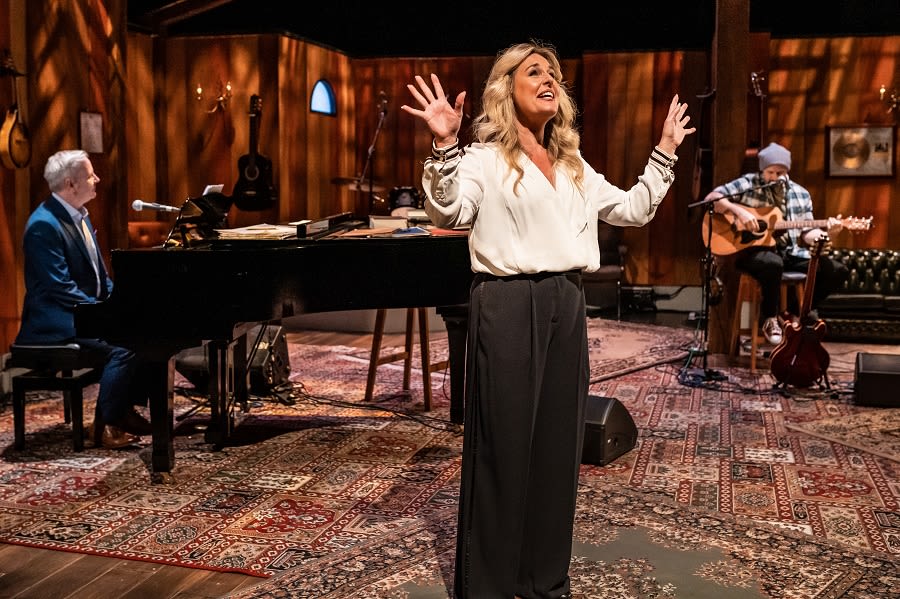 Take three musicians, give them a tangled history and then put them in a studio setting and get them to record an album looking back over their lives, loves and relationships and see what happens
This seems to have been the brief of Trio—billed 'an intimate musical' and the latest production from the creative team of Paul Sirett, Peter Rowe and Ben Goddard, whose previous collaborations include Midsummer Songs, Oxy and the Morons and Mods and Rox.
But unlike the others, this is no jukebox musical, as although set in the '80s, the score is all original music by Ben Goddard. And it's not really a play with music as most of the performances are monologues to the audience interspersed with tracks from this fictitious new album.
The setting is a rather plush London recording studio—something you might imagine Paul McCartney owning—with grand piano, leather chesterfield and instruments hung artistically on the walls.
Record producer Ian, receptionist turned singer Becca and singer-songwriter Phil have come together to make a new album. But this contains the 'tracks of their lives' and between each track they each get to give a different perspective on their relationships with each other—somewhat, it turns out, of a ménage a trois—and who was to blame for the fallouts and spiralling tragedies played out on the back drop of the '80s music and gay scene.
Gina Murray as Becca is an eminently watchable performer with a beautiful voice who is really the centre of the story, which begins at a lavish party thrown by wealthy and successful producer Ian Blackburn. She is there as she works as a receptionist at Ian's studio, and it is here she meets Phil, Ian's lover and protégé, and as their eyes meet across a crowded room etc, the seeds are sown for all their mutual destructions.
Becca gives us the main narrative, with the boys coming in at various points to tell their side of things. And each song punctuates with an emotional comment on the drama playing out in the monologues.
Ian McLarnon takes a little while to get into the character of Ian, but once he finds his brittle cruelty, his portrayal really comes alive. He also has a strong voice and each song he solos on he takes by the scruff of the neck and delivers with passion.
Richard Costello is perfect as Phil—looking cool, he performs the songs perfectly and is thoroughly believable as a guy caught between two lovers whose life spirals out of control through no fault of his own.
The songs are really good, with a Fleetwood Mac sort of feel, and the trio blend their voices and musical ability brilliantly.
In some senses, there is nothing original in the story, which doesn't contain a lot of humour and at times is very dark. We also have to wait till almost the end of the performance for some physical interaction to happen between the characters. The rest of the performance is 'tell' rather than 'show', so in some respects it would have been nice to have had more drama on stage rather than just being told about it.
But with really strong performances and some excellent songs, this is definitely one to see, but approach it more like a concert version of a play and you won't be disappointed.
Reviewer: Suzanne Hawkes