Triptyque
Samuel Tetreault, Marie Chouinard, Victor Quijada, Marcos Morau
The 7 Fingers
Sadler's Wells
–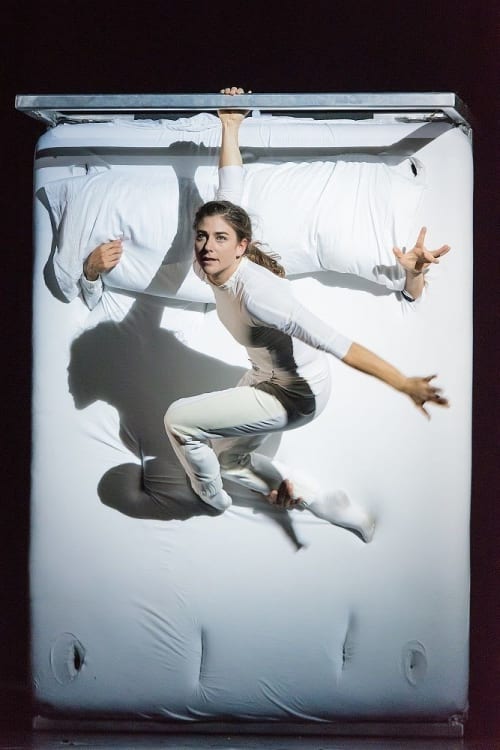 Three pieces, created through their encounters with three choreographers, forms Triptyque: the latest programme from contemporary circus company The 7 Fingers, which returns to Sadler's Wells with a triple bill combining circus and dance.
In the half-light, a body hangs mid-air, foetal-like, caught in a tangle of red straps. Supported by a pair of crutches, a male performer circuits around her, pulling and shifting his body through space. He has a creature-like appearance; the crutches, as extensions of his limbs, give his movement a lithe, slippery appearance. Slowly he unwinds her body and lowers her to the floor, only for her to be bound again as their bodies entangle.
Marie Chouinard's Anne and Samuel is an imaginative, captivating exploration of the possibilities of the human body. Influenced by Kinbaku, the Japanese art of bondage, the duet has an intense, almost primal emotion with the appearance of an animalistic mating ritual. Co-joined, the two performers shift their bodies across the space in a sensual tangle of limbs, their movement disjointed, pelvises closely connected. The crutches free their limbs to wrap and wind around each other in an endlessly inventive manner and, although the intimacy of their entwined bodies has an erotic intention, this piece is also a poetic image of strength, control and the beauty of abstracted movement.
Victor Quijada's Variations 9.81 works closely with the circus discipline of hand balancing, forming the skill into a virtuosic piece of choreography. The five performers raise their bodies into a series of balances, playing with gravity as they shift their weight and switch the positions of their legs in a precarious upside-down dance. They work both on and off their bases, weaving between and twisting around them as they perform individual and group feats of impressive precision and control. There are occasional moments that don't quite go to plan, but rather than ruin the illusion of the piece these instances serve as a reminder of the difficulty of what these performers, throughout all three works, are attempting to accomplish.
Nocturnes, the final work of the programme by Marcos Morau, explores the obscure point between dream and reality. To the background sound of a TV set flicking through channels, dancer Anne Plamondon moves in a disjointed manner, her focus distant, as if absent from her body. The piece evolves as if influenced by this fragmented commentary; a confused sequence of ideas infiltrating its way into her dreams.
In a dream, anything goes, and Nocturnes is much the same. It's a showcase of its performers' skills: aerial rope and acrobatics, unicycle, dance, mime, hand-balancing, juggling. It's a mad muddle that unfolds into an absurd, dream-like world in which a unicycle descends from above, performers pop out from under the bed or strut across the stage in fish heads.
These surreal images accompany moments that highlight the varied talents of this company. They scale ropes which, twisted into a web-like structure, become the base for an acrobatic aerial trio. A performer juggles with glass orbs, trickling them around his body in a hypnotic routine.
It ends in a flurry of falling snow, an allusion to the fragmented speech of the opening. Although a little on the long side, Nocturnes remains a brilliantly imaginative mix of dance, circus and theatre that effectively captures the strange and unfathomable world of our subconscious.
In many ways, it's a work that sums up this programme. Through their collaborations with three very different choreographers, The 7 Fingers has combined its multitude of disciplines to create a unique triple bill of imaginative, entertaining theatre.
Reviewer: Rachel Elderkin