Tristan & Yseult
Carl Grose and Anna Maria Murphy
Kneehigh
Shakespeare's Globe
–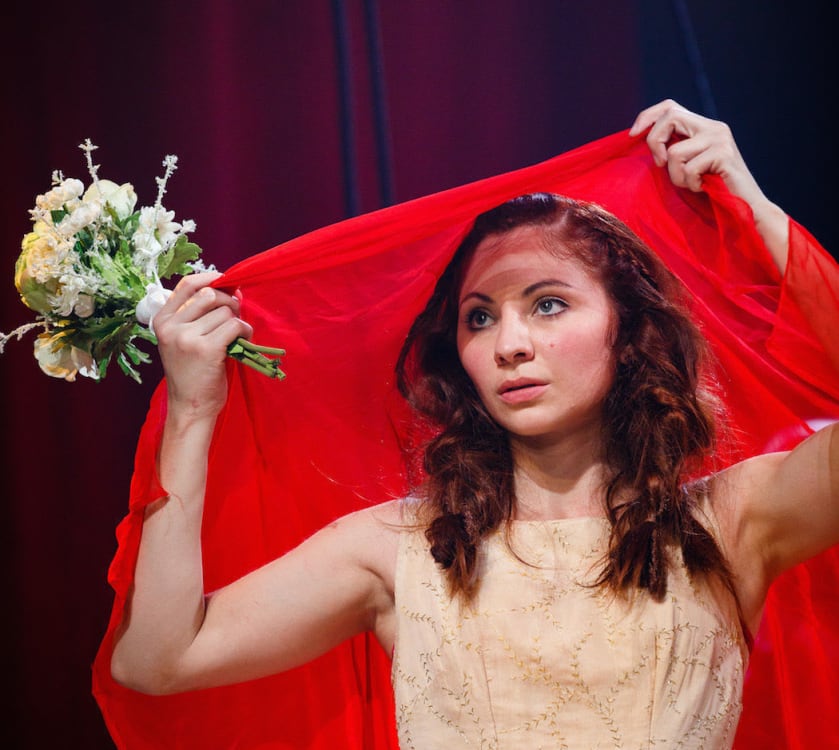 First staged by Kneehigh outdoors in 2003 and then in the NT's Cottesloe Theatre when I thought it a knock out it). Emma Rice's adaptation of the old legend of Tristan and Ysuelt now comes to the Globe in a revival of that production which has now been seen across the world.
Are you lucky in love? This story is told by someone who isn't. She is called Whitehands, a reference no doubt to the gloves that finish off her neat '50s turnout. She's a leading member of the Club of the Unloved, a bunch of unfortunate binocular-bearing anoraks who, twitcher-like, keep lookout for amorous activity of others.
The Unloved also embrace the band which fills the show with an eclectically diverse music that ranges from Irish folk to mambo, Nick Cave and Pharrell Williams, Carl Orff and Wagner's Tristan (on record), including the "Liebestod". There's choreography by Etta Murfitt and Tom Jackson Greaves that is all part of very physical production with the circular rostra and mast of the late, much-missed Bill Mitchell's setting placed within the Globe's architecture.
Memories of this production at the Cottesloe are of something a little darker and certainly more intimate. Filling the space of the Globe and connecting with its vastly larger audience the emphasis seems much more on having fun. Here Tristan and Yseult is frequently loud and often brash; there is amplification and artificial lighting—all the things that seemed to upset the Globe's Board and have led to its director's forthcoming departure—but its audience greet this performance with roars of approval.
Emma Rice's adaptation is a very contemporary take on the old story. Tristan, a good-looking young Breton, is on a diplomatic mission to the Cornish court of King Mark when it is invaded by Irish brigand king Morholt. Tristan kills Morhold and saves Mark. Morholt is wearing a locket that contains the red hair of a woman: a woman whom King Mark now claims as his and intends to marry. He sends Mark to find her and bring her to him. She is Morholt's sister Yseult who accepts becoming a wife by conquest. She hopes to be able to love her unseen husband, and calls for a love potion to help her to do so.
On the voyage to Cornwall, they both drink the potion with the obvious outcome but the marriage goes ahead. Yseult finding she loves both men and employs her maid in the ancient bed-trick so that Mark doesn't realise his wife was no virgin.
Can things go on like this? The king's servant Frocin is suspicious (and jealous?) and he sets out to expose Tristan and Yseult. This isn't a fairy-tale, there is no happy ending: it is a multi-facetted look at love and the lack of it, at faithfulness and the dilemma of loving two people, at the pain and the passion, and the idea that love itself is a drug that can make you crazy.
Mike Shepherd gives King Mark gravity, helped by a role written in iambics, a king who rules with his head then finds himself being ruled by his heart. Dominic Marsh is a romantically French-speaking Tristan and Hannah Vassallo a playfully sexy Yseult. They are a well-matcher pair who especially delight in an acrobatically aerial sequence expressing their passion for each other.
Kyle Lima's Frocin seems more well meaning than devious, very different from the ugly dwarf of the legend he's comically inefficient in his snooping and such a lively mover you have to like him. Niall Ashdown, seen first as violent Morholt, returns in drag as Yseult's handmaiden Brangian. Shyly devoted, s/he's gently funny and when made to pass off her virginity as that of Yseult is truly moving as s/he expresses the unexpected pleasure it gave her, and asks will anyone do the same service for her. Such pathos is also apparent as Kirsty Woodward's cynical but communicative Whitehands finally reveals her own place in this story.
There will be some who will loathe this. I saw one or two groundlings slip out after the first half hour, they probably had not checked what they were seeing and were expecting Shakespeare, and Shakespeare done in "traditional" fashion. They missed a riotously enjoyable evening that the rest of a packed house lapped up.
Reviewer: Howard Loxton