Tristan und Isolde
Richard Wagner
Produced by the Opera National de Paris in collaboration with the Los Angeles Philharmonic Society and the Lincoln Center for the Performing Arts
Opéra Bastille, Paris
(2005)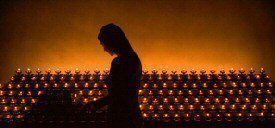 "I have never in life felt the real bliss of love," Wagner wrote before embarking on Tristan und Isolde, his masterpiece of tragic passion. In a revival of his seminal staging, director Peter Sellars once again hauls the erotic and metaphysical power of the opera into the twenty-first century. His collaboration with video artist Bill Viola sears open the lovers hearts with imagery matching Wagner's sonic power.
An epic retelling of the Arthurian legend, the tale begins with the medieval knight Tristan escorting the Irish princess Isolde to marriage with King Mark of Cornwall. Unable to continue living with their repressed love, the two resolve upon suicide. Instead of poison however they drink a love potion, and their suppressed feelings for each other are unleashed with disastrous force.
The mis-en-scène is dominated throughout by Viola's stunning video-work. Cutting the stage to a bare nine metre strip, huge projections fall behind the singers through the entirety of the opera.
Initially though the projections are an unwelcome distraction. For the majority of the first act, on-screen lovers engage in a protracted depiction of a quasi-medieval ritual of libation. Divided into separate frames, they walk towards us, disrobe and cleanse themselves in identical succession.
It is the most unsuccessful of the evening's sequences, its literality overshadowing the on-stage storytelling. Our attention elsewhere, the singers are reduced to providing mere musical accompaniment.
As Act One climaxes, however, the projections abandon realism and focus on instead on abstracting the lovers' internal dynamics. Unrestrained, the video images show them transcending the confines of the terrestrial world, diving together into blue celestial waters.
While the tragedy unfolds, the video-work continues to expand upon the inner confusions, conflicts and pinnacles of the devoted pair. Fire and water continually juxtapose eachother in the blistering heat of the second act. As Tristan approaches his death in act three, the images confuse and disorientate. The memory of Isolde becomes nothing more than a ghost-like image flitting across the screen. As he hopes for her return to him, a mirage like-figure approaches through a desert.
With such magnificent imagery, it is a shame that Clifton Forbis and Lisa Gasteen give such disappointing performances in the title roles. Rarely committing to the piece's full emotional power they are a match neither for the tale's supernatural levels of emotion nor Viola's intense spiritual exploration.
Additionally, the Orchestra of the Paris Opera, directed by Valery Gergiev, provide a highly competent but rather dry effort.
As Bragane however, Ekaterina Gubanova truly engages with Wagner's notoriously difficult composition. From a box high above the audience in act two, her voice in "Bragane's watch" communicated every nuance of passion and urgency missing from the two lovers. The rapturous ovation she received at her curtain call was fully justified. Viola and Sellars' blistering collaboration also deserved no less.
Running in rep until the 6th December
Reviewer: John Cardale