Tristan and Yseult
Carl Grose and Anna Maria Murphy
Kneehigh Theatre/National Theatre
West Yorkshire Playhouse, Leeds
(2005)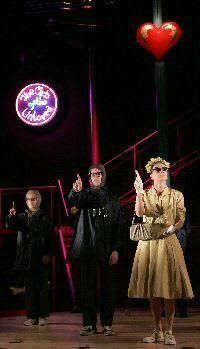 Fellow love-spotters! Remove your balaclava, loosen your anorak and prepare to be amazed by Kneehigh's unique take on the story of Tristan and Yseult. Don't forget to buy a programme or you won't get a free balloon with which to celebrate the wedding of King Mark and Yseult, and be sure to join in with the audience participation or you may find yourself being roundly abused by a demented Cornish knight Having set their seal on fairy tales, Wedekind's Lulu and Greek tragedy, Kneehigh boldly goes where even Richard Wagner feared to tread.
Director Emma Rice and the joint authors, realizing that most of us are unlikely to become the protagonists in an earth-shattering love affair, have chosen to celebrate the great Club of the Unloved. Under the leadership of narrator Mistress Whitehands (Amanda Lawrence) a chorus of bespectacled, notebook-carrying herberts (the above mentioned love-spotters) remain onstage throughout, peering at the actors and audience through binoculars and helping with props. It's a brilliant idea, and, as "Martin and the Misfits", the anoracked ones also provide most of the music.
Otherwise this modern-dress production doesn't stray too far from the ancient legend. King Morholt of Ireland (Craig Johnson) launches an unprovoked attack on Cornwall, during which the audience is showered with leaflets explaining that "we come as friends and liberators remember, any resistance is fatal". The Cornish King Mark (Mike Shepherd), finding his servile but psychotic henchman Frocin (Giles King) unequal to the task, is helped by the mysterious Breton knight Tristan (Tristan Sturrock). Tristan kills Morholt, who is wearing a locket containing a single red-gold hair. This inspires Mark to seek out the woman from whom it came.
The injured Tristan is despatched to Ireland, where he is nursed back to health by Yseult (Eva Magyar) - she of the red-gold hair - with the help of her devoted maid Brangian (Craig Johnson again, surely the most inspired doubling of the year). But Yseult also turns out to be Morholt's sister, and as part of her plan to avenge her brother's death she agrees to accompany Tristan to Cornwall and marry King Mark. Alas, due to an unfortunate mix-up involving a love potion and a bottle of plonk everything starts to go horribly wrong
As was the case with some of Kneehigh's previous shows, the text is little more than a peg on which to hang the rest of the production - it's hard not to wince at some of King Mark's rhyming couplets - but there simply isn't time to dwell on its shortcomings. The love potion scene, during which Sturrock and Magyar are hoisted into the air and swung out over the heads of the audience, is unforgettable, and the constant barrage of drama, comedy, acrobatics and dance had the audience cheering and whistling like mad.
My only reservation about the show is that I may never again be able to listen to Wagner's Tristan und Isolde without being troubled by visions of Craig Johnson's Brangian, clad in frumpy frock, sensible shoes and a headscarf, making every entrance with the aid of a concealed trampoline. Now that's something you'll never see at Bayreuth.
At the West Yorkshire Playhouse until 5th November, then touring to Salford and Birmingham
Philip Fisher reviewed this production at the RNT Cottesloe and David Chadderton did so at the Lowry, Salford.
Reviewer: J. D. Atkinson