The Trojan Women
Euripides, adaptation by Caroline Bird
The Gate Theatre
–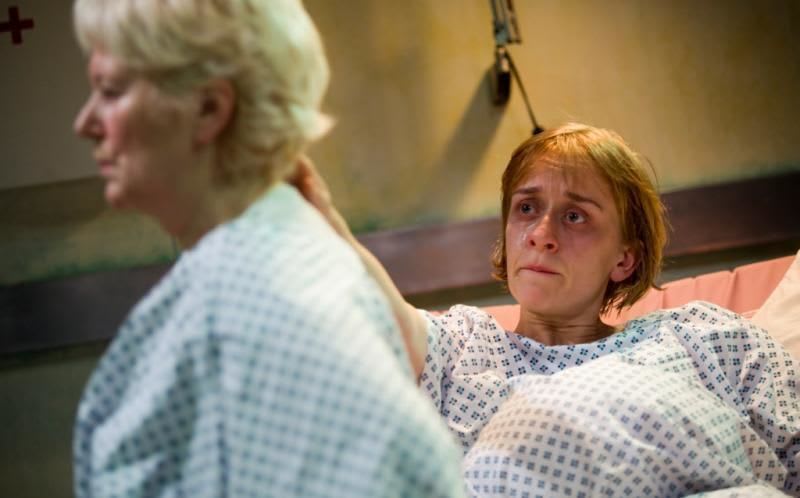 Bursting with raw emotion, dark humour and nerve jangling dialogue, The Trojan Women is a highly effective modern adaptation of the classic Greek tragedy. Writer Caroline Bird has re-situated the bereft Women of Troy in an unspecified modern setting, with all action occurring within a mother and baby unit of a hospital (design Jason Southgate).
It works because, as Bird so wisely notes "I wanted to communicate my experience of Greek tragedy", and experience it we certainly do. The language is modern, invigorating and benefits hugely from Bird's experience as a poet.
Some modern adaptations of classics can seem gratuitous and somewhat self-indulgent (the National Theatre's production of Trojan Women in 2007 comes to mind), but the small cast of five is expertly directed by Gate artistic director Christopher Hayden. This version strips back the key characters to their bare emotions.
Hecuba (Dearbhla Molloy) is not as in the original text an adored figurehead, loved by the chorus of Trojan women around her, but a tired older woman balancing the crumbling remains of her role as Queen, wife and mother. She is accused of cruelty and arrogance by other characters around her, and Molloy is supreme in Hecuba's shoes.
Characters Cassandra (Hecuba's prophet daughter), Andromache (Hecuba's daughter-in-law) and Helen (of Troy) are all played by the versatile and extraordinary Louise Brealey. It is not completely clear why this decision has been made, but it does tighten the structure of the production, and also brings each woman into striking contrast.
Sam Cox (Menelaus King of Sparta), expertly portrays the lust and anger Menelaus feels towards Helen, whilst Jon Foster (Talthybius, messenger to the Greeks) is spine-chilling in his role.
The biggest deviation from the original is that the Greek chorus is pared down to one pregnant woman, handcuffed to a bed (Lucy Ellison). Amongst the warring dignitaries; she represents the downtrodden common man. Bird writes "her trauma is the trauma of Troy and also entirely her own". Ellison is humorous and heart-breaking; the purple bruising around her handcuffed wrist is but the surface of her unnamed character's agony.
Bird, Hayden and the artistic team have given us a production which allows us to delve into the depths of the Trojan Women's suffering, something that Euripides must have intended for his audiences, whilst also drawing out new and fascinating character dynamics.
Reviewer: Anna Jones