Trouble in Mind
Alice Childress
National Theatre
Dorfman Theatre
–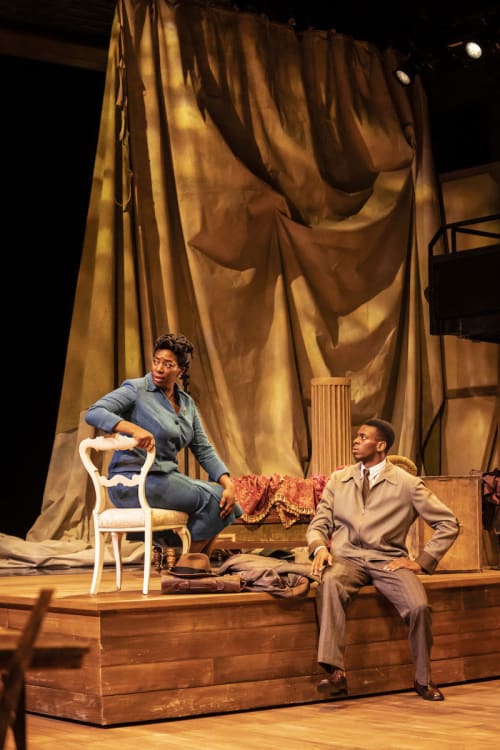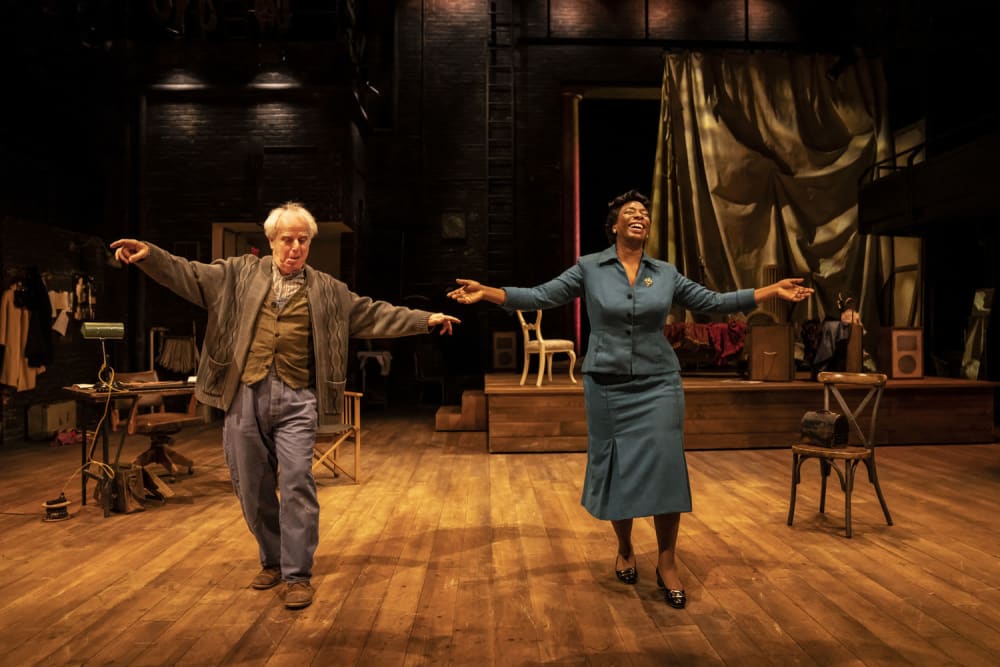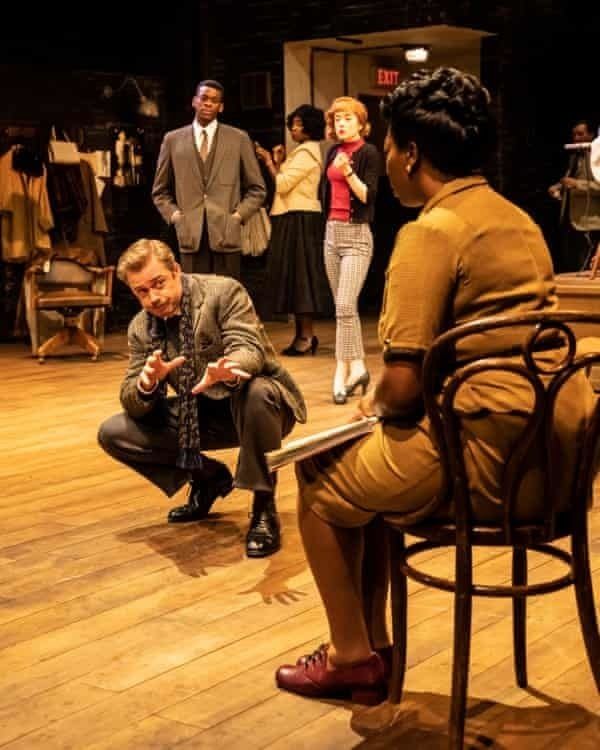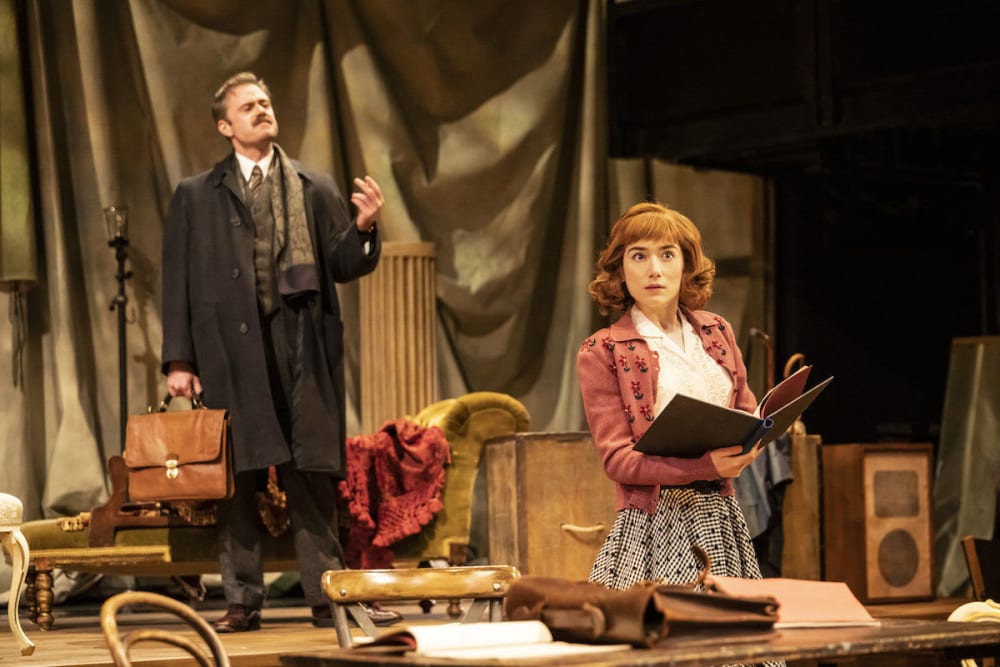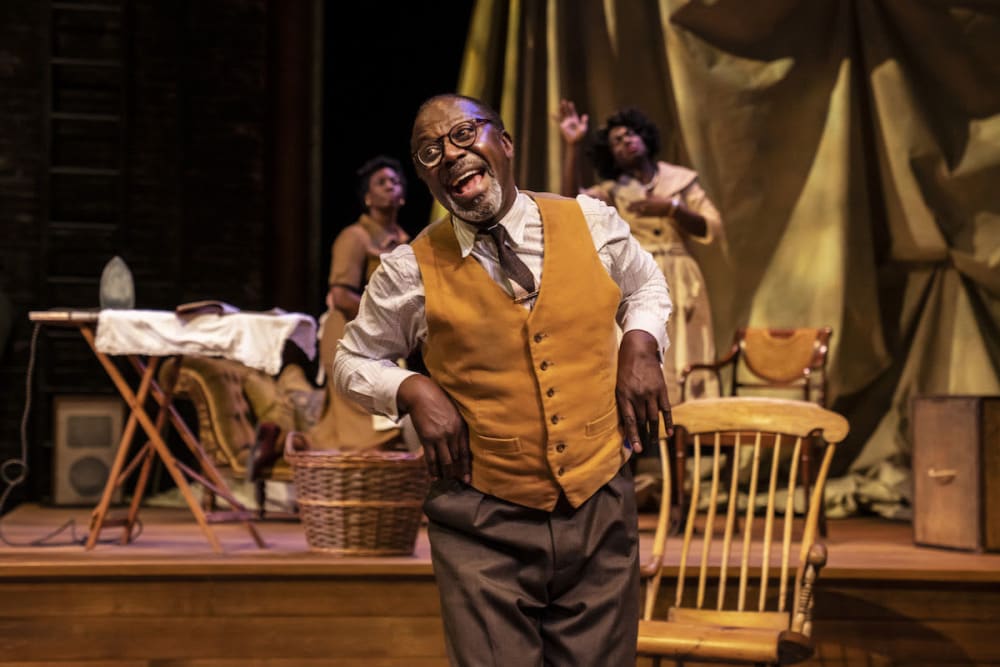 Trouble in Mind presents a theatre company rehearsing a play in a Broadway theatre in 1955, the year of its off-Broadway première. That play, called Chaos in Belleville, is about racism including a diatribe supporting segregation and culminating in a lynching and playwright Alice Childress presents her argument through the reactions of its actors to the play they are performing which purports to be progressive.
Director Nancy Medina and her designer Rajha Shakiry present a stylised backstage made up of stereotypical elements, a section of fly-gallery, a glimpse of a proscenium pillar, a swathe of draped curtain, a big moveable rostrum with odd pieces of furniture and properties on it and an intermittently flashing working light on a stand and, before the commencement of each of its two acts, sweeps of coloured light. The play will then go on to show how the play in rehearsal (and wider society) views people of African ethnicity in unreal and distorted stereotype.
First to arrive is veteran actress Wiletta Mayer (Tanya Moodie) who makes for the stage she may at last play a lead on. She is greeted by stage-doorman Henry (Gary Lliburn) who fondly remembers her singing in a past show before being joined by juvenile John Nevis (Daniel Adeosun) getting his first big break. She warns the youngster to keep on the right side of the director and remember to laugh at his jokes—which is exactly what she and the rest of the mainly black cast do, at least to begin with.
Smartly turned-out Millie Davis (Naana Agyei-Ampadu) has an ego that gets laughs but she's the first to moan about stereotypical black roles. In her last job, she spend the show shouting "Lord have mercy!" and these women are fed up with playing "flower and jewel" role (Ruby, Magnolia etc). Now they are doing it again, as is Sheldon Forrester (Cyril Nri) who will play an old fellow stuck in a rocking chair.
The white cast is led by Bill O'Wray (John Hollingsworth), who misses early rehearsals because he is still in another job, an actor always kept busy though clearly less talented than some of the black cast. Ingenue Judy Sears (Emma Canning), in her first job straight from studying drama at Yale and busy being "actorish", thinks she's a liberal. So does the director Al Manners (Rory Keenan), who is in New York to avoid the McCarthy witch hunt in Hollywood.
Childress savagely satirises director Manners with insistence on "Truth" from his actors in a play that proves increasingly false in what it is presenting while there are also questions about a racist speech in which O'Wray's character whips up a mob.
Young Judy is characterised as the repentant liberal admitting their own guilt while Manners reminds his black cast that whites are exploited too (especially in show business) only to be countered by the charge that they are still privileged.
As rehearsal reaches the end of their play, Wiletta finds it impossible to believe a mother would send her son to face a mob geared up for a lynching; she wants a rewrite. Manners argues that Chaos in Belleville needs its lynching to win audiences against racism.
Sheldon Forrester, who has previously been dutifully cavorting like an Uncle Tom, now brings everything into the real world describing an actual lynching he himself witnessed. Powerfully played by Cyril Nri, this is a pivotal moment; what has often been satirically funny becomes deadly serious.
In 2020, do we still need a play against lynching? But that isn't what this is about; it is about inequality and discrimination and they are still with us.
In a finely balanced performance by Tanya Moodie, Wiletta Mayer has been seen as an actress playing at being friends with a director she's previously worked with, indeed she may actually like him despite the deference she recommends, a talented actress increasingly frustrated by the opportunities offered her who reaches a point when she makes a stand and can then envisage a positive future.
Things may have changed since the 1950s, but there is still a long way to go. This revival is a timely reminder.
Reviewer: Howard Loxton