Trouble in Tahiti / Trial by Jury
Trouble: Leonard Bernstein (words and music); Trial: Arthur Sullivan (music), William Schwenck Gilbert (libretto)
Opera North
The Lowry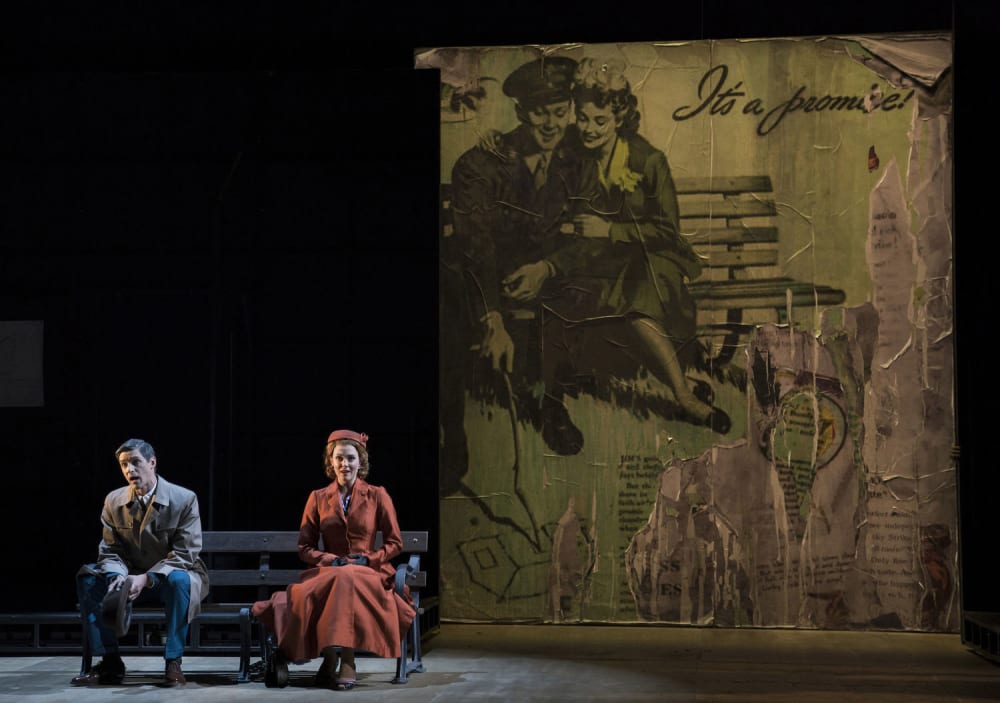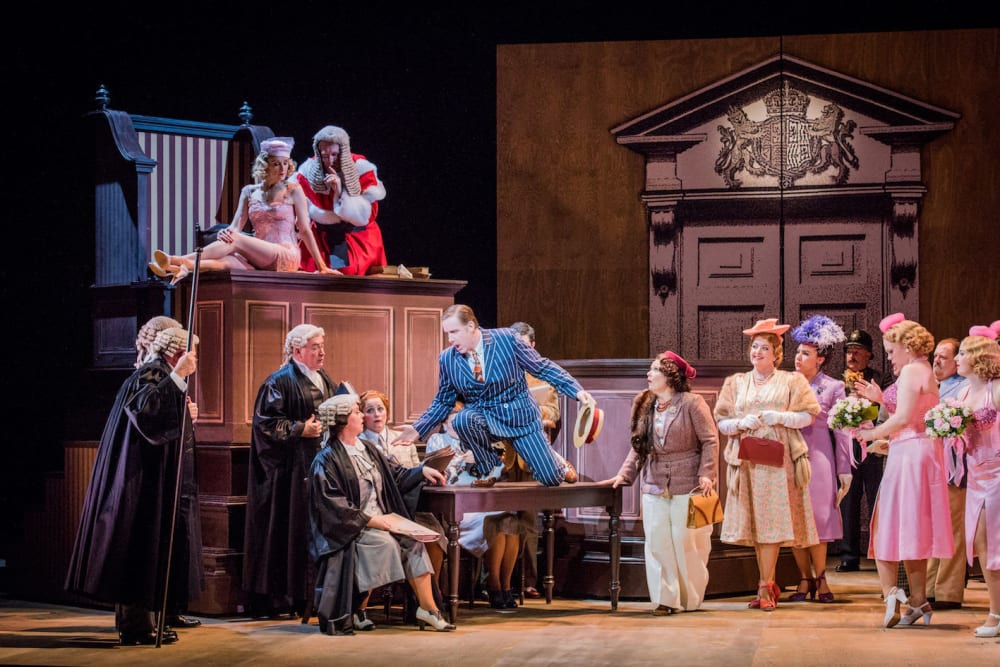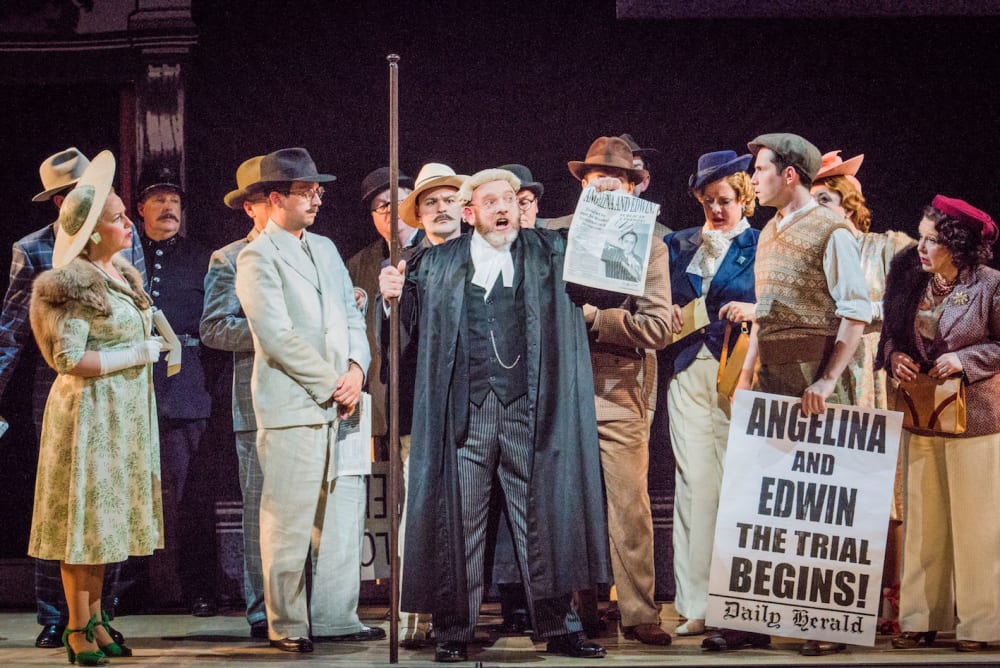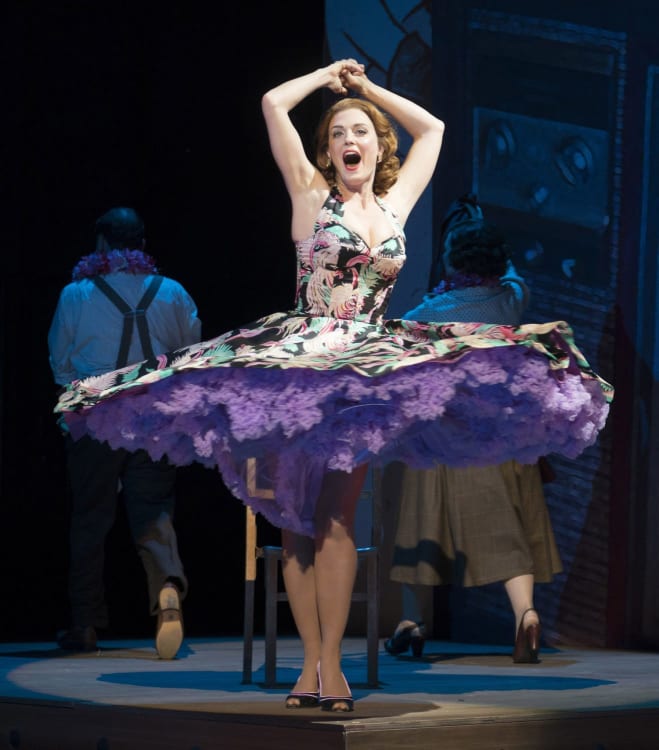 "Do you like gold better than silver?" or so I thought I heard the boy enquire, on arriving, half a century back, on the children's ward. Not wishing to displease (and because it seemed like the right answer), I said "yes". To my consternation, he hurried joyously to his bedside cabinet and switched on a portable record player (children's heart wards are commendably indulgent).
The music that rushed at me (although I didn't know it at the time) was from The Mikado. Not "gold better than silver". Gilbert and Sullivan. I didn't like it (but kept that to myself—my new friend, thirteen or fourteen years old to my twelve—was so delighted to have found a fellow enthusiast).
The years pass and tastes change. Tonight, at The Lowry, I find myself confronted by more G&S; this time, their one act comedy, Trial by Jury. Your honour, I confess: I love it!
Rising starlet Angelina is suing a caddish musican, Edwin, for breach of promise to marry (an option that stood in English law up until 1970). Outside the court, a Pathé News-style reporter (played with relish by Amy J Pyne) sets the scene, while the overture plays in the background. Naturally, Joe and Joanne Public are in full sympathy with the lovely Angelina, and so, it soon transpires, are the gentlemen of the jury.
The judge, having regaled us with the story of how he launched his own career by seducing the less-than-lovely daughter of a wealthy attourney, only to dump her as soon as he found success, is nevertheless universally acknowledged to be a "good judge".
Angelina's bridesmaids—in blushing pink bridesmaid costume—arrive to offer support. The plaintiff herself then makes an entry—dark glasses, revealing pink chiffon outfit, and carrying the obligatory accessory for any aspiring star: a cute toy dog (quickly tossed to a bridesmaid, but finishing in the arms of a policeman).
Though the odds are stacked against him, Edwin puts forward two arguments in his defence. As a typical young man, he says, would it not be reasonable for him to marry Angelina today (boring, though he now finds her) and another young woman tomorrow? The gentlemen of the jury and even the judge are tempted by this, until counsel for the plaintiff (persuasively sung by Claire Pascoe) points out that this would be "Burglaree".
Edwin's other argument is that Angelina is better off without him. He lists his shortcomings, chief among which is the likelihood that he will get drunk and kick her. Judge and jury are willing to put this to the test. Happily, the plaintiff and her counsel object. (The amiable demeanour of Nicholas Watts as the defendant allows the production to carry off this non-PC episode without awkwardness). Watts's performance is an object lesson in operatic diction. Bravo.
The programme synopsis only hints at the final twist, so no spoilers, here.
This is one of Opera North's unqualified successes. Sullivan's foot-tapping beats are, if anything, outdone by Gilbert's unremittingly effervescent and deliciously inventive libretto. Moreover, the production picks up the mood and runs with it. Charles Edwards's set is creatively deployed to give movement in what might, in other hands, have been an unengagingly static setting (a courtroom). Gabrielle Dalton's costumes add colour and a zingy sense of period. Best of all, director John Savournin seems to have meshed to great effect with movement director, Tim Claydon—every opportunity for humour and high jinks is seized.
Jeremy Parker can rarely have taken or given more pleasure than in this performance as the Learned Judge. The repeated sonorous admonition to be "silent in court" as delivered by Richard Mosley-Evans's is one of many joys of the evening. To catch the mood of the period, let me say I have rarely left an opera house feeling so utterly jolly.
Wisely, the other "Little Great" on offer precedes Trial by Jury (which would have proved an impossible act to follow).
Leonard Bernstein's, Trouble in Tahiti is 45 minutes of fine music, showcasing the great American composer's facility for blending the jazzy with the symphonic. Completed five years before his masterpiece, West Side Story, there are moments here when you can picture that famous Bernstein score note: "Tutti sock".
The story is an intellligent satire on a particular aspect of the American dream: suburbia. We open with a jazz trio crooning an ironic, sugary paean to this aspirational location, where the sun "kisses" the path, the roses around the door, even the doorknob and the newspaper. And it's "only an hour by train".
After ten years, however, the marriage of two young suburbanites—Sam and Dinah—looks set to crash right through that white picket fence. They can't even share breakfast without snapping at each other. Sam places more importance on his handball competition than their young son's school play, and Dinah is spending a fortune on her analyst. "Try to be kind", each pleads with the other, before they part for the day.
At work, as well as at play, Sam is a winner. His colleagues adore him and he makes enough money to be generous in loaning cash to a friend. He's slightly taken aback when, in response to his questioning, his secretary reminds him that he once behaved inappropriately towards her. Never mind. Life is about winners and Sam, clinching the deal and then carrying home the handball trophy, is a winner. It's only on arriving at his own front door that he reflects that even winners have to pay a price.
Neither parent turned up for Junior's performance. Dinah spent the afternoon (post-analysis) watching a terrible movie called, "Trouble in Tahiti". Whilst the number where she gives her account of the film is no match for West Side Story's "Officer Krupke", the same wry spoofing can be seen. The sexy native princess, the all-American boy in peril, the US Navy to the rescue—the stock elements are trotted out and ridiculed. However, there is something about one of the songs, "Island Magic", that recalls a dream Dinah has just discussed with her analyst. Something about its promise of a "quiet place" speaks to her. Wallis Giunta excels throughout, but this is her finest moment.
Back home, Sam seems in no mood to have the pre-planned "talk" with Dinah. Instead, he suggests they go to a movie (even though that's what they did the previous night). He's heard there's a new one opening. Something called, "Trouble in Tahiti". They set off, Junior holding hands between them.
The curtain falls with the three in silhouette. Is there hope for the marriage or is this, as the legend on the silver screen announces, "The End"?
Bernstein's music is notoriously demanding of his singers—recall the bottom note in "Cool"? Quirijn de Lang looks the part as Sam and gives a generally strong performance, but here again there are notes so deep that only Sir Willard White or a member of the Russian Patriarchal Choir could do them justice.
The jazz trio (Fflur Wyn, Joseph Shovelton and Nicholas Butterfield) are so mellow, I found myself pining for some Manhattan Transfer (haven't felt that bug for years). Tobias Ringborg's conducting slides through the mellow all the way to that tutti sock the maestro demanded.
Charles Edwards, whose design throughout this series of shorts has been exemplary, pulls off another mobile and evocative set. Tim Claydon's movement direction melds the domestic with the fantasy to brilliant effect (how Giunta must love her dress-swishing moment outside the movie house). Matthew Eberhardt directs with a firmness yet lightness of touch.
It's a piece I could happily sit through again.
As a double bill, you'd be hard-pressed to match Trouble in Tahiti and Trial by Jury. It's better than silver. It's gold.
Reviewer: Martin Thomasson