Troy Boy
Music by Jacques Offenbach, original libretto (as La Belle Héllène) by Henri Meilhac and Ludovic Halévy, in a version by Kit Hesketh-Hardy
Merry Opera Company
Upstairs at the Gatehouse and touring
(2011)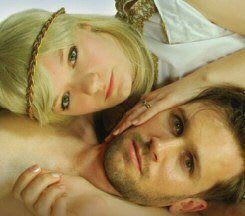 This is a company that specialises in unstuffy opera performances where enjoying the show is more important than the champagne in the interval and telling your friends you have been there. There is certainly much here to enjoy, not least the casting of Rosalind Coad and Christopher Duffy as Helen and Paris (the Troy Boy himself). They are splendid songsters and make a delightfully attractive couple however much the trilling Spartan Queen may pretend it is against her will.
This is, of course, the story of the goddess Aphrodite's bribe of the promise of the most beautiful woman on earth in return for Paris, in shepherd disguise, choosing herself as the most beautiful goddess in Offenbach's parody version of Greek legend, played in a reworked version of the translation made for ENO's 2006 production which Hesketh-Hardy himself directs.
If you know the tale (and I do) you might call this production madcap but if you don't you could find it confusing, though you'd get the gist. How clever the new text is I cannot tell you for I couldn't hear enough of it distinctly, perhaps because on my side of the auditorium it was often swamped by the otherwise excellent band - you would never have though two string players, two wind and a keyboard could be so forceful!
It is a zany mix of modern and classical that starts in Zeus Tavern which then, with the help of poles and tubes of white cloth, turns into a pillared Spartan temple complete with male caryatids and (almost) everyone looking classical. While Matthew Quirk's mad-haired priest Calchas supervises some offerings to the dead the handsome shepherd boy arrives, followed by a message by carrier dove from Aphrodite telling him to that he has to introduce the good-looking lad to Helen.
Can you be unfaithful in a dream? Helen thinks not and decides that is what's happening when she finds Paris in her bed but husband Menelaus returns unexpectedly from a trip abroad and finds them. Tricky to handle but seemingly forgotten when they all pile down to the beach (now we are back to modern dress and it's Faliraki, rather a long way from Sparta!). That doesn't stop Paris who has an even more cunning plan.
No one is credited with the choreography which tries to match a bit of syrtos or hassapiko to Offenbach's music and becomes a sort of ordered chaos. "If they put their arms on each other's shoulders the audience will get the point" seems to be the thinking and the audience seemed to be enjoying it as much as the cast were and there are moments when members of the front row get swept up in the action.
As they all prepare to fly off to the seaside there is a send up of a flight attendant giving safety instructions, some deliberately terrible jokes (like being 'Homer-phobic'), a quiz game run by Agamemnon becomes a test of musical recognition - easy enough for everyone to win - and a discreetly coy affair developing between Achilles (Robin Bailey) and Ajax (Joseph Morgan, also a dab hand with a glove puppet). There is a strong Agamemnon (Martin Gesia) and a lively Menelaus (David Menezes) though these brothers have strongly different accents, like the royal family of modern Greece Menelaus must have spent a lot of time with the his German relations: it is all part of this lively hotchpotch and they all sing it divinely if not always intelligibly.
Runs Upstairs at the Gatehouse until 5th March then, among other dates:12th March New Theatre Royal, Portsmouth; 30th/31st March Rondo theatre, Bath; 2nd April The Playhouse, Norwich; 3rd June Kenton Theatre, Henley on Thames; 4th June Barn theatre, Oxted; 8th/9th/10th June The Scoop, Southwark; 10th September Corn Exchange, Wallingford; 24th September Stag theatre, Sevenoaks;1st October Sinden Theatre, Tenderden.
Reviewer: Howard Loxton