True Love Lies
Brad Fraser
Royal Exchange Theatre, Manchester
(2009)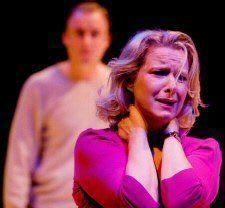 Royal Exchange artistic director Braham Murray has, in the past, championed the work of playwright Brad Fraser, famous in his native Canada but hardly known or performed here in the UK, and now six years on from Cold Meat Party Murray directs Fraser's new play, True Love Lies.
In an average middle-class Canadian family, Carolyn and Kane embarrass their grown-up children, flamboyant, job-seeking Madison and teenage depressive computer geek Royce, with their displays of affection and noisy lovemaking. However when Madison goes for a job in a new restaurant and manager David says he used to know her father, the dinner table revelation that David and Kane were more than just friends changes the family relationships substantially, although it is all handled in a cool, middle-class way.
Fraser writes in a very televisual, soap opera-like way in that much of the play consists of short scenes that end quite suddenly and cut immediately to something else. However he handles this with a great deal of skill, so it doesn't feel broken up or episodic, and the whole play flows beautifully with cleverly-handled revelations and a great deal of humour. In some ways this play is quite tame compared to some previous plays, with no nudity and nothing too sexually explicit. The scene of the big revelation near the beginning, something that is very difficult to write convincingly, works superbly, helped by some lovely subtleties in the acting and direction, producing lots of shocked and amused looks between audience members.
This style of play also relies heavily on a production that keeps the flow of the narrative from one short scene to the next without letting the pace drop, and Murray's production gets that just right. He has a superb cast as well, most of whom have not performed at the Exchange before.
Oliver Gomm is hilarious as cynical, depressed teenager Royce, but then later brings out the desperation of someone who is in a great deal of emotional pain but doesn't know where to turn for help. Amy Beth Hayes plays his sister Madison as someone who enjoys stirring up trouble and likes to have fun without always thinking of the consequences, but her heart is in the right place. Jonny Phillips is the smooth, handsome David, torn between wanting to keep the family out of his life, wanting to get back at Kane and Carolyn and wanting to help them all. The family is completed by John Kirk as a slightly bemused Kane trying to do the best for everyone and Teresa Banham as Carolyn, wondering whether the beliefs about Kane's past that she based her relationship with him on were delusional.
Designer Johanna Bryant places the actors on a set of trendy, transparent furniture, which doubles as the family's kitchen and dining area and the restaurant, with other transparent objects flying in occasionally plus a park bench and a swing. Much of the story centres around eating, and so there are a lot of meals coming on and off and being consumed during the play.
This opening production of the year for the Royal Exchange is brilliantly written, superbly executed and very funny and entertaining. There are adult themes and language, but nothing too shocking for a modern play.
To 21 February
Reviewer: David Chadderton