Trump The Musical
Laurence Peacock
Blowfish Theatre
Vault Festival at Waterloo East Theatre
–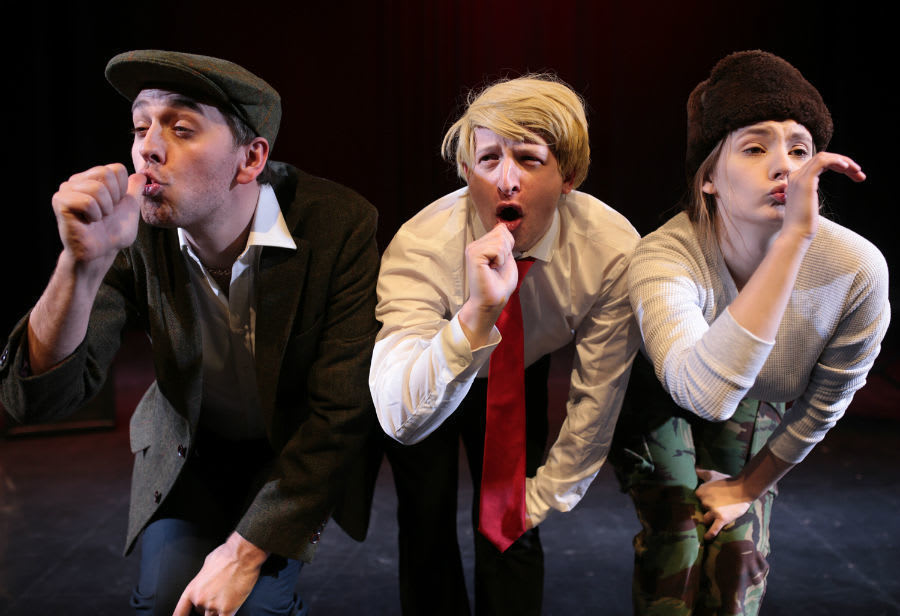 Recently, I got a standing ticket to a sold-out performance of the play Network at the NT's Lyttelton Theatre.
As people rose to leave at the end of the play, video footage of Trump being sworn in as President was projected onto a back screen. It generated what seemed to be unanimous booing from the usually restrained NT audience.
It bodes well for a Trump visit.
It's also why Trump the Musical will get a warm reception anywhere it plays in the UK. Its fast pacing, its string of sketches and its confident rough edges will grab the audience's attention and keep them entertained. But its satiric wit is light, its plot even more ludicrous than a Trump cabinet meeting and its characters merely a few exaggerated jokes.
The characters Trump (David Burckhardt) and Putin compete to be the first to nuke North Korea. Putin (Natasha Lanceley) is enraged when he does the bombing and Trump claims the credit. He is already feeling like a spurned lover because Trump has taken up with King Nigel Farage of the Disunited Kingdom of England and Northern Ireland.
Before Trump heads off to meet Nigel, he tells his staff he wants to be back by the weekend to make a speech about Hitler to four million boy scouts.
Nigel (Kyle Williams) has been very busy. He has deposed the British monarchy whom he intends "to fry", got rid of the NHS and abolished corporate tax. He also intends to sell off Scotland to Trump in exchange for a trade deal.
Meanwhile, Nigel's Chief Minister Roger Lavery (Laurence Peacock), a secret member of the organisation known as "Emily" short for the Metropolitan Liberal Elite (MLE), is plotting a revolt to take over from Nigel.
Fortunately, Rod, (Polly Bycroft-Brown) the 823rd Press Secretary to Trump, is trying to keep democracy in place.
It's all amiable knockabout fun with even the songs following the same pattern from Putin's torch song for Trump to the rather catchy Gilbert and Sullivan "Three Little Maids" sung as "Three Little Demagogues", in which Trump, Putin and Farage dance across the stage.
Trump is gently mocked, but more as harmless pantomime than political revue. There is no satiric bite. How can there be when Trump is simply depicted as a clutch of verbal tics and a familiar hairpiece? The rest of the characters are devices for a joke and a song.
Putin is a mere jilted lover. Kim Jong-un (Natasha Lanceley) a psychopathic song and dance man. Roger Lavery the grim incarnation of a right-wing media's depiction of the left.
But, given all the horror of a Trump presidency from the escalating threat of climate change to the persecution of Muslims, not to forget the reports of sexual abuse of women, why is this show lacking any sharp edges? Yes it will cheer its audiences, but would even the paranoid Trump raise an eyebrow at its easy-going antics?
Reviewer: Keith Mckenna