Trumpus Interruptus: The Impeachment of Donald J Trump
Zach Tomasovic
Greenside @ Infirmary Steet
–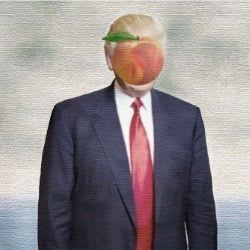 Numerous stupid and provocative aspects to the Trump Presidency are providing enormous opportunities for satirists.
The comedic target of Zach Tomasovic's play is the shambolic confusions of a White House built around a simple-minded Trump who is mild-mannered but utterly foolish.
This Trump (Zach Tomasovic) needs a simple sum of a hundred million and who better to help out an old mate than Vladimir Putin who is arriving for a special meeting in the White House.
They greet each other in private like old frat buddies and are soon holding each other in homoerotic embrace as they practice swinging a golf club. He later tells Jared Kushner, his chief advisor, that Putin "liked all my holes equally".
Putin agrees to provide the money in exchange for Trump pulling the USA out of NATO. This will allow Russia to invade the Baltic States.
The trouble is, neither leader trusts the other so both tape the deal and tapes have a way sometimes of getting leaked or, if their existence is known, subpoenaed.
Melania, his wife, along with all the other characters from Putin to the President's councillor Kellyanne Conway are played often hilariously by Nate McLeod who does some very fast costume changes as he switches from one to another.
Trump is made to seem ridiculous but there is also something quite sympathetic about the depiction of him hiding his inability to read, embarrassingly spilling sweets at the ballet and looking completely bored at the event as Melania gives him disapproving glances. He can at times seem the silent screen comic.
The show is a confident, light satire that never digs very deeply into politics. There is nothing at stake in its picture of Trump's gentle, easy-going foolishness.
It boosted the spirits of many in the packed audience and would probably irritate Trump, but without depth, perception or a sharper wit it tends to leave its target untouched.
Reviewer: Keith Mckenna