Truth or Dare, Britney or Goofy, Nacht und Nebel, Jesus Christ or Superstar
Lies Pauwels
Hetpaleis
Unicorn Theatre (Weston Theatre)
–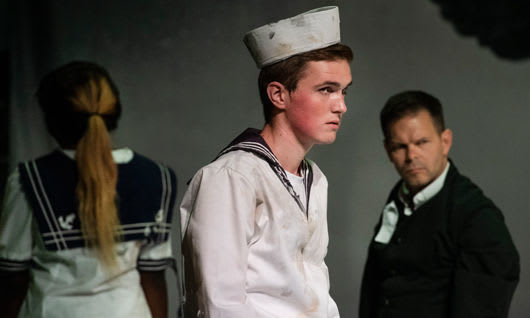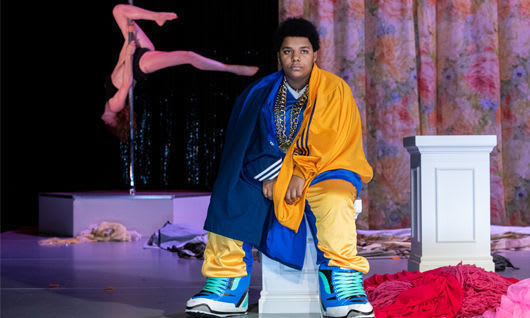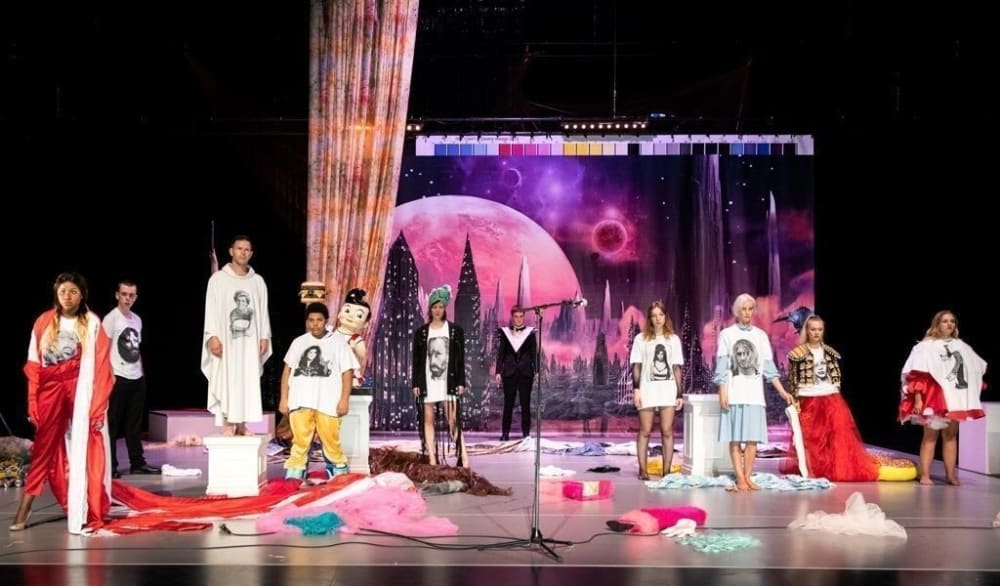 Belgian company Hetpaleis creates theatre for young people and by young people at its base in Antwerp. This production, conceived and directed by Lies Pauwels, is performed by a group ranging from teenagers to a 49-year-old priest and three glamorous models. It is a collage of statements about the problems we all face, our hopes and beliefs and our frustrations, especially those of young people and of women.
It isn't clear whether this is a piece devised from the performers' experience or the result of research and the ideas of director Lies Pauwels and dramaturge Tom Rummers, but it reflects an eclectic and wide-ranging spectrum that young audiences especially will find expressive of their own lives.
It is made up of a succession of questions and statements mainly delivered at three microphones set downstage but it is also full of colour and movement and a great deal of sharp-pointed humour. Text is a mixture of Dutch and English with video screens displaying both language titles (and sometimes other images).
It opens with a backcloth that's a huge reproduction of Raphael's Vatican fresco "The School of Athens", a gathering of philosophers. There are white plinths, some with statues: the Angel Gabriel, ET, a jokey figure advertising a hamburger bar, a cartoon red dog, a footballer, St Francis.
There is a young man who speaks into a microphone but no sound comes out and two more in suits (three in a cast of eleven that is otherwise female) who come to the microphones and as they speak the stage fills with people in black and white: nuns and a priest all in black gowns, one woman in a wimple.
They speak of God as the creator, who made you and me and who is still creating and then they start to ask questions. "Do you know the sound of Silence?" "Are you afraid of Virginia Woolf?" "Are you ready to die?" "Is there someone that loves you?" People sit on a circle of chairs, slump and slip off them. Three women in ruffs come on voguing.
Girls come forward speaking of awful experience but without giving details, a guitar-playing Minnie Mouse girl sings "We Shall Overcome", but then two girls in succession claim abduction by aliens and describe the gruesome experiments to which they were subject.
Like the parts of a symphony, the performance is divided into a number of movements and this opening sequence ends with the fall of the backcloth to reveal another that shows the mushroom cloud of an atomic explosion. In its turn, this gives way to a huge rubbish dump photo, then a sci-fi futuristic city, before ending up with nondescript drapes and a pole-dancer's pole.
The backcloths mark a change in the pattern of comment. Worried about the future? "When you are dead, you don't have to worry about diet or sensible clothes or alcohol" "Try positive thinking." Sometimes statements will build on a phrase: "I know a lot of damaged girls have difficulty breathing / I know a lot of damaged girls / I know a lot of damaged girls that want to be happy."
This is a catalogue of hopes and fears, sometimes banal sometimes traumatic. The images are occasionally surreal: girls with a second head growing above the first one, a group of totem like figures, Max Ernst grotesques and a flying fairy.
Whether escaping into fantasy or daring to tell the truth, this is a time capsule of now, not a message statement. Its musical spectrum ranges from Mozart's Requiem to "My Way" and "Killing Me Softly" while raising topics from drug abuse in the fashion trade to child abuse in the Church, from being a cover girl to wanting to be Harry Potter.
Perhaps it will reassure some young people that they are not alone in their feelings. It is not a dramatic work in the usual sense but its non-stop barrage of ideas and images is presented with theatrical flair and sufficient surprises to make it entertaining.
Reviewer: Howard Loxton