Truth's A Dog Must to Kennel
Tim Crouch
Royal Lyceum Theatre Edinburgh
–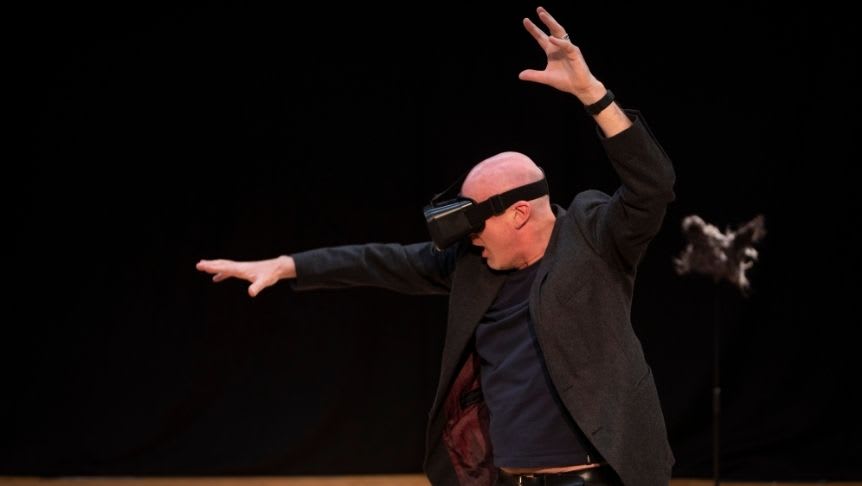 This is as sparse as theatre gets, with the audience and performer in the same light throughout in the Lyceum Studio and nothing on stage but Crouch with his slow, deliberate delivery and a voice between kindly and sinister, a microphone on a stand and a table containing a glass of water and a virtual reality headset—although he even shatters that illusion at one point by pointing at the headset and telling us, "there's nothing in here."
Donning the headset, Crouch looks out into the audience and describes a theatre auditorium, but not the one we are in. He picks out the different types of seats and the prices, then describes the ornate ceiling, then turns to the stage, where he is standing in the middle of act III of King Lear in a modern dress production. After describing where all the characters are in the scene, he points out himself as the Fool; this is where he leaves, not even at the interval, but the events go on without him.
This is broken up by a few stand-up comedy routines, all feeding into the general themes and ideas, before returning to the headset, where he describes the audience and how they are reacting to the events on stage. He witnesses the blinding of Gloucester but reacts as though it were a real wartime atrocity happening in front of him, not a fiction. There is an incident in the auditorium and an usher takes out a member of the audience protesting.
The performance continues in this vein, at one point describing going out to watch a play as 'necrotheatre' as why go out when you can catch it on the live-stream? He describes Edgar summoning a cliff from the empty field for his blind father, just as Crouch is summoning images for us from an empty stage. There are as many stories in the audience as there are on stage: just as Lear is trying to revive his daughter Cordelia, the paramedics are in the foyer trying to revive a man he has named 'Pre-Theatre Dinner Man' who has collapsed.
This is a piece about theatre, about storytelling, about creating illusions through the power of the voice and the imagination, but it is also a play very much rooted in our time, with references to the live-streaming of theatre since the pandemic, the atrocities committed in a war presided over by a mad leader, plus the title comes from a line in King Lear by the Fool when Lear has been threatened with the whip for telling too much truth to power, whereas those who fawn over the leader are made more welcome.
Like most of Crouch's theatre, this play is so dense with ideas that it is impossible to take everything in with a single viewing, but he does leave you with plenty to think through afterwards—and you can buy the script for a fiver at the venue to help.
Reviewer: David Chadderton