Tristan & Yseult
Carl Grose and Anna Maria Murphy
Kneehigh
West Yorkshire Playhouse Quarry Theatre
–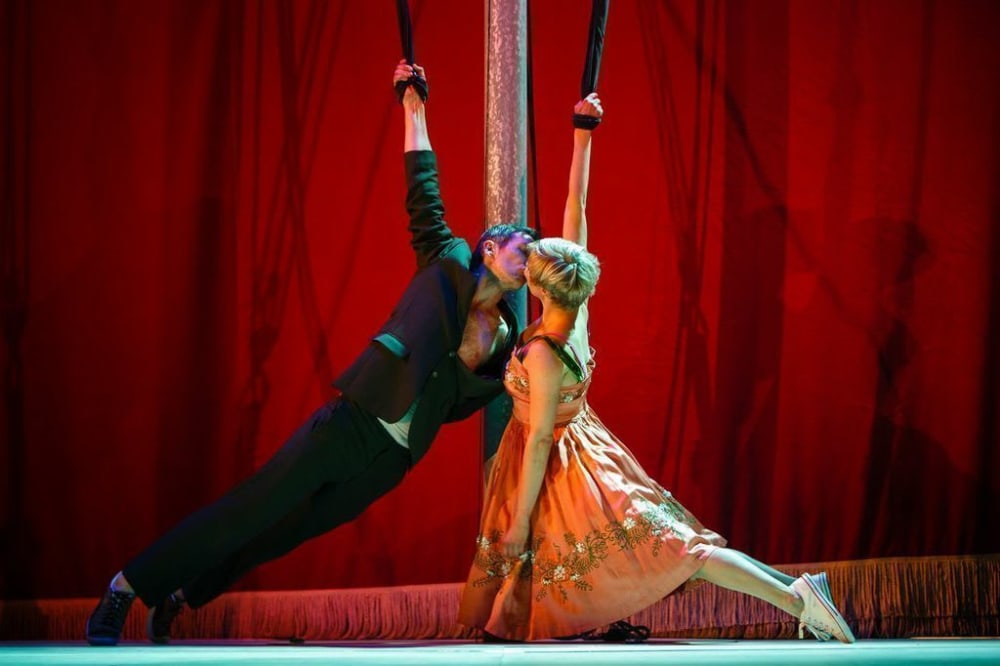 It's a beautiful, warm, sunny night, close to the longest day, and yet the car park at West Yorkshire Playhouse is packed.
The cars have attitude. There's an admirable Last Edition Westfalia California VW T25 white camper snuggling up against a lime green Citroen 2CV. And the crowded bar has been invaded by Kneehigh Groupies from here there and everywhere. Cords, open necked shirts, ethnic blouses... Many are what Dylan Thomas called, in a moment of ludic oxymoron, 'those who bake their own curtains and weave their own bread'. I feel at home. The place ripples with good vibrations.
And in the Quarry there's an atmosphere that combines fairground with night club. 'Only the Lonely' is getting a feel-good, anthemic treatment up in the Club of the Unloved, which is a disk carrying the music makers. This disk is linked by skeletal walkway and ladders to the stage. On stage is a larger raised disk. And this disk has a solid, high pole which will become a tethering place, a mast, a love-meter... Everything is multifunctional. The whole is misty and lovingly lit.
That's the set, more or less. On it we see a cornucopia of theatrical effects, lighting brilliantly integrated with stunning sound. And a group of performers whose work makes you shiver with admiration. This is Kneehigh revisiting the show that brought them to international attention. Something to live up to. If the first production, ten years ago, was as good as this, then there's little wonder it's been around the world and back. Long may it travel.
Set in Cornwall at some distant time, or tomorrow, the story is simple. The themes universal: can we love two people at once; can true love be bought, is blood thicker than water. The treatment is a riotous feast of doubling, tripling, tumbling, fumbling, flying, floating, colour, sound, fights, laughter, love-making, music and dance. Live music throughout... but also great gobbets of Wagner that thrill, chill and bring water to the eye. The cast take care of scene changes and wardrobe changes, making this an often funny, sometimes deeply moving, part of the spectacle. The audience love it.
It would be invidious to select one performer from this superb cast and lavish her with praise. It would be dishonest not to. Musician and dancer, Patrycja Kujawska, brings a remarkable spontaneity and freshness to the stage as her Yseult fights, dances, and loves her way to a denouement which is spectacular, beautiful and heart breaking. But from beginning to end everyone rises to the occasion, hitting bulls eye as close to every time as is decently possible.
As director Emma Rice writes in the programme, this is one of those rare shows that is greater than the sum of its parts. 'I love this production' she writes. So do I. So does the packed house. I have never heard such a roar of genuine appreciation. Tristan and Yseult is great theatre, it deserved the standing ovation. It is often breathtaking.
Enough, listen, this should be a two word review: SEE IT!
Reviewer: Ray Brown