Tshepang
Lara Foot
Baxter Theatre Centre at the University of Cape Town
Assembly Roxy
–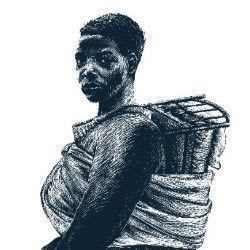 Somewhere in rural South Africa, a man sits in his home, casually tossing pebbles towards a can, and beside him a young woman with a make-shift baby cot tied to her back works an immense pile of salt, scrubbing and scouring it interminably with a fraught determination.
The man tells us he is Simon, played by Mncedisi Shabangu, and in an easy-going and friendly manner he chats about his home and the people there, occasionally breaking from the narration to shout offstage and wave to people he knows, often breaking into local dialect. It's a slow build and, as Simon repeatedly tells us, "nothing ever happens here."
Yet, underneath the surface, there's an underlying discomfiting feeling to the situation, not least brought on by the ever more eerie and unsettling salt scrubbing by the silent woman, Ruth, a mesmeric and haunting performance by Nonceba Constance Didi.
The rough scraping sound of the salt on her hands acts as an ever-present sour note to Simon's somewhat forced cheeriness. When she occasionally breaks from the scrubbing, her piercing and accusatory stare itself manages to instil a dread and apprehension in the audience.
And as Simon more and more repeats that "nothing ever happens here" the more often he casually mentions things that have happened before or since, "what happened to Ruth's daughter".
As I mentioned, it's a slow build. As Lara Foot Newton's script eases the audience into this world gently and surely, it's only then that the true horror of the sickening violations and subsequent tragedies and horrors that took place begin to clarify.
The shocking revelations and brutal re-enactments of the events are more than exploitation or shock value. It's a payment on a promise of a truth that everyone knows, that the audience is already aware of long before the moments come. More so that the horror for thousands isn't over, and that the wreckage left in the aftermath of such a tragedy is itself a continuing penalism towards those affected.
Tshepang is a shocking story and an incredible piece of theatre, as revelatory in its condemnation of sin as in the atonement each character seeks.
Reviewer: Graeme Strachan