Tunes of Glory
James Kennaway, adapted, designed and directed by Michael Lunney
Middle Ground Theatre
Yvonne Arnaud Theatre, Guildford, and touring
(2006)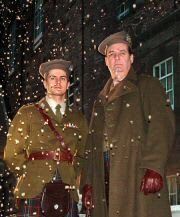 What an ambitious project Middle Ground Theatre have undertaken to bring a novel with so many locations to life on the stage. In the 1960 film, which starred Alec Guinness and John Mills, locations would not have been such a problem, but here switching frequently from one scene to another must have been a tremendous challenge, and Michael Lunney has risen to it with flair and imagination, creating the changes with film projections and judicious use of lighting, but with mixed results. Sometimes it took only an adjustment of the lights to melt one scene into another, and sometimes it was the backing film which effected the change, but the necessity to constantly move large and bulky pieces of furniture – not to mention the scenery itself – resulted in the performers having to scurry about like busy little mice in the semi darkness.
That aside, the show on the whole was powerful and dramatic and characters were strongly and skilfully drawn, and expertly portrayed.
Set mainly in a regimental barracks in 1952, the story concerns one Major Jock Sinclair DSO MM (Stuart McGugan), a man who, having worked his way from lowly piper up through the ranks to his present position and shown exceptional bravery in battle, in peacetime still continues with his easy going attitude and his love of a "wee dram". He is very popular with his men, and this is the problem - discipline has been allowed to slide. Sinclair is acting Colonel until the arrival of Lt. Colonel Basil Barrow (Patrick Ryecart), a very stiff and correct ex-Sandhurst man who believes in doing everything by the book, but has his time as a prisoner of war in a Japanese prison camp affected him? Of course it has, and this is made obvious during the play, which centres on the conflict between these two men.
Sinclair and his men are enjoying a riotous version of the eightsome reel when the Lt. Colonel arrives unexpectedly and immediately the atmosphere changes. "Barrowboy" as he is now known expects to run the unit efficiently and correctly - and he doesn't even drink whisky!
Sinclair has his problems too, mainly parental responsibility for young daughter Morag (Ej Boyle) who is going out with Corporal Piper Ian Fraser (John Milroy) against his wishes, and this leads to a bar room brawl and the possibility of a court martial. The tension is palpable.
As in the very successful The Holly and the Ivy previously presented by Middle Ground, Lunney has not only adapted, designed and directed, but he also takes the part of Major Charles Scott MC, and plays him with supercilious, laid back languor. This man certainly knows about multi-tasking, which seems to bother him not a bit!
Music is provided on film by the pipes and drums of the London Scottish Regiment – the next generation of those who originally played for the film – and we were lucky enough at last night's performance to be treated to 'the real thing'. Braving the cold outside the theatre their own Tunes of Glory were very much appreciated by the watching theatregoers.
Touring to Ayr, Chester and Nottingham.
This review was first published in Theatreworld Internet Magazine
Reviewer: Sheila Connor