Turandot
Giacomo Puccini, Libretto Renato Simoni
Finnish National Opera and Ballet
Finnish National Opera, Helsinki
–

Listing details and ticket info...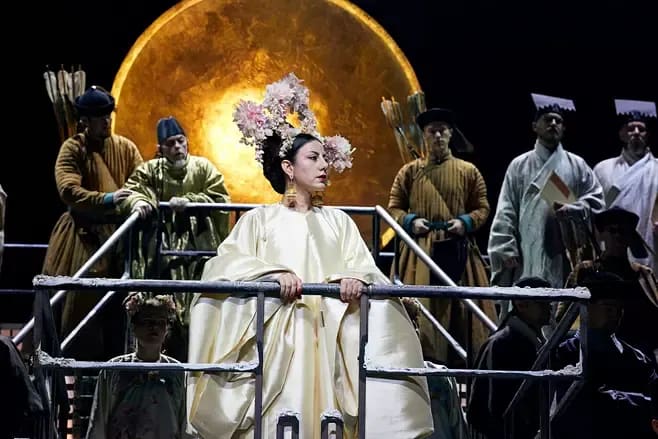 Who would want to marry somebody as icy-cold and cruel and without pity as Turandot? The answer is lots of people. Princes worldwide queued up to propose to her, knowing they would have to answer three riddles first and if they didn't get them right, they would be beheaded.
Puccini's final opera, which remained unfinished at his death in 1924, is based on an ancient Chinese fairy tale and mixes Italian lyricism with Chinese melodies.
The formidable Turandot is determined to remain unmarried: "no man will ever have me," she affirms. Sex disgusts her. She is in a state of shock when tartar Calaf immediately answers her riddle ("What ice creates fire?") saying that it is she, Turandot, the icy princess, who does and that his fire will thaw her.
The drama is at its strongest in their confrontation. Calaf offers her a way out of marriage and having sex with him by offering his own riddle: "tell me my name by dawn and I will die by daybreak."
Director Sofia Adrian Jupither declares she wanted to get rid of all the exoticism and orientalism in the opera and find real people beneath the stereotypical. But the exotic and the oriental are an essential part of the opera's appeal and Jupither fails to put anything interesting in its place. We are left with a boring set, drab costumes, dull lighting, poor acting and poor sound.
The lead singers don't look right. There is no chemistry between Astrik Khanamiryan and Mikheil Sheshaberidze in their final scene which is so awkwardly staged and acted as to be comic. Reetta Haavisto can't act and is unconvincing as Liù who is in love with Calaf and commits suicide. It takes six men to carry her off stage. As for the chorus (a bloodthirsty, sadomasochistic lot who revel in executions and torture), they just stand around.
The production, conducted by Pietro Rizzo, did nothing for me. Even "Nessun Dorma" failed to thrill.
Helsinki's Turandot can be watched free on the OperaVision channel.
Reviewer: Robert Tanitch