Turandot
Giacomo Puccini
Opera North
Leeds Town Hall
–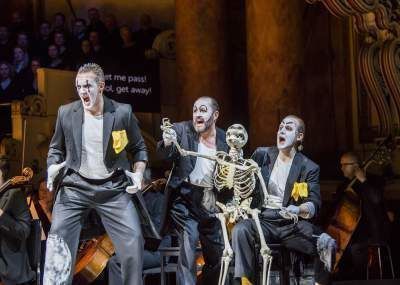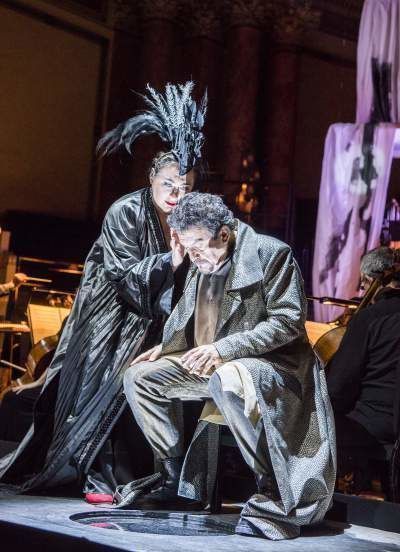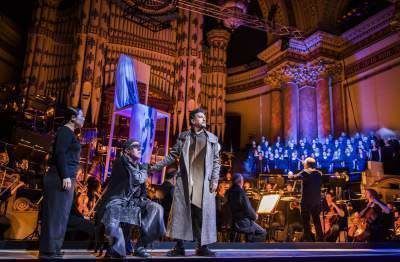 First staged in 1926, two years after Puccini's untimely death from throat cancer, Turandot is often hailed as the last great Italian opera. However, while its reputation has grown over the last ninety years, many critics were initially perplexed by this unusual work in which Puccini abandoned the domestic realism of his previous operas for a narrative of fairy-tale simplicity and ferocious cruelty.
Set in ancient Beijing, the cold-hearted Princess Turandot (Orla Boylan) decrees that she will marry the first prince who can solve her three riddles. However, there is a catch: if the prince fails to answer them correctly, he will have his head cut off.
Bewitched by the princess's striking beauty, Calaf (Rafael Rojas)—the deposed Prince of Tartary—determines to win her heart despite the pleas of his father, Timur (Alastair Miles), and the servant girl Liù (Sunyoung Seo), who is passionately in love with him.
Against all odds, Calaf manages to solve the riddles and looks set to marry the princess, thereby putting a stop to the never-ending cycle of death. However, moved by Turandot's despair at the prospect of being wed, he decides to offer her a way out: if she discovers his name by morning, she can have him executed.
Like their acclaimed production of Wagner's Ring cycle last year, Opera North has chosen to give Turandot a concert performance in the richly decorated setting of Leeds Town Hall. Such an approach runs the risk of prioritising music over dramatic action, particularly as many concert performances dispense with costumes and set design altogether. However, this is resolutely not the case with Opera North's outstanding production, which excels both in musical and theatrical terms.
Turandot is Puccini's most musically adventurous work, drawing inspiration from a variety of sources, including Chinese melodies the composer heard from a music box. The ambition of the opera is reflected in the extensive range of instruments used—the percussion section alone includes glockenspiel, multiple xylophones, tubular bells, a tam-tam and a set of 13 tuned Chinese gongs.
The Opera North orchestra surpass themselves in this production, amply rising to the challenges of Puccini's score to deliver music of extraordinary beauty and power. Indeed, I've never heard them play with such fury and gusto! Conductor Sir Richard Armstrong deserves high praise for stepping in at short notice and inspiring the musicians to deliver such a thrilling performance.
The 55-strong chorus is equally brilliant, giving voice to the suffering of Turandot's oppressed subjects whilst also conveying the blood-lust of a crowd who have become accustomed to the sight of violent executions.
Turandot is one of the most demanding roles in the repertory—not only does the part make great vocal demands from the soprano who plays her, but the character's transformation from sadist to tender-hearted maiden is a tricky one to pull off. Orla Boylan gives a splendid performance in the title role, particularly in the early scenes where she glories in her power over men.
Turned off by Turandot's cruelty, many early critics found themselves drawn to the character of Liù, whose simple goodness places her in a group with other ill-fated Puccini heroines, such as Mimì in La bohème (1896) and Cio-Cio-san in Madama Butterfly (1904). Sunyoung Seo excels in this role and exhibits a voice of great purity and warmth.
I was highly impressed by the performances of Gavan Ring, Joseph Shovelton and Nicholas Watts as the royal ministers Ping, Pang and Pong. Identically dressed in patched suits with white paint smeared on their faces, the sinister trio inject some much-needed black comedy into proceedings. The image of them wielding a skeleton in a grotesque pantomime provides one of the evening's most memorable moments.
Despite its title, the main character in Turandot is really Calaf. The audience must be emotionally invested in this character and his plight, otherwise the production will fall flat. Fortunately, Mexican tenor Rafael Rojas does not disappoint, powerfully conveying Calaf's ardent passion for Turandot. His interpretation of "Nessum dorma", arguably the most famous aria in all of opera, is truly electrifying.
Despite the challenges posed by a concert staging, director Annabel Arden has created a production with real narrative excitement and suspense. Although there is little room on stage for scenery, designer Joanna Parker manages to make some ingenious contributions to the production, most notably a vast chair symbolising Turandot's power over her subjects, which collapses when Calaf claims her as his wife.
I have seen some excellent productions from Opera North since I started reviewing for British Theatre Guide, but Turandot may be the finest of them all. A magnificent achievement.
Reviewer: James Ballands