Turandot
Giacomo Puccini, Libretto by Giuseppe Adami and Renato Simon, Based on a play by Carlo Gozzi
Met Opera on Demand
Metropolitan Opera House, New York
From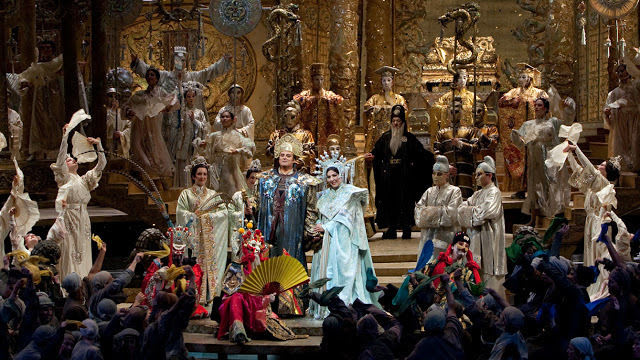 Franco Zeffirelli and his designers, Data Saligeri and Anna Anni, gave Giacomo Puccini's Turandot the most spectacular production at the Metropolitan New York in 1987.
This revival, conducted by Andris Nelsons, dates from 2009 and stars Maria Guleghina as Princess Turandot, Marcello Giordani as Prince Calaf, Marina Poplavskaya as Liu the slave girl and Samuel Ramey as her father.
Puccini's final opera, which premièred in Rome in 1926, two years after his death, is based on an ancient Chinese fairy tale and mixes Italian lyricism with Chinese melodies.
Princess Turandot refuses to marry anybody who cannot answer three riddles. Courting such an icy, cruel woman doesn't seem a wise career move, especially since all losers get their heads chopped off. 29 suitors have already been executed. An open grave awaits Prince Calaf, but he manages to answer all three riddles without any difficulty whatsoever to the absolute fury of Turandot who doesn't want any man to touch her, let alone possess her.
Calaf celebrates his victory by singing the most popular aria in the world, "Nessun Dorma".The BBC used Pavarotti's recording as its theme tune for the 1990 World Cup. The aria hit the UK Singles Chart in a way no other classical recording ever had, and not only led to Pavarotti joining forces with Placido Domingo and Jose Carreras as the 3 Tenors but it also kick-started a football boom in Britain.
Marcello Giordani hits the two high notes. The ovation he receives stops the performance. In an interview backstage during one of the intervals, Giordani joked it was a pity the aria was not in the first act for then tenors would be able to get one of opera's greatest challenges out of the way and they could relax for the rest of the performance.
The real riddle is why does Calaf want to marry Turandot in the first place? She is no heavenly beauty, she's a forbidding man-hater who wants to take revenge on men for something that happened thousands and thousands of years ago. Nobody likes her, not even her dad.
Maria Guleghina is formidable in voice and presence. She blazes and freezes at the same time. "No man will possess me!" she cries. Who knows what Turandot might cut off when Calaf is asleep in her bed, consummating the marriage?
Calaf says he will let her off having to marry him if she can find out his name. Turandot, desperate to find out his name, threatens to kill everybody and tortures the slave girl who loves him. This is where Calaf's love for Turandot should end. Instead, he tells her his name and puts his life in her hands. He should have married the slave girl.
The sheer number of people on stage and backstage continues to amaze. How does The Met afford it? The mind boggles at the money spent on the set and costumes, wigs, beards, masks, silk, dragons, etc., etc. The second act is something quite extraordinary to look at and the beautiful pastel colours ensure it is not Hollywood kitsch.
Turandot's ministers, with names like Ping, Pang and Pong, sound as if they should be in Gilbert and Sullivan's The Mikado. The trio are the Chinese equivalent to the Italian commedia dell'arte and their antics delay Turandot's proper entrance in the second act for far too long.
Puccini had wanted to write the loveliest aria he had ever written for the final duet, but divine intervention stopped him, God, no doubt, being as appalled by the happy ending as everybody else. Puccini died in 1924 before he could write it.
The happy ending is appalling, but there is plus side to it because it means we are back to the spectacle, a feast to the eye, and a reprise of "Nessun Dorma", a feast to the ear.
There are a number of ways of tapping into this opera and others at will. The Met Opera On Demand service offers annual ($149.99) and monthly ($14.99) subscriptions as well as a one-off payment ($4.99) for those who have limited time or only want to watch the occasional opera.
Reviewer: Robert Tanitch