Turandot
Puccini
Welsh National Opera
Grand Theatre, Swansea, and touring
(2004)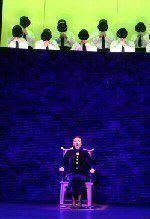 Much credit must go to this excellent company for making every effort to involve its audience and to attract those who might be new to opera. A full and interesting background to Puccini and the opera is provided in a well-designed programme, and for those who don't understand Italian there is a scrolling text screen above the stage most helpful.
This opera first saw the light of day in 1926 and programme notes inform us that Puccini might well have been under the influence of Mussolini and his rise to power. The production is set in a mythical modern day China with a metallic looking semi-circular set that has a claustrophobic feel about it.
Princess Turandot lives in a fairy tale country, a culture which accepts the right to behead a suitor who cannot solve the three riddles set by her. This makes Shakespeare's Portia appear a little tame in comparison. Whether intended or not the large photographs of men's heads which were displayed at the end had a resonance with recent events in Iraq.
There is always the danger that opera can appear staid and somewhat quaint with acting styles reminiscent of Victorian melodrama. I am pleased to say that this production is fully involving as far as the acting is concerned, and we accept that the tremendous demands of the music ultimately control the movement and pace of the action.
Francesca Patanà's Turandot was spectacular. There is a purity in her voice which is spine-tingling and this is accompanied by the ability to produce enormous power when needed. This is her first appearance with the WNO and one hopes it is the beginning of many others.
Olga Mykytenko as the slave girl, Liù was enchanting and her performance was much appreciated by the large audience. She has the unenviable task of committing suicide on stage and then has to lie there for quite a time whilst the action continues, apparently immediately forgotten by the main protagonists. We must pinch ourselves and remember it is only a fairy tale, although it does make the suspension of disbelief rather more difficult.
Calaf, played strongly by the impressive Rafael Rojas, presented one of the highlights of the opera, Nessum Dorma; it's good to see this performed in context with a controlled severity as opposed to the usual over the top rendering we often witness with the three tenors.
Between the highlights the music of Turandot is always interesting because Puccini constantly refers to Chinese musical notation giving it an oriental feel. This was at its best when the WNO chorus was given its head producing a sound that is the equal of anything you will hear anywhere.
The quality of this performance makes you realise how important it is to maintain a high standard of excellence in the theatre today. Long may it survive.
Reviewer: Tony Layton