Turn of the Screw
Tim Luscombe, adapted from the novella by Henry James
Dermot McLaughlin Productions in association with the Mercury Theatre Colchester, Wolverhampton Grand Theatre and Exeter Northcott Theatre
York Theatre Royal
–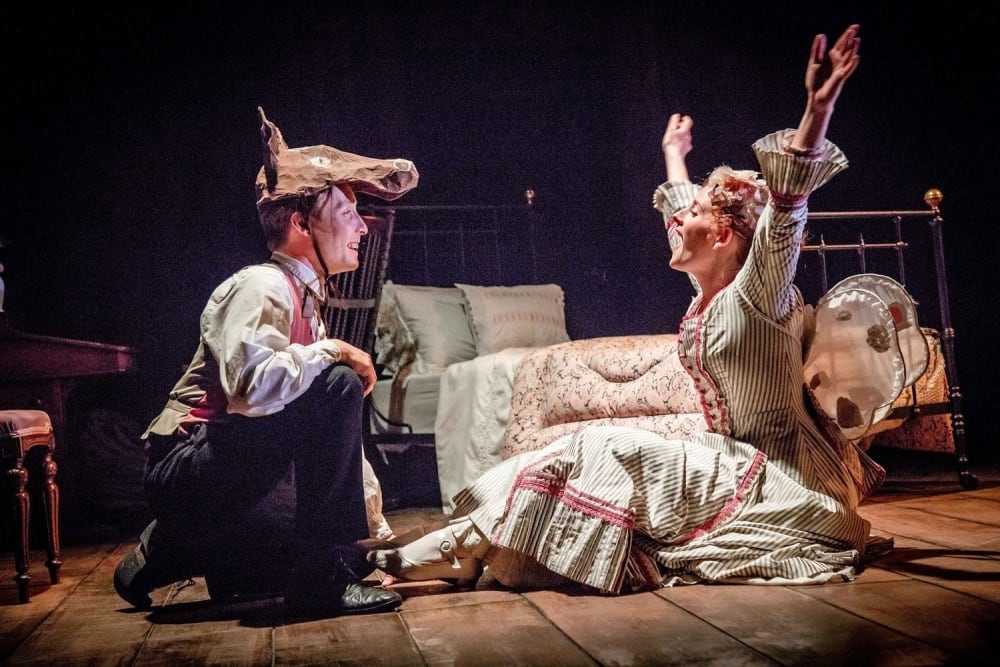 There's a moment, deep into the psychological drama of Tim Luscombe's adaptation of Henry James's novella, where a ghostly apparition is described as a "woman in black". It's a description present in James's original text, penned more than a hundred years ago now, but in this theatrical (re-)incarnation of his tale it can't help but bring to mind the staging of a more recent work, Susan Hill's 1983 novel of that name, whose stage version has now haunted the West End for over thirty years.
As the producer's programme note takes pains to point out, James came first and Hill was evidently indebted to her generic ancestor in writing her Woman in Black. Enough does indeed separate the style and story of the respective theatrical versions to make this show of possible interest for fans of the other.
In both, as with many ghost stories, we're presented first with a framing narrative. Turn of the Screw (the play) presents this as an interview between two of the key players in the older tale-within-a-tale. There's a sense of scores to be settled, and of suspicion and even fear between the pair. But to say more would be to give away some of the performance's appeal.
For, again as usual with this genre, the delight is in the twist and turns, the guessing, second-guessing and slow piecing together of information. Some of the plot will be familiar in advance to those who know the work on which this adaptation is based, but it's by no means slavishly faithful, and Luscombe's version has cleverly mined certain areas of the plot in more or less depth, shining light on alternative aspects of the story while remaining faithful.
What I can say is that the cast is universally strong. Janet Dibley as The Governess is suitably inscrutable and she shifts subtly in manner to delineate the different versions of the character we witness: the present-day fifty-year-old narrating, and reliving, the past experiences of the younger self we also meet.
Mrs Conray is played by Amy Dunn and her more challenging dual role is well-drawn, with distinct shifts in physicality and demeanour. Dunn is the stand-out, giving a powerful and nuanced vocal performance of great intelligence.
When a character is given a designation as vague as "The Man", it's clearly a sign of a possible spoiler-filled minefield for the reviewer. Elliot Burton is, shall we say, aptly creepy and inscrutable; he too performs his role(s) with great clarity. Mrs Grose, played by Maggie McCarthy, is also fine, though the role is somewhat limited to swings between Mother-Hen fussing and playing the shocked, God-fearing yokel.
Sara Perks's set was for me a real delight: the slanting faux-proscenium and weathered wooden floorboards producing a weighty impression of the dingy grandeur of the house at Bly. David W Kidd's lighting design and John Chambers's sound combine well and pick out spots, moments and atmospheres in the staging with precision.
But here is where I confess the twist in this review—I'm simply not a fan of the stage ghost story. When done impeccably, it can be spine-tingling and gripping. The Woman in Black restrains its shock-horror jumps and loud noises to a discreet and carefully selected few, focusing most of its attention on the careful and precise ramping up of the tension. Here, scene changes are frequently punctuated with such flashes and bangs.
These ended up feeling superfluous, when the psychological twists and possibly ultimately unfathomable truths at stake were potentially far more interesting than trying to make the audience jump. On this front, while Luscombe's dialogue is cunning and captures much of the voice of the original, I left feeling that a more shocking twist or realisation might have been offered somewhere along the way. The framing narrative set a number of hares running that, in the end, barely deviated from their course.
A meaty and largely well-staged ghost story, then, but with a slight over-reliance on the shock-horror, where I would have preferred more of the creeping dread that simmers beneath.
Reviewer: Mark Smith